posted by Dave Arnold
We have a new ingredient that we really like—raw tuna spinal jelly. We were introduced to it by our Ike Jime sensai, Chef Toshio Suzuki of Sushi Zen, when he was breaking down a whole Kindai Tuna (post on that soon). When fresh, the raw jelly tastes like fresh sea water.  Its incredibly refreshing.  We've heard it's like sea urchin—god awful when not fresh. We ordered some tuna spines from True World Foods in New Jersey and they were also pretty cheap.  We got two big spines for 20 bucks.  Frankly, I think the spines were free and we were being charged for delivery. The spines were big and messy.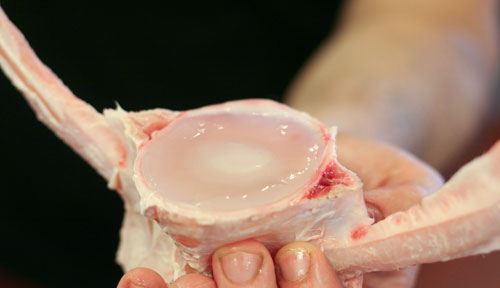 Here is how to to prepare them:
Scrape all the meat off the spine with a spoon. The meat is strong smelling and bloody.  Scrub the spine under running water with a stainless steel scrubby.  It should look like the picture below.
 
Cut off the stiff membrane between the vertebrae, then break the bony sections at the top and bottom with a heavy knife or bone saw. Finally, slice through the spine with a sharp knife.
Be careful not to contaminate the jelly with bloody meat.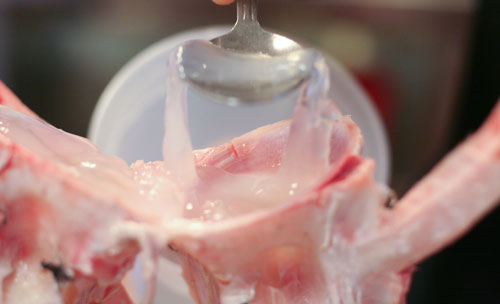 Reserve the jelly in quart containers.
What we really like is that the leftover bones make great presentation cups.  Boil the bones in a concentrated Oxyclean solution for about 40 minutes. Then scrape off the meat with a spoon.  There are cavities on the top and bottom of the spine (one is the neural cavity where we would normally do spinal cord destruction, the other is a blood vessel cavity). Make sure you get the gunk out of them with a skewer.  Then boil the bones in a fresh Oxyclean solution for about half an hour and let dry.  Oxyclean forms hydrogen peroxide when added to water.  It is the hydrogen peroxide which does the actual whitening.
Here they are when finished.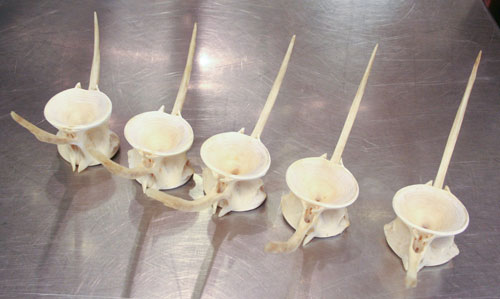 Here is a dish using the spinal jelly and the bones.  You can read about the dish here.