posted by Nastassia Lopez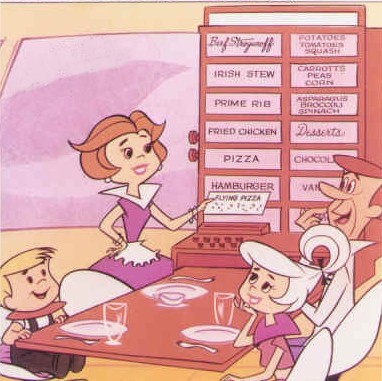 Last week the Tech Department was (permanently) loaned a Fab@Home 3-D printer by Dan Cohen and Jeffrey Lipton from Cornell University.   The Fab@Home universal fabrication machine or, "fabber" (not to be confused with our intern "Fabulous") can build three-dimensional objects by depositing materials (epoxy, cement, scallop goop) via two 10 mL syringes, line by line, layer by layer.  Just hook it up to the computer and give it a drawing that corresponds to the machine's x, y, and z axes.  The syringes move along and squirt out the paste in the corresponding form. It's almost as easy as the Jetson's Food-a-Rac-a-Cycle that makes prime rib at the push of a button.
The Fab@Home crew hopes that every home will someday have a fabber. They brought us one in the hopes of finding applications that will get people's juices flowing.  And what better to get juices flowing than food? 
First we filled the syringes with scallop paste that had been mixed with meat glue, printed out a few scallop space shuttles (that's the drawing the fabber showed up with) and cubes, heat set them, and attached them to a charm bracelet for Dave.
We tried an emulsified turkey and bacon fat mixture that had been blended with more meat glue (Activa RM), but by the time starting printing the paste had set for too long and was too gloppy as it left the syringe.
We tried a celery fluid gel. It worked okay, but wasn't smooth enough to extrude nicely.
Finally we mixed up another turkey/bacon mix and printed a celery puree filled meat cube. Meatballs hard –meat cubes easy.  It worked pretty well.
Here is our problem:
We need legit food applications.
We're trying to come up with some awesome, non-gimmicky, and—most importantly—delicious applications for this fab fabber. We need some suggestions.  Here are the guidelines:
1. The material needs to be able to squirt out of a very small tube.  This is the main problem.  Mixtures must be almost completely homogeneous.
2. The final product can't be any bigger than a pound of butter (plus remember, we are currently squirting out of 10ml tubes).
3. It must be delicious.
4. It must have a point. We don't need a printer to make scallop space shuttles.
A Note From Dave:
I love this machine.  I plan on using it to print out parts for my rotovap. The guys at Cornell even said  it is possible to print stainless steel (via inert-gas kiln-sintering a stainless powder-impregnated agar gel).  Stainless steel! 
In order to keep the machine we need to find good food applications.  I want an application that can't be done any other way—an application that makes everyone want a fabber.  I'm currently thinking about new textures we can create. The main limitation is that the mixtures we use must be homogeneous so they can make it out of a standard luer lock fitting.  Emulsified meat, yes. Ground meat, no (passing turkey forcemeat through a tamis turns out to be a pain in the butt).  Dan says this is something we might be able to overcome in the future (after all the machine is basically a positioning system.  The deposition tool can be anything we want).
Here's  a long-time dream I probably shouldn't share: I'd like to make little food creatures that move under their own power.  I know it goes against what I preach about  technology in food but I just want to do it.  It goes back to everything I thought about in my sculpture days.  I want to make beautiful little delicious things that move around on your plate and look like edible jewelry.  There. I said it.  I just can't think of a way to power them.  Acid/base reactions are unpredictable, provide spotty power, and don't taste good.  Pressure is difficult to control.  I'm convinced, however, that having a Fabber is bringing me closer to my goal. 
In any event the pastry department here is going to have a field day making centerpieces.