posted by Dave Arnold  
While trying to make an ice cream that could be fried or brûléed, I accidentally produced a recipe that very closely resembles Salep Dondurma –the fabled Turkish stretchy ice cream.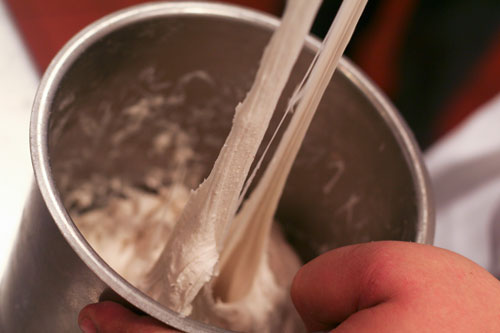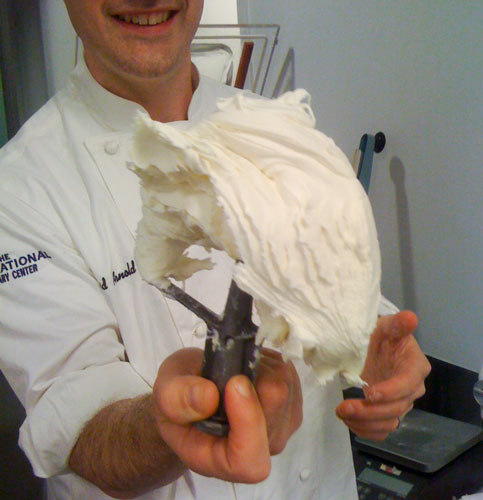 Dondurma means 'ice cream' in Turkish. Salep dondurma is an ice cream made with flour from the ground tubers of wild Turkish orchids.  Some say the word Salep is derived from the word for fox testicles, which makes sense if you look at the picture below.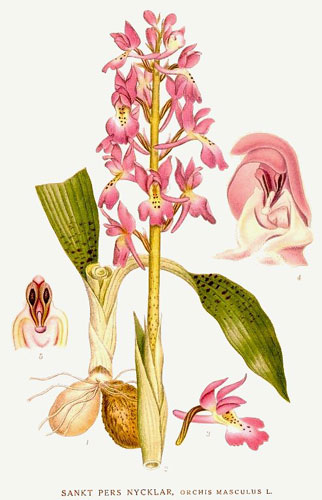 Salep flour contains a hydrocolloid that produces  a stretchy, chewy ice cream.  The ice cream has to be worked long and hard to make it stretchy –almost the way you would to make gluten develop in a bread dough.  Vendors in Turkey beat and pound the hell out of it with long rods to get the consistency right.  When the texture is right you can cut the ice cream with a knife and eat it with a fork.  
Harold McGee told me about Salep Dondurma in 2007.  He wanted to cover ice creams with alternative textures in a class he teaches with us at the FCI (the next one is in April, by the way). Nils and I decided to make some for the class, but we couldn't -  turns out it is illegal to export Salep, which only grows in Turkey. The Turks love Salep so much that they are hoarding the world's supply.  It takes something like a thousand salep orchids to make one kilo of flour. You can't increase Salep production; it is wild, not farmed.  So McGee suggested we use guar gum as a substitute.  Guar made a very chewy ice cream, but it wasn't like the pictures and descriptions of Salep Dondurma.  After the class, McGee wrote a piece on Salep and other non-standard ice creams for the New York Times, which includes a photo of the most amazing mustache I've ever seen.  
Mc Gee's article piqued the interest of  our friend Professor Kent Kirshenbaum of NYU and the Experimental Cuisine Collective.   He and a Turkish graduate student wanted to find a way to reproduce  Salep Dondurma legally here in the US.  Under the auspices of scientific research they smuggled some Salep flour out of Turkey.  The ice cream they made at the FCI with that Salep,  flavored with gum mastic (Chios Mastic), was my first authentic Salep Dondurma.  Indeed, guar was not a substitute for Salep.  Guar, as Kent pointed out, is a galactomannan (a type of complex polysaccharide).  Salep, on the other hand, is a glucomannan –like Konjac flour.  We tried Konjac, but unfortunately it didn't work.  We seemed to be out of luck. 
Fast forward to last week.  I wasn't thinking about Salep.  I had a hydrocolloid class coming up, and I wanted to demonstrate a few new recipes: how about a fryable, brûlée-able ice cream using a fluid gel?  Fluid gels are made by blending a solid gel, usually agar or gellan (a type of hydrocolloid made by CP Kelco).  Once blended, the fluid gels have some properties of a liquid, and some of a solid.  When they are standing still they act like gels; when force is applied they give way like a fluid. Thick fluid gels look like purees, but have the mouth-feel of a sauce.  Thin fluid gels look like a liquid, but can suspend particles.  I chose gellan because I wanted a thick fluid gel that wouldn't melt. There are two types of gellan: high-acyl and low-acyl.  High-acyl gellan is freeze-thaw stable –  great for ice cream. Unfortunately,  it melts at high temperatures, especially in milk. Bad for an ice cream that you intend to fry.  Low-acyl gellan won't melt when fried, but it isn't freeze-thaw stable; I decided to add Guar to increase freeze-thaw stability (thickeners like guar can do that).  Most Guar tastes pretty crappy, but we have some nice guar from TIC Gums with a dead neutral flavor. 
The result:  ice cream with a texture almost exactly the same as Salep Dondurma! I was surprised and excited.  It gets better: this same month my Turkish intern, after many botched attempts on our behalf,  made her first successful Salep smuggling run.  We whipped up some authentic Salep Dondurma to compare with our fake batch.   We were still impressed.  Real Salep is slightly more stretchy, but the mouth-feel of our imposter is almost exactly the same.  Plus, unlike Salep Dondurma, this stuff can be brûléed or deep-fried.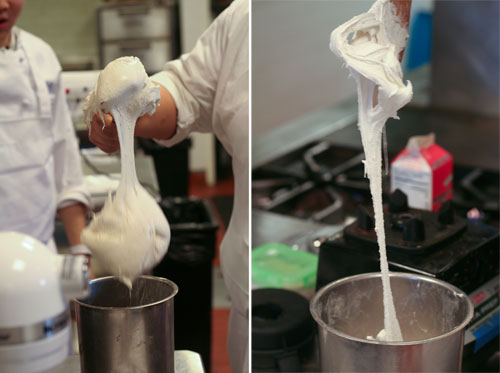 I called CP Kelco.  They said they were not aware of any strange Salep-like behavior when Gellan and Guar are combined. I had to figure out whether the Guar was needed for the Salep texture, or whether gellan would work alone. If gellan alone worked, was it necessary to use dairy to get the Salep texture? Many hydrocolloids have weird interactions with dairy, including gellan. If gellan alone didn't work, would another thickener other than guar work in concert with gellan to give the Salep texture? Maybe Xanthan? CP Kelco had asked why the hell I used guar to help with freeze/thaw instead of Xanthan, which is what they would use.  I had some more experiments to do.  
We tested Heston Blumenthal's flaming apple sorbet, a non-dairy gellan fluid gel, and confirmed that gellan alone in a non-dairy system does not yield a Salep feel.  I then made a milk-based ice cream with  gellan and no guar.  It was creamy and delicious; many people in our class loved it.  It could be brûléed and fried, but it didn't have Salep-ness either. Gellan and dairy alone were not sufficient. Next I tried ice cream with gellan and xanthan –nope.  There is something special about gellan and guar together. Tests yet to run: Gellan and locust bean gum, gellan and Konjac flour, and gellan and guar in a non-dairy system.
As luck would have it, one of the students in our Hydrocolloids class was Turkish.  She gave us a two-thumbs up for authentic Salep texture!  
Here is the recipe for our fake Salep.  This version is flavored with tea.  
Fake Fryable, Brûlée-able Salep Darjeeling Dondurma  
24 grams Singell Darjeeling tea leaves (A second flush Darjeeling from Harney and Sons with a fruity, muscatel note)  
500 grams cold milk  
500 grams cold cream  
5 grams KelcoGel  F Low Acyl Gellan Gum  
3 g salt  
5 grams TIC Flavor Free Guar (TIC is a company; they make a neutral tasting guar.  Most guar is "beany" tasting –not delicious borlatti bean tasting either, just guar bean tasting.)  
150 grams granulated sugar  
2 scraped vanilla beans  
3 egg yolks (beaten)Â Â 
2 grams Calcium Lactate Gluconate  
Combine the milk, cream, and tea leaves. Infuse the mixture in a vacuum bag at full vacuum plus 30 seconds. Allow to steep till flavor is developed (about 1 hour). Strain tea from milk/cream mixture and add gellan, salt, and guar. Whisk vigorously to combine (this step disperses the gellan and begins to hydrate the guar). Bring the mixture to a boil while stirring (to hydrate the gellan). Simmer for 1 minute (ensures the gellan is hydrated). Remove from heat.  Add sugar and vanilla and stir (drops the temperature a bit). When mixture drops to 83 or 82C add the egg yolks and stir (if you go higher you might curdle the eggs.  The yolks increase the creaminess of the recipe). When the temperature drops to 70C mix in the calcium and stir (I read a reference that calcium added to milk/gellan systems might cause problems if added above this temperature.  Calcium added below this temperature will also cause problems).  Put mixture in an ice bath to set. When mixture is completely set, blend in a high-speed mixer till creamy.  Freeze with liquid nitrogen in a Kitchen-Aid mixer fixed with a paddle attachment.  Beat until the ice cream gets stringy and stretchy.  
To make creamy ice cream without the Salep feel omit the guar gum and increase the gellan to 7 grams.