by Dave Arnold
Nils and I recently visited the great state of Kentucky,  home to some of the finest country ham producers in the world – including Finchville Farms.
While visiting Finchville it dawned on me that I've never posted on country ham.  The shame! Before I was known for tech many people knew me as that guy who loves country ham. I've always loved it;  I have fond memories of my grandma serving  it to me with her red-eye gravy.  I became a certifiable country ham nut in 2004, while trying to start The Museum of Food and Drink (I'm still trying to get that off the ground.)  I was researching country ham for an exhibit, with the  goal of  spreading my belief that American Country Ham is a national culinary treasure that can be appreciated in a very modern way by eating it uncooked and sliced thin on a meat slicer –the same way we enjoy prosciutto.
My brochure from the exhibit,  including a list of producers and tasting notes, can be downloaded here, and  at the end of this post I reprint the  exhibit text.  In 2007 I wrote an article on dry cured hams for Food Arts magazine, which you can read here.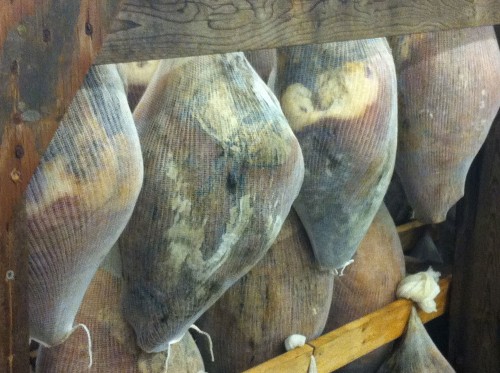 Some of my current country ham thoughts:
1. American country hams are often difficult to slice on a meat slicer because the cushion –the meaty part of the ham — is usually a bit wet even when the outside of the ham is quite dry. This wetness is the  result of  most country hams' shape, which prevent uniform drying.  Country ham producers don't mind the wetness –in fact they like it, because they intend to cook the ham.  But this wetness presents obstacles to those of us who want to eat the ham uncooked.  I'd like to experiment by rubbing the outside of some hams with a lard/flour mixture — I think I could do some long aging (two years or more) without overly drying the outer portions.
2. I believe the characteristic flavor of American ham comes from our high aging temperatures and humidity –usually far higher than European hams.  I think the high temperatures bring on that country ham funk I love so much.  I'd like to see some of the chefs who are curing their own hams make an American-style product — most are working within the European lower temp, lower humidity parameters.
3. Country hams are salty –stop whining.  Don't overcook them and they won't seem so salty –better yet, don't cook them at all.
4. Today some high profile chefs are working to popularize American country hams, and I'm thankful for it.
OK, now the exhibit text:
AMERICAN COUNTRY HAM Â  Â  | Â  Â Â  From The Museum of Food and Drink Exhibit November 2004
If you were raised in America, you probably think of ham the way it's traditionally found in grocery stores today—pumped full of water and ready to be dressed in its holiday best, cooked with sugar syrup and pineapples. Introduced in the 20th century, these "city hams" don't have much depth of flavor but are cheap to produce and are by far the most popular hams in this country. But American artisanal ham producers have been producing an entirely different, superior product for the past four centuries: ham that is dry-cured and aged, called "country ham."
City Ham, Country Ham:

There are reasons you don't find dry-cured American country ham at your grocery store deli.
Producers must invest four months to a year aging a country ham, taking up space and tying up capital. They don't see a return on their investment until the ham is ready for retail.
The older and better a ham gets, the more it shrinks due to lost water. Some hams in this show have lost more than 30 percent of their original weight; they must lose a minimum of 18 percent by law to qualify as country ham. The cost per pound at retail, therefore, is much higher than a city ham.
The old saying goes: Forever is two people and a Virginia ham. From a taste and cost perspective, we should buy whole country hams and eat them gradually in small, thin slices. But most modern consumers don't want a whole leg of a pig occupying their fridge for weeks, nor are they comfortable carving it. Producers have tried to address these inconveniences by offering packaged "center cuts," which are essentially ham steaks. The problem: They are usually too thick to show off a cured ham to its best advantage.
Long ago, meat packers figured out a way to solve all three of these problems at once with the "city ham." City hams are pumped full of a brine mixture—usually water, salt, sugar, nitrates and other chemicals. The brine is often pumped directly into the pig's femoral artery so that it circulates throughout the ham (industry lore is that an embalmer came up with this method). The process reduces the cure time to almost nothing, giving the meat a cured flavor and color in a fraction of the time of dry aging. The brine also makes the ham sweet, mild and semi-salty, so it can be carved into thick slabs and eaten with a fork and steak knife. And unlike a cured and aged ham, which loses weight over time, the brine-cured city ham often weighs more than it did before brining when it's sold, adding up to higher profits for the producer. As Americans have adopted this as their de-facto ham, dry-curing has become a dying art in the American South.
Ham span: Climate and the world's ham belt:
Curing hams was a matter of necessity in the days before producers could rely on commercial refrigeration. When cold weather arrived, farmers (most of whom kept pigs) had to choose between slaughtering their pigs and feeding them through the lean winter months. Often they decided to slaughter them. American farmers living in areas like Virginia, Tennessee, Kentucky and North Carolina, where winter temperatures hover between 32 and 42 degrees, were in luck: They could dry-cure their slaughtered pigs during the winter without risk of spoilage or freezing. In states farther south, like Florida, the pork would spoil in warm temperatures; in the north, hams would freeze, preventing the cure from penetrating the meat. During the springtime, mild weather in the good ham-curing states gave the hams time to equalize their salt content and begin drying out. The hot, fairly humid summers in the American South are likewise perfect for the next stage in the process: Higher temperatures activate enzymes that break down proteins and fats in the meat, giving the finished product a distinct aged flavor. This process is referred to as "the sweat."  Heat = aging = flavor. And humidity keeps the ham from getting too dry. So while Virginia has always been a state for ham lovers, Arizona is not: A Phoenix summer would produce a crop of dry, oversized paperweights.
Of course today we can create ideal ham-curing conditions almost anywhere, with a period of artificial refrigeration followed by a period of heat and humidity. Some good ham, for instance, is now made in Canada. But the culture of great ham started—and lives on—in the world's ham belt, which runs through the southeastern United States, southern and central Europe, and southern China. To this day, artisans in those regions are making hams in ambient conditions with no artificial temperature controls. As a result, their hams are distinct to a year and region, much like wine.
Raw feed: Is country ham safe to eat uncooked?
Yes. USDA-approved country hams have been cured and are safe to eat without further cooking. The producer decides whether to label the ham RTE (ready-to-eat) or NRTE (not-ready-to-eat). If a ham is labeled NRTE, USDA law requires the producer to including cooking instructions on the ham, advising the consumer to essentially cook all the juices out of the meat until it turns into a salt-encrusted piece of shoe leather. Most producers opt to label hams NRTE, partly to avoid the scrutiny of inspectors but also because the custom in this country is to cook hams anyway. This practice is unfortunate: American cured hams are safe to eat uncooked, like prosciutto or other cured meats, and typically taste better that way.
Now we're cookin':
Americans typically eat their country hams cooked (overcooked, in fact –turning them into salt licks), just as we've traditionally prepared the more common brined city hams. We inherited this practice from the British. The famous country hams of Bayonne, France and Westphalia, Germany are now eaten exclusively cured but were traditionally eaten both cooked and uncooked. Italian prosciutto and Spanish Serrano hams have always been eaten uncooked. As you'll see in the uncooked American hams offered for tasting, country hams need not be cooked to be delicious.
Proud to be an American
Countries in the ham belt have distinct methods of curing and serving ham. Just as you wouldn't call a California pinot noir a Burgundy (even though it's made from the same grape), you shouldn't call our regional cured hams "American prosciutto" or "American Serrano" when they're served uncooked. Hams from Virginia, Kentucky and other states hold their own against Italian and Spanish hams and should be referred to by their proper designation: artisanal country hams. Confusing the names does both parties a disservice.
This little piggy
Most hams come from pigs that were bred for commercial use and raised in factories. Factory pigs gain weight quickly, bear many offspring, and, to suit today's consumer, have large amount of lean meat and very little fat. Lean meat wasn't always a priority, however. Until the rise of vegetable oils and shortening, lard was one of the most important pig products, and pigs were raised to be as fat as possible. America's fat paranoia has made fatty pork less popular, which is good news for the modern pork industry: Lean meat requires just a quarter of the calories to produce than fat does. The new leaner pigs therefore take much less time and money to feed: a mere 2 1/3 pounds of feed provides a pound of weight gain for a pig, most of it very lean. Of course, super-lean pork does not make a great ham. A dry-cured ham without fat feels rough in the mouth, is overly salty and doesn't have the characteristic texture of an old-fashioned country ham. Some big pork producers have started putting a little more fat back into their pork, and we can only hope that others will follow.
Large-scale pig farmers choose specific breeds for their growth, reproductive, and lean-meat traits, but some smaller scale farmers who are more concerned with the end product prefer breeds that produce great-textured and flavorful pork. Among major commercial breeds, Durocs have the most intra-muscular fat and make great hams.
Some older-heritage breed pigs with great fatty meat such as Berkshire could be produced on a larger scale, if consumers started demanding this type of pork. But other great tasting ones such as Tamworth (a friendly pasture pig and great forager) and Ossabaw (extremely rare, extremely fatty pigs originally brought to America by the Conquistadors) simply don't translate to mass production for specific reasons. The Tamworth, for instance, doesn't built up muscles—and therefore doesn't bulk up quickly enough for larger-scale farmers. And the Ossabaw is small, too fatty, and mean as hell, so it's hard to handle.
They are what they eat
Prior to the rise of large-scale industrial farming, pigs were usually fed scraps and byproducts from the farm. Pigs are voracious omnivores and will fatten themselves with almost anything you throw in front of them. Throughout history they've proven to be thrifty animals on a farm, because they essentially turn waste and garbage into tasty meat. Of course the flavor of that meat has always been determined by a pig's particular location and diet. Brewers would feed their pigs spent barley mash (this doesn't produce good pork). Dairy farmers in northern Italy would feed pigs leftover whey from cheese manufacturing, which produced incredibly tasty meat; this is still considered an ideal diet for pigs that will become prosciutto. In Virginia, pigs traditionally fed on leftover peanuts and peanut greens in the past. Nuts and oily legumes build up good intra-muscular fat, and that particular type of fat is more liquid, resulting in a silky final product. Peanuts are no longer a waste crop, however, so they are no longer part of the pig's diet. Perhaps the happiest pigs were those who lived on farms near the forest, because they were allowed to forage the woods for hickory nuts and acorns. This feeding style is called mast feeding, and it produces fantastic ham with similar properties to the peanut eaters. Very few pigs are raised this way commercially today, and what was a thrifty practice in the past has become an incredible luxury. The famed Iberico ham from Spain, raised on acorns, fetches a fantastic price and is not yet imported into this country (Note: it is imported now).
The fresh ham
When choosing a fresh ham to cure, producers select their size, then decide how they want the fat trimmed and how long they want the shank cut. Most American producers begin the curing process with hams that weigh in between 20 and 23 pounds. Smaller hams would dry out too quickly, and larger hams could spoil before the cure penetrates the meat. Some Spanish producers of larger Serrano style hams, however, lean toward gigantic hams, which, if cured correctly, have a few advantages: They come from larger, fatter pigs, which have more aging potential and more flavor. The fat ameliorates the saltiness and dryness of the meat, and the hams dry out less over the two-or- more-year aging process used in Spain. A two-year-old American ham tastes great but is drier and saltier tasting than a larger Spanish ham would be. Shank length is also a matter of preference. The Italians and the Spanish prefer a very long shank, sometimes including the hoof; the Spanish Iberico "pata negra" comes with a black hoof, a sign of its pedigree. Some producers contend that hams spoil around the shank and therefore request short shanks. Ham producers must also consider how the fat is trimmed. Prosciutto makers leave all the skin on the ham to protect it from over-drying. Some Spanish even out the drying of the ham by cutting the skin off in an easily identifiable V shape. Americans typically cut off a collar of skin around the butt end of the ham.
Cure genius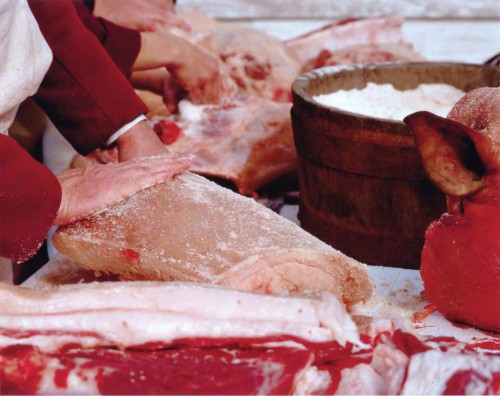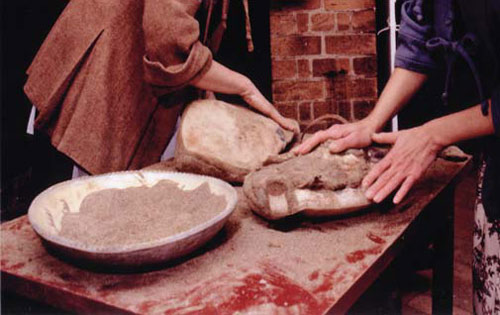 The curing process begins by rubbing the fresh ham with salt and sometimes sugar, spices and nitrates. Italian prosciutto and Spanish Serrano hams are made with a pure salt cure and no added nitrates or nitrites.  Some American hams are also nitrate free. When used, nitrates ensure a pink color and cured flavor in a short amount of time, and provide some anti-microbial benefits as well. Nitrates are not a modern addition to the curing process; they have been added to hams in the form of saltpeter for hundreds of years and in the form of impure salts for millennia. Meat naturally contains a small amount of nitrates, however, which allow it to take on a beautiful color on its own. The longer a ham is aged, the fewer added nitrates are necessary. Many American hams are cured with brown or white sugar in addition to salt. The sugar is not for sweetness, but rather serves to soften the harshness of the salt and the toughening effects of nitrates. Red and black pepper is sometimes added as well, lending some flavor but also discouraging bugs from attacking the ham. Machines are typically used to rub the cure into factory-produced ham, but as any ham artisan will tell you, the hand of the skilled salter is important. All of the American hams at the exhibit are hand salted.
Ham's off!
After finishing the cure, many producers still use traditional methods to protect their hams against pesky bugs like red-legged ham beetles and cheese skippers. Some producers cure each ham in its own bag, using only the amount of cure necessary, and then leave the ham in the bag for protection. Others bag their hams after the cure. Some coat the outside of the ham with spices like black or red pepper to deter bugs. Long ago, some hams were dipped in hickory ash as anti-bug insurance. Prosciutto is rubbed with a lard mixture for the same reason, and also to slow the drying process.
How's it hanging?
How to hang the ham: hock up or hock down? It's not as silly a question as you might think.  Hanging hock up, as you see in most stores, causes the ham to assume a narrow bullet shape.  This helps hams dry out evenly, which the Europeans like. Most Americans hang their hams hock down, because it pulls the ham into a squatter "ham" shape and leads to moister ham, which suits the American palate.
Smoke them if you've got them
We usually associate the smoking process with flavor, but in the past—both in America and in Europe—smoking provided an extra layer of food safety: It helped kill bacteria. Smoking in Europe depends mainly on geography. In the southern sections of the ham belt, such as Spain and most of Italy, producers have left their hams un-smoked, while those in Alpine Italy, Germany, the UK and Belgium have smoked their hams. In the United States, Tidewater Virginia is known for heavy smoking and North Carolina is known for little or no smoking, but everywhere else it's the producer's preference and not the location that determines the use of smoke. Farmers just miles from each other might use entirely different techniques of curing and/or smoking. Those who do smoke their hams in the U.S. tend to use hickory or oak; Europeans also use hardwoods but sometimes add aromatics such as juniper.
Age before beauty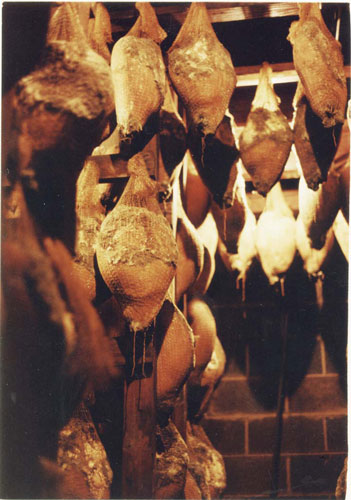 Producing a perfect ham is a balancing act. While aging develops and concentrates a ham's rich flavor, it also reduces the ham's moisture and accentuates its saltiness. Fat inside the ham helps counteract these effects, and is therefore a key part of aging. A ham with generous amounts of fat can be aged longer for more intense flavor, without drying out. The local flora of a region helps determine the flavor of a ham.  Micro-ecosystems are so important that some producers say they can taste and smell the difference in hams that are from two different aging rooms at the same facility. During aging, molds grow on the outside of hams (molds that are specific to the ham house). The mold-covered hams don't look all that pretty on the outside, but the mold, much like the type that grows on a rind of a cheese, helps develop special flavors in the meat. Enzymes inside meat, which are partially dependent on good bacteria and molds in the ham house, break down the protein and fat in the meat over time to give ham its characteristic flavor. This prime of this process is in the summer, when temperature and humidity is high. A two-year old ham does not benefit from two full years of aging per se, but rather from two full summers of aging, with some time in between.
The Slice is Right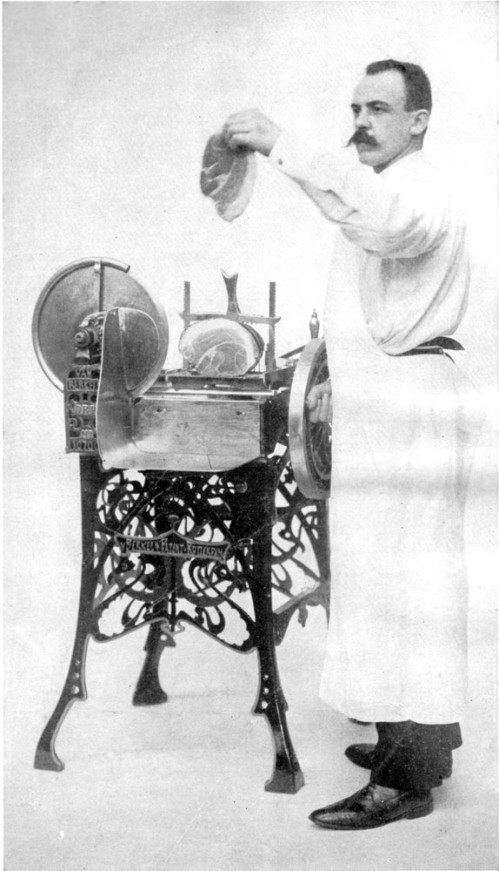 W. A. Van Berkel patented the first commercial meat slicer in 1898, ushering in an era of modern slicing and eventually eliminating the need for highly skilled slicing personnel at butcher shops and delis. In the days before this technology, prosciutto and serrano ham was left on the bone and painstakingly sliced into strips, parallel with the muscle fibers. Many Spanish butchers have maintained this slicing tradition, however in the US the vast majority of these European hams are now boned out and machine sliced paper-thin across the grain. Ham aficionados still insist on slicing meat the old way, parallel to the grain, claiming that slicing this way increases the chewiness (some might say toughness) as well as the perception of flavor. They also claim that machine slicers, especially fast-spinning modern ones, melt the fat of the slices, thereby ruining the mouth-feel of the ham. This is debatable—but the advantages of machine slicing are not. Slicing a boned ham on a machine reduces waste and produces a uniform, extremely tender slice. And we can thank Berkel for the proliferation of prosciutto-style ham: The emergence of machine slicing has brought thinly sliced cured ham to people around the world, and to many who would never have gone to the trouble of tasting hams that needed to be hand sliced by a trained carver.