by Dave Arnold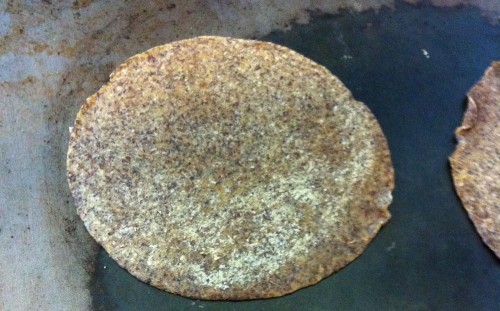 Becoming a Mexican grandmother is one of my lifelong goals. I am proud to say I've achieved one of the major milestones: learning to nixtamalize corn and make tortillas from scratch. Along the way I've uncovered some cool facts and developed a eurotortilla made from nixtamalized rye.  Next step: learn Spanish.
Nixtamalization is the Nahuatl word for the cooking and steeping of corn in alkaline water. The steeping liquor, known as nejayote, is drained off after the process is complete and the remaining corn is washed to remove a portion of its skin and excess alkali.  At this point the batch of corn is known as nixtamal.  Nixtamal can be ground to produce the dough known as masa –from which we make tortillas, tamales, tlacoyos, etc; or it can be left whole and boiled again to produce the puffed up boiled corn used in posole.
Nixtamalization was invented in ancient Mesoamerica, now Mexico and central America, over 3500 years ago. The alkalai of choice in this region is calcium hydroxide (slaked lime). Nixtamalization spread with corn culture to the American southwest, where nixtamal is known by the native American word hominy, and potassium carbonate (potash) and lye are the common bases. Nixtamalization eased the workload of women charged with performing the back-breaking labor of grinding corn. Untreated corn is extremely difficult to grind by hand –especially using the traditional Mesoamerican metate e mano:  a stone table and rolling pin. The alkaline water of nixtamalization partially dissolves the corn's hard skin (the pericarp), allowing the grain to take up water much more quickly and grind much more easily.  Besides this fundamental benefit, nixtamalization does much more:
Nixtamalized corn has an amazing aroma and flavor, which is why a tortilla doesn't taste like plain cornmeal.
Nixtamalized corn makes a fantastic masa –ideal for tortillas, tamales, tlacoyos, etc. Untreated corn doesn't  — we'll see why later.
Mature corn, as opposed to green and sweet corn, is deficient in available niacin.  It contains plenty of bound niacin (as glycosides associated with proteins) and alkali processing releases it.  European invaders did not realize this crucial fact when they appropriated corn as a staple grain.  Because western milling technology was so advanced, they didn't see the need for nixtamalization.  As a result, Pellagra, a horrific disease brought on by niacin deficiency, plagued and sometimes killed poorer Europeans and Euro-Americans who consumed primarily corn.
If calcium hydroxide is used as the alkali, the calcium content of the corn skyrockets.  Nixtamalized corn is the primary source of calcium for many people who consume tortillas as a staple.
Alkali processing deactivates nasty aflatoxins  – poisons due to fungal contamination.  Some evidence indicates that these aflatoxins become active again in the acidity of the stomach – the research is inconclusive.
Nixtamalization improves the protein balance in the corn by washing away some nutritionally low quality zein protein. Thus the remaining protein is higher in nutritional quality, but the total protein content is lower.
Learning Nixtamal:
Why should you learn to make nixtamal? Home-made tortillas less than an hour old are so far superior to typical store fare that they should not be known by the same name. Old tortillas are good for frying and that's about it. Making tortillas with maseca, dried masa flour, is not a close second.  Tortillas made from fresh masa taste better, and making and grinding your own lets you control the texture.
By the way, when I say tortillas, I mean corn tortillas –God's tortillas. Flour tortillas are comparatively soulless, though they have their uses. Corn tortillas are amazing because their perfect taste and texture comes from such simple ingredients: corn, water, calcium hydroxide.  No added fat, no added anything.
Let's explore Calcium Hydroxide, the magic ingredient of nixtamal, before we look at the process itself.

Calcium Hydroxide, or Cal, the magic mineral:
Calcium Hydroxide, Ca(OH)2 or slaked lime, is a weakly soluble, alkaline chemical commonly made by burning limestone or seashells at very high temperatures to produce lime (CaO) and then "slaking" the result with water. It is one badass ingredient. In Mexico it is known Cal, Americans often call it "pickling lime," and Thais call it lime paste.  It is one of the primary alkaline cooking ingredients in the world (for Harold McGee's interesting article on alkaline cooking in general see here. See the end of this post for some international and awesome non-nixtamal reasons to use Cal). Since cal is only weakly soluble in water, you'll be working with slurries and not solutions.  Add Cal to water and break it up to form a cloudy liquid.  Most of it won't dissolve.  When you cook the corn, add Cal based on the weight of the corn, not the weight of the water.   The weight of the water isn't as critical; the Cal is in excess of what can dissolve.  As the process uses Cal, more will be dissolved into the water. Recipes vary widely, but a good value seems to be 1 percent  Cal by weight of corn (1kg corn gets 10 grams Cal). You'll add water at about two to three times the weight of the corn (I do three, since some evaporates off and I'm making small batches).
Finding Corn:
You don't use sweet corn for nixtamalization, you use field corn –of which there are a bazillion types.  Field corn is shockingly hard to find in New York City.  Popcorn can be nixtamalized, but the results are poor because the skin is especially tough and the endosperm is small and hard.  I've done it, but I don't recommend it. Tortilarilla Nixtamal here in NYC turned me on to their supplier: Rovey Seed.  I get white (the traditional favorite) and blue (awesome) field corn in 50 pound bags, which costs more to ship than to buy.
What's going on in Nixtamalization, and the Basic Procedure:
Good masa is cohesive (it sticks to itself) but isn't adhesive (it doesn't sticky to your hands.)  It is also soft, moldable, and inelastic.  All of these qualities are essential to making tortillas and are delivered by the nixtamalization process. When you cook and steep the corn with Cal, the alkalinity of the water starts softening and dissolving the pericarp of the corn kernels.  This skin is later removed, but not entirely.  The dissolved skin becomes a mass of gummy polysaccharides that act like a hydrocolloid, imparting good working qualities to the resulting masa.  Nixtamal that is over-rinsed after steeping, or that is made with corn from which the pericarp has been mechanically removed, doesn't have this workability.  The cooking in Cal also gelatinizes a portion of the starch in the corn.  This starch adds structure to the masa that would be absent if the cooking step were omitted.  During steeping some of the gelatinized starch retrogrades, or recrystallizes, which some authorities believe is critical to masa structure.  During steeping the calcium also penetrates further into the endosperm, increasing the calcium content of the masa.  Surprisingly, though steeping times can be as long as 24 hours, the water content of the corn does not increase significantly during steeping. Cooking with Cal also brings out the characteristic fantastic aroma of tortillas and saponifies (the process by which fats are turned into soap) some of the fat in the corn germ, adding to the characteristic taste.  The corn germ, which contains a good portion of the corn's oils, also absorbs a lot of calcium and is vital to the texture of a proper masa.  A study making masa from de-germed corn deemed it worthless. Other reactions taking place during nixtamalization are the polymerization of proteins and the complexing of fats and starches (see references at bottom).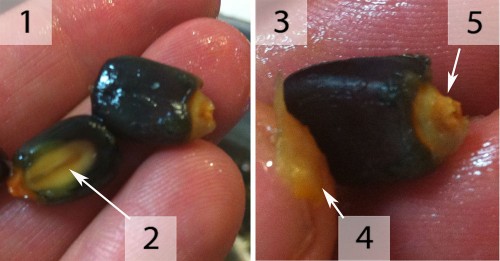 Getting it Right: Â visiting Tortillerilla Nixtamal:
Nixtamalization procedures are all over the map. Cooking times vary from 15 to 90 minutes.  Cooking temperatures vary from 80 C to boiling. Steeping times vary from a couple of minutes to over 24 hours.  Since I didn't grow up making Nixtamal, I needed a reference from someone who knows what they're doing.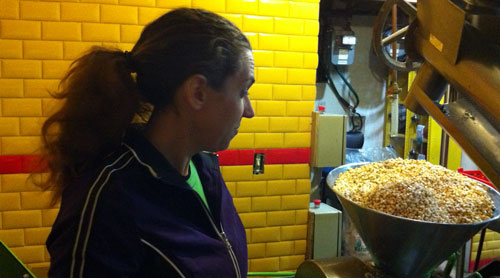 As much as I love New York City, I am disappointed to report that there is only one establishment in this whole place that makes its own tortillas from raw corn: Tortillarilla Nixtamal in Corona, Queens.  All other shops buy tortillas or make them from maseca (masa flour). Shauna Page, one of Tortilla Nixtamal's owners, graciously gave Nastassia and me a tour and showed us the ropes.  She showed us her corn, she showed us her nixtamal, she showed us how to rinse it. She demonstrated how to get the proper texture and how to grind it.  She also gave us some fantastic tortillas hot off the presses.  The most important thing I learned was how properly nixtamalized corn should look and taste.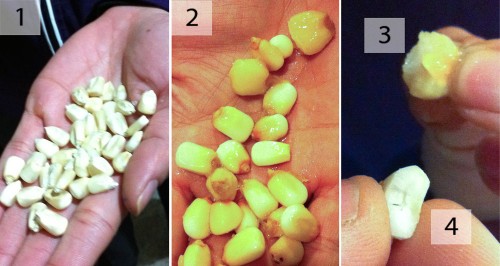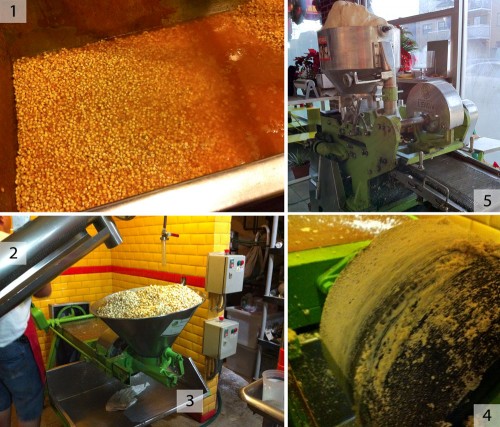 How to Do It:
Add 5 grams of Cal to 1.5 liters of water in a pot and make into a cloudy suspension with a stick blender. Add 500 grams of field corn. Bring to a boil, then turn heat down and let simmer for at least thirty minutes, stirring every few minutes.  Some people say that you should never boil nixtamal, because the masa will get gummy.  I haven't found this to be true.  I don't keep it at a boil, however, because at a boil it can overcook rapidly. If your temperatures are too low the process will take longer. At about the 15 minute mark, start testing corn kernels.  Pull them out of the water and see how easily the pericarp slips off the kernel.  At his stage it probably won't come off too easily.  If it does, the corn might be done.  — bite into the corn and see how soft it is.  At 15 minutes it will probably still be fairly hard and not have a lot of water absorption.  At 30 minutes, your corn might be done (mine usually takes between 40 minutes and 1 hour). You know your corn is done when:
the skin is partially dissolved and the rest slips off easily
the outside is slimy
the corn is somewhat softened but still has an unaffected core
it tastes like masa.
Unless all of the above are true, keep cooking.
There are dangers of overcooking:  if you completely dissolve the skin the corn will rapidly take on water, the starch will get completely gelatinized, and the corn won't be good for masa.  If that happens, let it cool, rub off the remaining skin, rinse under water, and continue to boil the corn in salted water (or use the official Mexican mineral salt: Tequesquite) till the corn puffs up into posole corn.  After the corn is cooked let it steep.  I have found that the steeping time isn't critical.  As long as the corn steeps a couple of hours the masa seems to work fine.  Some people "quench" their nixtamal to stop the cooking process by adding some water to the pot after the heat is turned off. I only do this if I think I have almost cooked it too long or am making a big batch, otherwise I let it cool with the lid off and then cover it to steep.  A timing suggestion: nixtamalize at night and then let it steep until the next evening (about 24 hours) or nixtamalize in the morning and let it steep till dinner (8-10 hours).  After steeping, drain the corn into a colander and rub your hands through it to break up some of the dissolved pericarp. Don't worry about being rough. Rinse the nixtamal in water,  then repeat one more time.  Done and ready to grind.
Grinding into Masa:
As part of my quest for Mexican grandmotherhood I needed to grind my masa on the traditional Metate e Mano.  I went north to East Harlem to find one.  The metates on offer were laughably small but would have to do.  The surface, I soon found out, was also way too rough — there was no way to grind effectively on it.  I believe I inadvertantly purchased an ornamental metate, but I have forced it into kitchen service by grinding the surface down with a 4 ½ angle grinder and then sharpening  with a coarse abrasive block.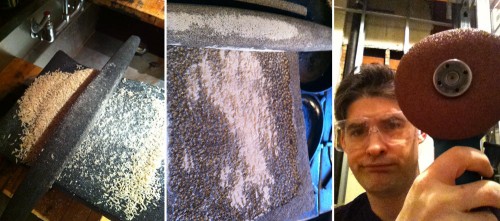 After hours of using the metate I can say this:
Either there is a skill in grinding I don't possess (possible) AND/ OR
I am incredibly puny (probable) AND/OR
Mexican Grandmas are some of the toughest people on earth,  BECAUSE
Grinding corn the old fashioned way for a group of 12 people is no joke.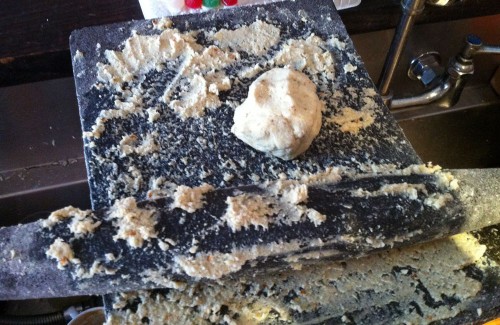 I have not given up on the metate –I'd like  buy a full sized one in Mexico and learn from a local, but for now I am on to other techniques.
The food processor is an obvious choice, but I don't really like it.  It takes forever to grind, and requires the addition of too much water.  You always need to add a little water to the corn when grinding masa, but you shouldn't have to add a ton.  The processor works but it ain't great.
I had high hopes for our Santha Wet grinder –the Indian grinding machine we use to make chocolate (which is traditionally ground in Mexico on a metate), but it was similarly disappointing.   I made a fantastic masa by pre-grinding in the food processor and then finish grinding in the Santha, but the process was laborious and it took the Santha 35 minutes to achieve a texture I liked.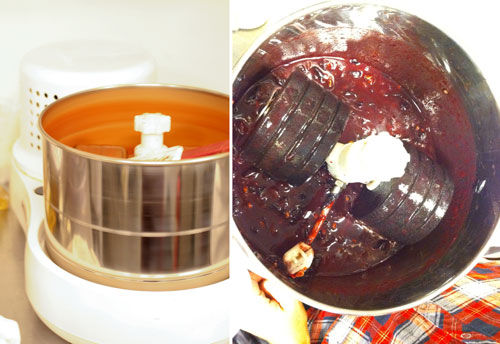 My current favorite (although I don't like it that much) is the Victoria/Corona corn mill, made in Colombia.  It makes a good masa –if you grind it twice.  Don't try to use it for anything else – it's no good for making flour.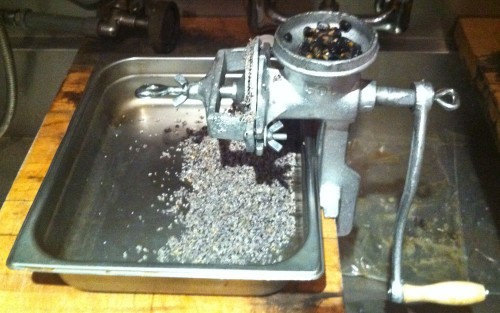 I add salt to the masa after the grinding process –to taste.
A note on authentic Mexican kitchen equipment: you will have the same sourcing problem I had with the metate if you're looking for a molcajete.  These traditional stone mortar and pestles are used in Mexico for grinding spices, pounding avocados, etc.  I bought mine 12 years ago and it is one of the workhorses of my kitchen.  The ones the national kitchen chains (you know who you are) sell now are a joke –you could lose whole pepper grains in their surface

Forming Tortillas:
I wanted to learn the traditional hand-slapping technique for making tortillas without a press, and maybe I'll get good at it someday.  For now I am barely passable and am slow as anything, so I use a cast-iron tortilla press covered with a sheet of plastic wrap as a release agent.  Don't bother with light or flimsy presses.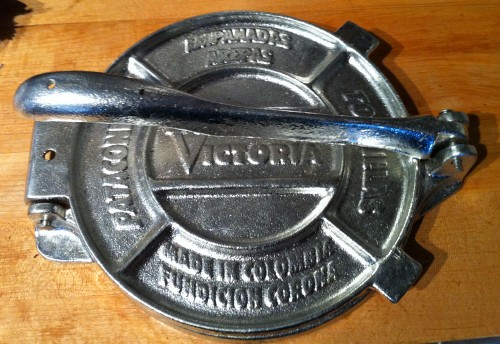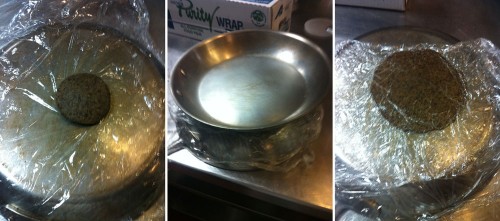 Cooking:
I cook the tortillas on a dry crepe maker, griddle, flat top, or hot pan.  You want hot –like 200C or more.  Cook it for about 40 seconds, flip, cook about 40 seconds, flip and cook again.  The tortilla should start to puff a little.  If your masa is very course, it won't puff –don't worry about it.  Sometimes I cook longer, sometimes I flip a couple of times.  Do it by eye.
Blue Corn pH Test and the Quixtamal connection:
One day while nixtamalizing blue corn I decided to see if I could speed up the process by completely omitting the steeping step and cooking the corn for only 10 minutes in the pressure cooker at 15 psi. I would be the inventor of the revolutionary Quixtamal ™ fast nixtamalization!  Not so much.  I was able to make a passable masa, but the flavor wasn't as good as traditional and, as you can see in the picture below, the color wasn't  right. The reason? The blue color in corn is due to anthocyanin pigments.  These pigments are highly pH dependent. In Neutral and acid conditions they tend to purple and red, in basic conditions they tend to blue and green.  The traditional masa is bluer because it is more alkaline and tastes more like a traditional tortilla –a visual check of the process of nixtamalization.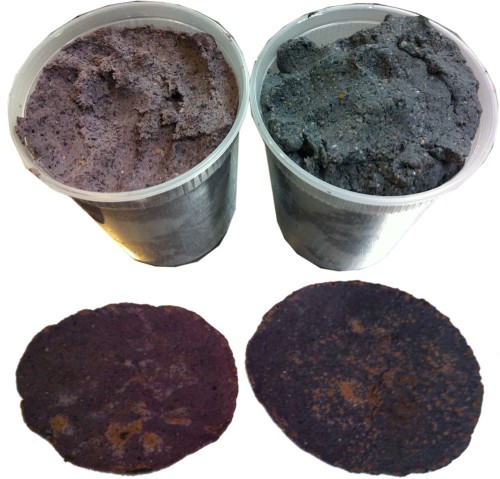 Non-Traditional Grains: The Rye Eurotilla.
Corn is the traditional grain for Nixtamalizing, although sorghum is also used.  Sorghum and corn have similar seed coats, so it makes sense that they can be processed the same way.  I wanted to try other grains –like rye.  Unfortunately, Cal wasn't a strong enough base to melt the seed coat of rye, so I switched to a stronger base –lye (NaOH).  I simmered rye in a 1 percent solution (based on water weight) solution of lye for 4-5 minutes (until the pericarp started to dissolve), then drained the rye, rinsed it thoroughly and transferred it to a pot with water and cal (at 1 percent cal by weigh of rye) and continued the nixtamalization process  as I would for corn.  Watch out — the small rye grains can overcook very quickly. When the grain was done I quenched the pot with water. Why use two different alkalis instead of just lye? I believe that nixtamalizing with Cal produces a different flavor than lye, and lye alone would be too easy to overdo.  I just used the lye as a kick-starter and then went traditional.  The resulting tortillas were amazing. They had traditional tortilla aroma, minus corn, plus rye.  The masa was a bit sticky (probably due to rye pentosans), but released well from the plastic wrap and the cooked texture was fantastic. I am extremely proud of the rye tortilla –nothing but the rye, cal water, and salt! I have tried nixtamalizing partially milled faro with Cal, no lye.  It worked, but is very finicky because so much of the pericarp has already been removed – it's very easy to overcook.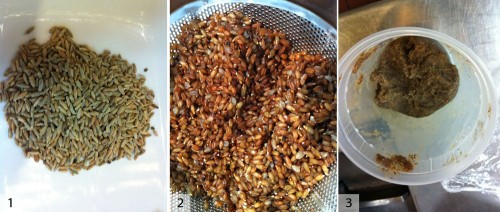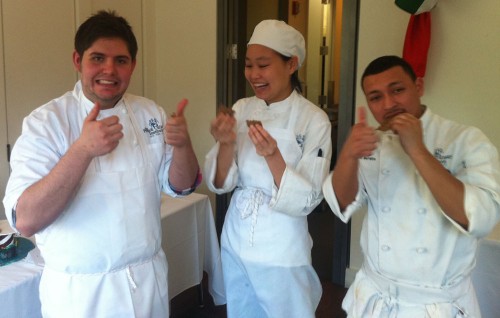 A Note on Lye:
Lye is dangerous.  Really.  I have dozens and dozens of quart containers filled with various powders –none of them dangerous to taste except lye, which I use very rarely and expect to be labeled.  Last week someone brought me an unmarked quart container and asked what it was.  Stupidly, without thinking or looking I put my finger in the powder and put it on my tongue. It felt like my tongue was on fire –like I ate 50 Szechuan buttons at once.  Strangely, it didn't taste basic or slippery.  The only tastes I could discern were salt and what tasted like acid (I don't know why). Thank god I didn't swallow. I instantly spat out and flushed my mouth with water for 10 minutes before going to the emergency room. My tongue and the roof of my mouth were bleeding.  The taste buds were burnt off half my tongue.  Luckily, the tongue heals fast, although I'm still not 100 percent.  The first thing I did when I got home from the ER was get rid of any lye in my house.  The thought of my kids getting anywhere near that stuff makes me sick.  Use caution.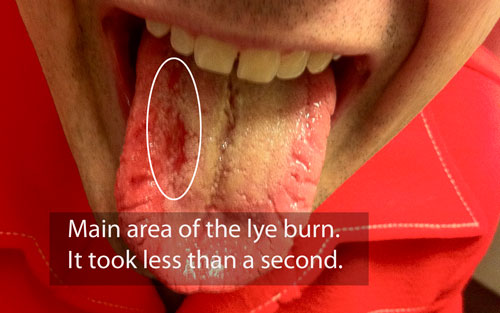 Tortilla de Pollo, A Recipe from Fabulous' Abeuela.
Last, but not least, our Mexican former intern Fabulous, fresh off a stage at Noma, told me that his grandma nixtamalized with chicken stock instead of water, so we tried it.  It was fantastic.  Maybe the best tortillas yet.  The corn has to cook longer in the chicken stock –45 minutes to an hour at least.  I don't know why, but the skin doesn't dissolve as quickly. Perhaps the chicken stock uses some of the cal and the process could be speeded by adding more.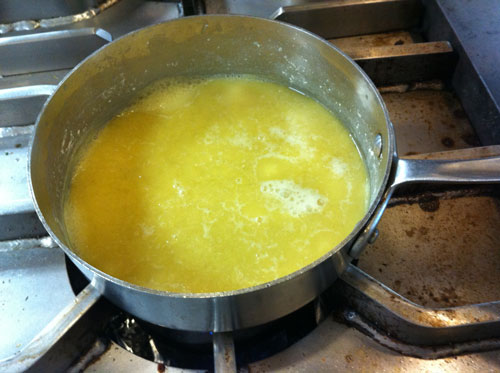 The Tantalizing Aroma of Tortillas
I asked Harold McGee about tortillas' characteristic aroma, which he said is mainly due to the compound 2-aminoacetophenone.  He said the same compound gives chestnut honey its distinctive odor.  I bought a container of chestnut honey and dag nab if it didn't smell of tortilla.  He sent me some papers which claim 2-aminoacetophenone is a breakdown product of tryptophan –an amino acid in the tortilla (see references at the bottom).  But corn is famously deficient in tryptophan and lysine — why would the aroma of tortilla depend on something  in which it's deficient? This nagging question lead me to believe it was, perhaps, niacin breakdown products that created the aroma. Niacian and tryptophan share some similarities and are part of the same metabolic pathways … and Niacin is released in nixtamalization. I boiled some niacin supplements with Cal and could detect no difference compared with plain water and cal. Guess it's not the niacin. I am still stumped.
Other tortilla aroma compounds include beta-ionone (warm,fruity,woody) and methy-butanal (cocoa,coffee,nutty). Side note: the best free site I have found for investigating aroma compounds is: The Good Scents Company –you won't be disappointed.
Special Bonus
Some More Uses for Cal –The Magic Mineral: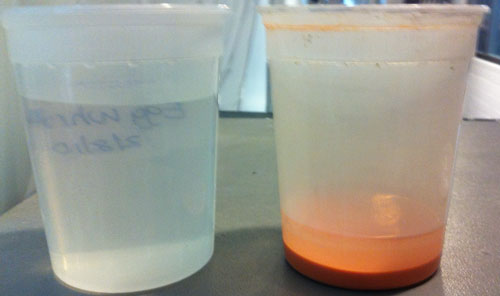 In Thailand, lime paste — or more commonly a red version called red lime paste — is added to water and mixed to create a slurry.  After the slurry settles out, the clear water that remains is saturated with calcium hydroxide and tastes a bit like cement (which makes sense — Ca(OH)2 is formed when cement is mixed with water).  The lime water is then decanted off the paste, which can be used again.  Fruits like bananas are soaked in the lime water prior to cooking.  The calcium in the water cross-links the pectin in the fruit, making it stay firm even when cooked.  Bananas are especially good for this trick because they are often fragile and already have a cement taste as a base note (ever tasted an under-ripe banana?).  For years I have been vacuum injecting lime water into bananas before cooking – I can cook the bananas and beat the hell out of them in the pan without breaking them, and they stay firm.  (If you try this trick: don't let the calcium stay in too long before you cook and don't use too much — you'll taste the lime water.  Very ripe bananas work best because they are super sweet.)
Thais also add the lime water to batter for fritters.  Supposedly, the lime water makes the fritters crispier, although in side by side tests with wheat based and rice based batters we have not noticed this improvement.  Surprisingly, the lime water  didn't make the batters brown faster, which I expected — alkaline conditions speed Maillard recations. What the lime water does do in a batter, however, is provide a characteristic alkaline taste (foods like pretzels and yellow alkaline noodles derive some of their unique flavor from alkaline processing) that we like.
Slaked lime can be used to increase crispiness in pickles by the same pectin cross-linking described above.
I love this one: It can be used to keep boiled green vegetables bright without losing firmness.  Every cook knows that adding a pinch of baking soda to cooking water helps green vegetables stay green.  Cooking in neutral or acidic water at high heat encourages chlorophyll to lose magnesium.  Once the magnesium ion is lost the chlorophyll, now in its degraded form known as pheophytin, takes on a drab color. Cooking in alkaline water (like with baking soda) prevents the chlorophyll from losing magnesium, so the color stays bright.  Unfortunately, alkaline conditions also cause pectin structures to break down rapidly –so baking soda causes irremediable mushiness — which is why I don't use it.  Use calcium hydroxide instead — Its basic nature ensures vegetables stay green.  Its calcium cross-links pectin ensuring that the vegetables don't go mushy.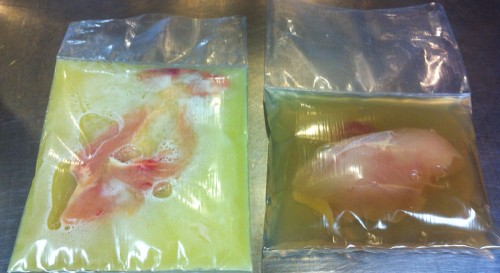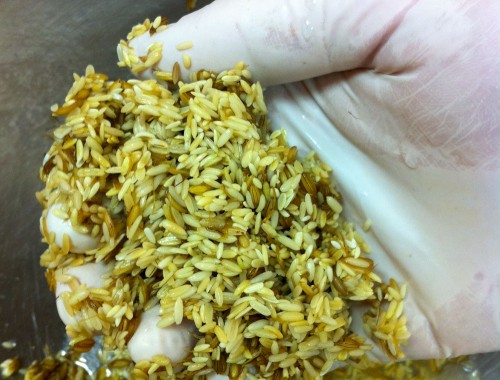 Selected References:
Ron G. Buttery, Louisa C. Ling (1995) Volatile Flavor Components of Corn Tortillas and Related Products. J. Agric. Food Chem., 43 (7), pp 1878–1882
Méndez-Albores, J., Villa, G., Del Rio-García, J. and Martínez, E. (2004), Aflatoxin-detoxification achieved with Mexican traditional nixtamalization process (MTNP) is reversible. Journal of the Science of Food and Agriculture, 84: 1611–1614.
Martínez-Bustos, F., Martínez-Flores, H., Sanmartín-Martínez, E., Sánchez-Sinencio, F., Chang, Y., Barrera-Arellano, D. and Rios, E. (2001), Effect of the components of maize on the quality of masa and tortillas during the traditional nixtamalisation process. Journal of the Science of Food and Agriculture, 81: 1455–1462.
Jesse F. Gregory III, (1998) Nutritional Properties and Significance of Vitamin Glycosides. Anuual Review of Nutrition, Vol 18: 277-296
M.G. Ruiz-Gutiérrez, A. Quintero-Ramos, C.O. Meléndez-Pizarro, D. Lardizábal-Gutiérrez, J. Barnard, R. Márquez-Melendez and R. Talamás-Abbud (2010) Changes in mass transfer, thermal and physicochemical properties during nixtamalization of corn with and without agitation at different temperatures. Journal of Food Engineering, Volume 98, Issue 1, May 2010, Pages 76-83