by Dave Arnold
You need to grind a small amount of spices and your mortar and pestle isn't handy. You don't want to clean out your pepper-mill. What are you going to do?  Those damn coffee/spice grinders do a crappy job on small quantities.  The spices just sit there under the blades.  You have to shake and shake –and still your spices don't get ground. Potheads to the rescue.
Tech-savvy stoners use a device euphemistically called an "herb grinder
" to crush marijuana into small pieces for use in devices like the volcano vaporizer.  Herb grinders are just two discs with meshing teeth.  Put something between the two discs, twist them in your hand, and viola –your product is ground. These grinders are small, simple, fast, and easy to clean –perfect to throw into your knife-bag.  We bought a plastic one
and a metal one called the "chromium crusher" and put them through their paces with a variety of spices.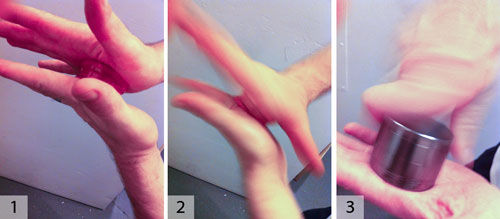 I had high hopes for the chromium crusher.  I loved the look of the heavy metal monster. But the plastic device
 was the clear winner.  I think the geometry of the teeth is better in the plastic grinder; or perhaps the metal grinder's teeth are just too far apart.
The Grinding Tests:
There are spices that grind well with an herb grinder, and spices that don't.  I've divided them into the Good, the Bad, and the Ugly:
The Good:
In the photos below we have dried rosemary, lavender, and pepper. Both grinders, as you might expect, quickly pulverized the dried herbs. With the pepper you start to see the divergence between the plastic and metal grinders –the plastic grinds finer, as it did for all of the spices in our test.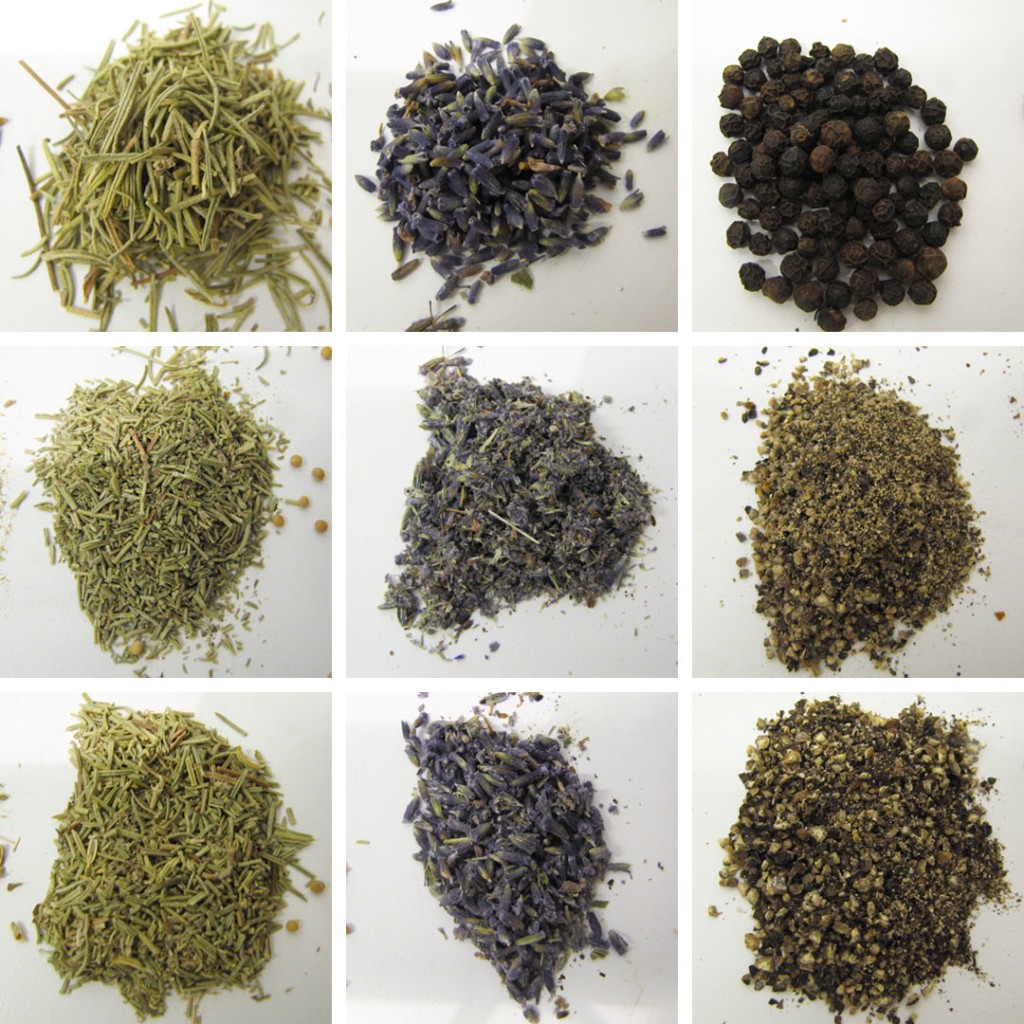 Both grinders also made short work of larger, harder spices, like cloves, allspice and star anise: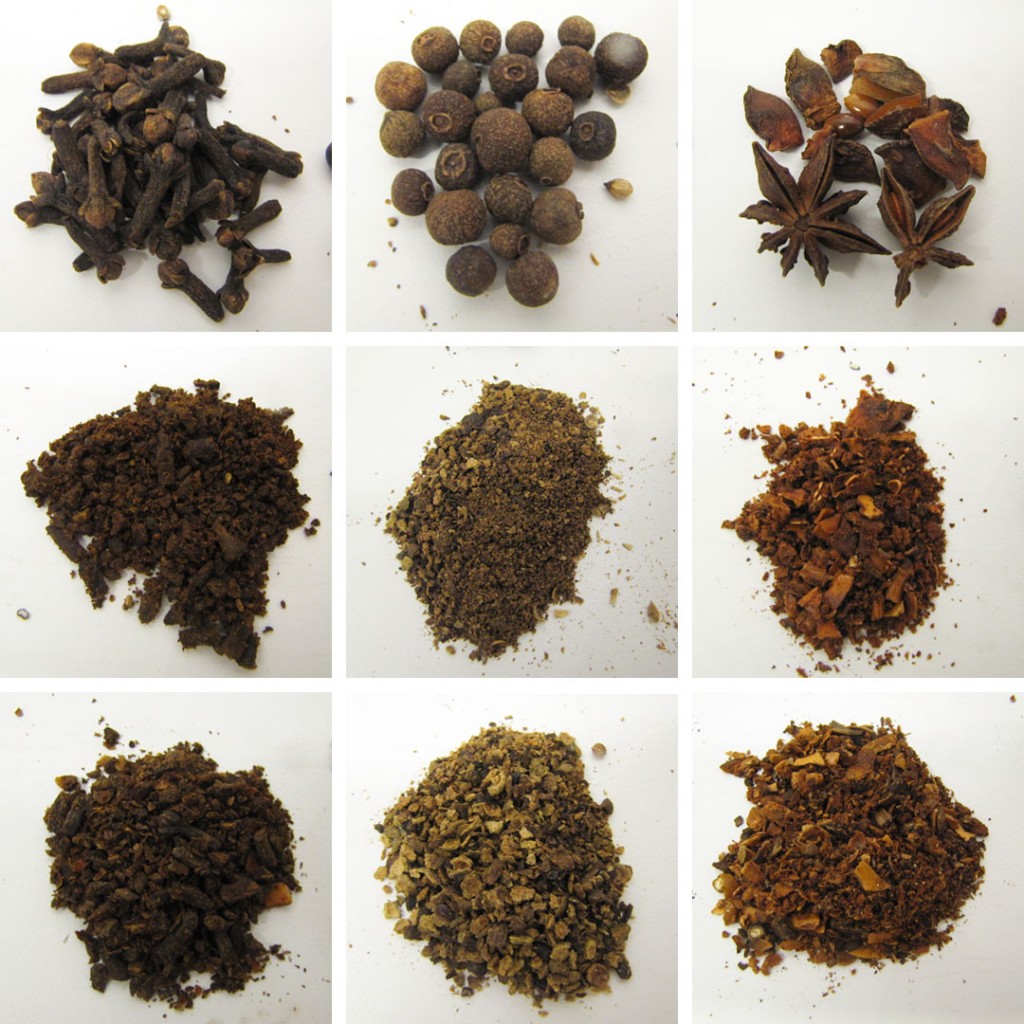 The Bad:
Long thin seeds, like caraway and fennel seed, fared poorly.  I think they slipped between the teeth of the grinders.  Green cardamom seeds were just too small and hard to grind well.  The metal grinder did a slightly better job on the cardamom.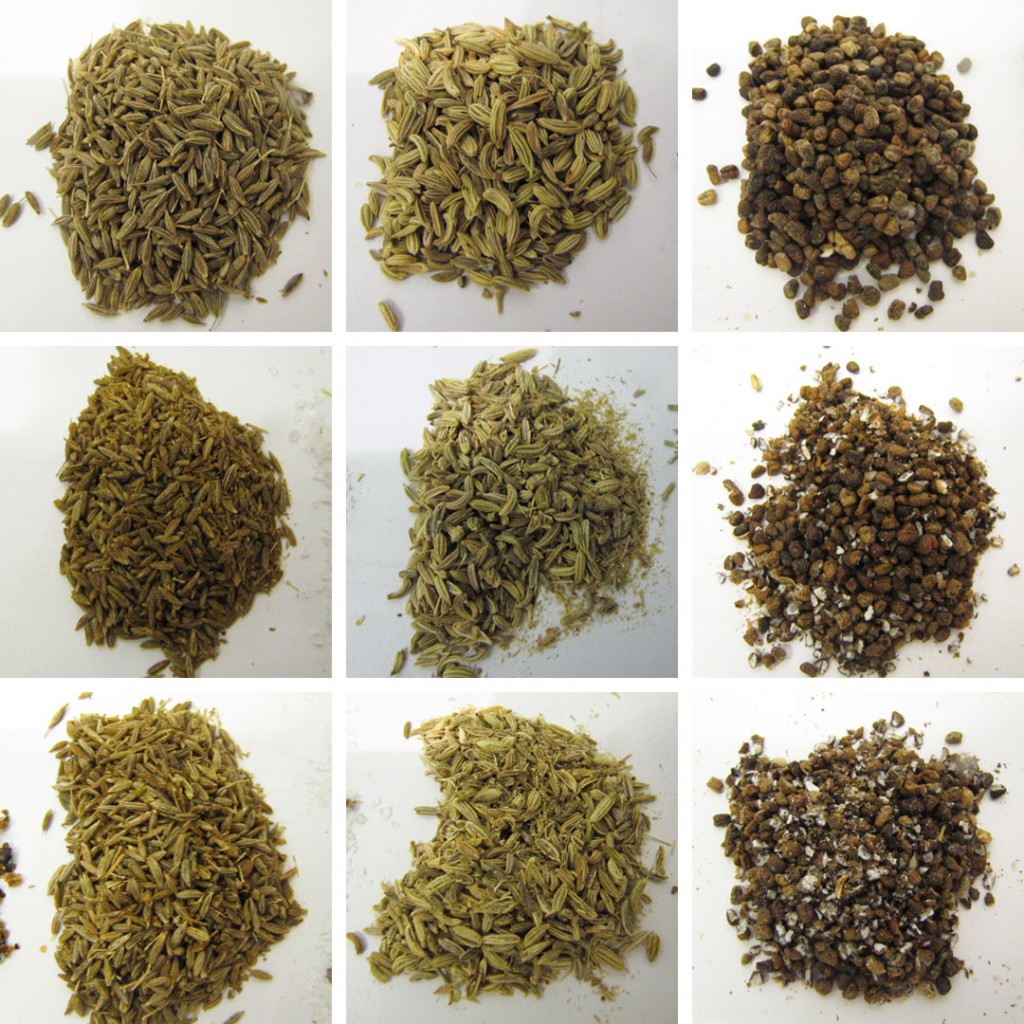 The Ugly:
The plastic grinder ground soft round seeds, like mustard and coriander, marginally well; but left behind large pieces of skin that refused to grind any further.  The mustard seeds were a little too small for the metal grinder –it couldn't crush them (coriander was okay).  Juniper was too wet and mucked up both grinders.  Everything but the juniper was easy to clean; the juniper was a royal pain.