Posted by Sophie Brickman
Purpose: Demonstrate how to use technology to improve and expand your dishes
Techniques: Vacuum-infusion, Distillation, Carbonation, Hydrocolloids, Low-Temperature Cooking, Liquid Nitrogen
Menu
Deep-fried scrapple w/ maple-infused cabbage, sauerkraut, and 62°C poached quail egg
Mokume-gane fish with liquid-nitrogen-powdered dill crème fraîche, pressure-cooked mustard seed, pumpernickel toast, Aleppo oil-infused apple and cabbage salad topped with flash-pickled red onion
Sliders circulated in duck fat and finished over a charcoal grill with pickled ramp and cheddar Mornay sauce, ketchup, and served on toasted brioche bun topped with pretzel salt and caraway seeds
Circulated haggis with liquid-nitrogen-powdered ramp green mashed potatoes, sauteed ramp greens, and sauce made of veal demi and chicken stock
Caramel apple float: dulce de leche ice cream w/ sous-vide creme anglaise base, carbonated clarified fresh granny smith juice
Gin n' juice cocktail: carbonated clarified strawberry juice, Hendrick's gin & Solerno blood orange liqueur, lime acid, simple syrup, salt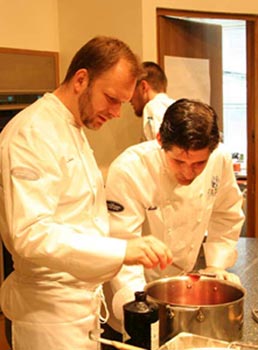 This was my first time attending a Dave/Nils presentation as part of the what I shall heretofore call Dave's "Merry Band of Culinary Technological Pranksters" (MBOCTP)—aka I am now Dave's intern and follow him around a few days a week as he teaches me how to use the rotovap to distill liters of infused alcohol (yep, kind of illegal) or feeds me gymnemic acid (which erases your ability to taste anything sweet), and then whizzes from one floor of the school to another in search of anything sweet, which he demands I eat. (This sugar tastes like sand. Gee, thanks, Dave.) When I arrived in The FCI's ampitheater, Dave handed me a high-tech camera with fifteen gazillion buttons and adjusters for light and depth and lord knows what else and told me to take pictures. He asked me if I could handle it and I grinned and nodded idiotically, then rushed away and spent the next five minutes trying to locate the shoot button, which I thankfully found right before the demo began.
First up was deep-fried scrapple (mix of pork sausage, bacon, ham hock moistened with pork trotter stock) with maple-infused cabbage, sauerkraut, and a 62°C poached quail egg. The scrapple loaf was sliced in ½-inch rounds and deep fried ("God's preferred way of cooking," says Dave), which gave the savory cake a delectable crunch. Paired with the sweetness of the maple-infused cabbage, the salty tang of the sauerkraut, and the warm gooeyness of the perfectly poached quail egg, this was not your basic let's-throw-all-the-scraps-of-the-hog-we-don't-want-into-a-mush, no siree. Audience members quickly lapped up their portions, and those culinary students who had already made it through the daylong lesson on eggs sighed, in awe, at the sight of a poached egg which you can crack open onto a plate. No swirling, no vinegar, no eggy wisps. Just a gentle crack. Ahh.
Next up was Dave's famous Mokume-Gane fish, with liquid-nitrogen-powdered dill crème fraiche, pressure-cooked mustard seeds, pumpernickel toast, and Aleppo oil-infused apple and fennel salad topped with a flash-pickled red onion. Dave developed this dish for a demo he did recently for StarChefs on the Hobart 3000 slicer. Instead of slicing ham (which he admits is one of his favorite things to do), he decided to use frozen fish to mimic an ancient Japanese welding technique (but of course) to show everyone how fantastic the slicer is. At the demo, a small glitch occurred when tasting were passed to the audience without the elaborate garnish. This caused Dave to "have a moment," but once this was remedied, everyone was quite pleased.
The next savory dish was a knockout: sliders circulated in duck fat and finished over a charcoal grill, served with ketchup, pickled ramps, and cheddar Mornay sauce. For the bun, Dave and Nils made a mini Kaiser-type roll topped with pretzel salt and caraway seeds (a nice nod to Nils' heritage). When Dave and Nils discussed that they may get a booth-for-a-day at Coney Island to serve the sliders to a bigger crowd than FCI students, I heard at least one audience member say that he wanted to invest. Things were going great until I popped into the back kitchen to grab some ramps for Nils to show the audience and found Mindy frantically spritzing something on the back of her neck. Cooling Evian? A little perfume to freshen up? Nope. Burn spray. Apparently someone had somehow sprayed the back of her neck with bacon grease. I didn't ask.

Buried at the end of the savory presentation was the tough sell: haggis. The dish everyone associates with the leftover nasty kinds of meat, ground up and shoved in an animal's stomach, then boiled. Meh. Dave tried to avert everyone's worst fears by informing them that he wasn't going to be serving "any lips and butthole mush," but people were still skeptical. He tried a different tactic: "If I told you I was taking meat and grinding it up and putting it in intestine, you'd say 'No way!' Oh yeah? That's sausage. So when I tell you I'm grinding up meat with oatmeal, that sounds pretty good, doesn't it? Yeah, that's haggis." The real test came when the dish was
served: circulated haggis (pork and lamb tongue, liver, heart, and leg; no stomach required) with liquid-nitrogen-powdered ramp green mashed potatoes, sautéed ramp greens, and a sauce made from veal demi, chicken stock, pork, and lamb, in which Nils and Dave cooked the steel-cut Irish oats and then drained it. Everyone ate their haggis, and two people openly admitted that they had become haggis converts. Two people is big… when it comes to haggis.
Though we averted the frozen fish disaster and the bacon-grease-on-Mindy's-neck disaster, Dave's MBOCTP knew there had to be more… and of course, right around the time when everything seemed to be running smoothly, water started pouring out of the A/V control room. Turns out a leaky coffee machine hadn't been correctly fixed. Here you can see Dave valiantly continuing on through his demo despite the slight distraction.
The dessert for the day was a caramel apple float, made with dulce de leche ice
cream with a sous-vide crème anglaise base, and carbonated clarified fresh Granny Smith juice. The ice cream was made, as Dave said, "the standard way" (scoff), by pouring dulche de leche into a KitchenAid and adding liquid nitrogen. Dave carbonated the apple juice using a CO2 can. So much better than Fizzy Lizzy.
As usual, the parting gift of the Dave/Nils demo was an alcoholic beverage: a gin n' juice cocktail, made with carbonated clarified strawberry juice, Hendrick's gin, Solerno blood orange liqueur, lime acid, simple syrup, and salt. Everyone went away happy, full, and a teeny bit buzzed. Perfection.