Posted by Nils Noren
In late 2007, I participated in a panel discussion at the Philoctetes Center about the five senses. Each of the panelists represented one of the senses; obviously, I was there to talk about taste. The other participants were Greg Calbi, master sound engineer, worked with such artists as John Lennon and U2; Sophia Grojsman, perfumist, created Calvin Klein's Eternity; Philip Pearlstein, painter and good friend of Andy Warhol; and Frank Wilson, neurologist and author of the book The Hand.
If you have nothing better to do (though I am sure you do) you can watch the panel discussion by clicking here.
After the panel, I was approached by Dorothy Dunn, Director of Visitor Experience at Philip Johnson's Glass House in New Canaan, CT. She asked if I'd be interested in cooking for a discussion series that she was putting together, a sort of revival of the gatherings that Philip Johnson and his partner David Whitney threw back in the day. Described as the "longest running salon in America," those dialogues brought together people from the art world, architects, designers and other interesting/random people to discuss a variety of different topics while drinking martinis and smoking cigarettes. (Who knows what else they were doing.)
Dorothy and the National Trust Fund, which now runs the Glass House as a museum, hoped to keep the concept going. The Glass House Conversations would continue Johnson's legacy, with martinis, but in a slightly more formal way. They organized a series of 12 lunches, each with a different theme, such as "Transparency," "Breaking the Rules," and "Attention, Attention Span." My job was to develop menus that reflected the topic of conversation.
It is always interesting to create conceptual dishes and menus. Most of what I created for Glass House couldn't be served in a restaurant; perhaps certain dishes, but not the menus as a whole. The same holds true for the cocktail that finished off the lunch. In your average restaurant, people don't want food to be too intellectual. At the Glass House, I had a captive audience. The guests had no choice in what they were eating, nor could they pick up and go somewhere else.
To speak to the theme, I had to set certain parameters for each menu, and that pushed me out of my comfort zone. Say I decided all the elements of a dish had to be the same color. Designing a menu around a limitation like that forces you think about things differently and can lead to new ideas and techniques.
There was one other complication you should know about. Since the Glass House is a museum, the kitchen was off limits. We'd have access to an electrical outlet and could set up a circulator, but that was it. What can you do? Complain? No, you just make it work.
So here is the first post in this series on the theme "Breaking the Rules" (got to love it).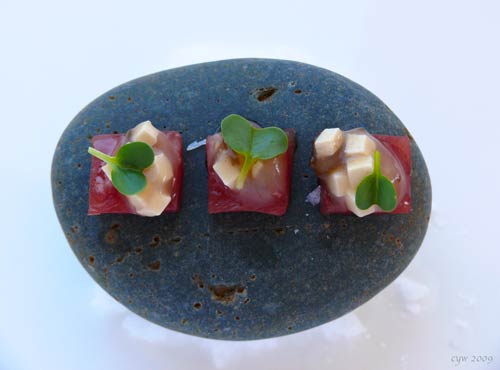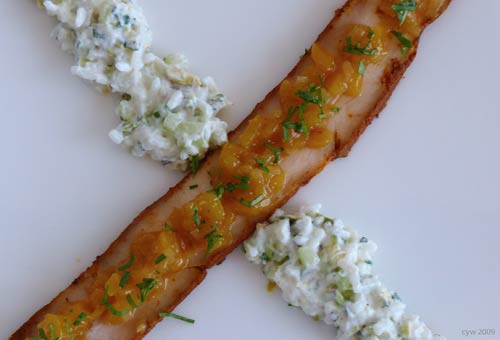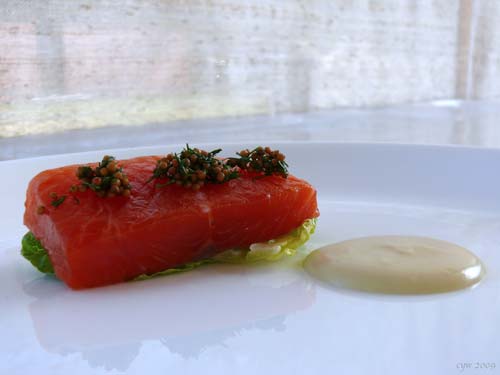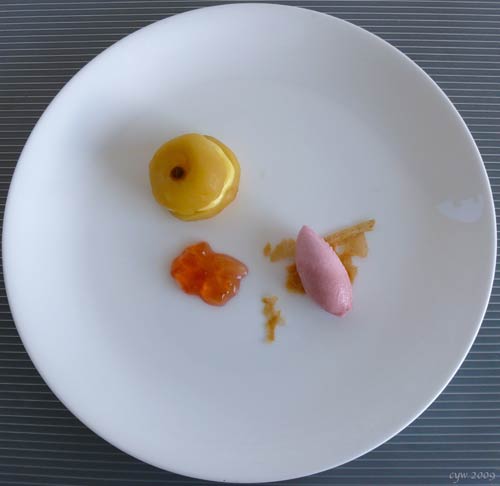 If you haven't guessed by now, all dishes that were supposed to be warm were served cold. And vice versa. That's breaking the rules.