Posted by Nils Noren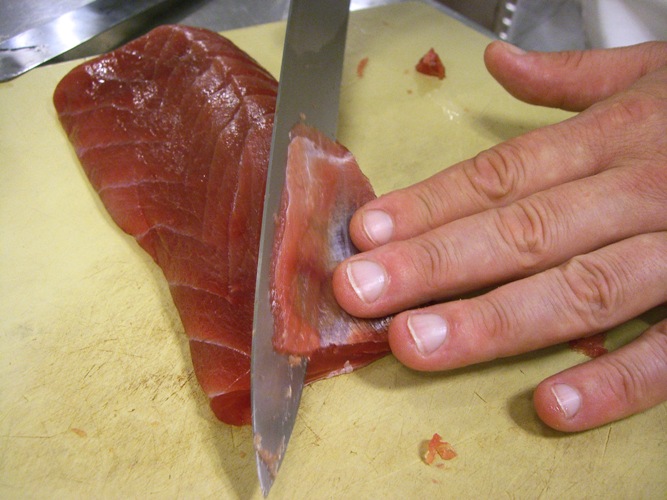 I was fortunate enough to have dinner at Masa, here in New York, the other night. And I was also very fortunate in not having to pick up the check (thank you so much, Christian and Andrea). Chef Masa and his team sure know how to put on a great show. We didn't have one thing that I didn't like—everything was spot on.
I know myself oh too well and knew I wasn't going to be able remember all the dishes. So I actually wrote them down on one of my business cards. One of the skills that I have (I know it's not that many) is that I can write really small and then actually be able to read it afterward.
It came in real handy this time. One of the first dishes we had was toro tartar with caviar.  I know it's nothing earth shattering, but it's pretty darn tasty. Chef Masa brought out a big piece of tuna and started to separate the meat from the sinew. He put the sinew on the side and one of his chefs picked it up, and I assumed it was to throw it away. Wrong! When we got into the sushi portion of the meal, out of nowhere appeared the sinew that I thought had ended up in the garbage.  It was grilled and then served as a piece of sushi. I never had sinew on its own before (wait, that's a lie, I think a had a couple of crappy tuna tartars with the sinew mixed in).  It was delicious.
So sitting in my office on a beautiful Saturday afternoon, I happen to take out that business card of mine with the menu on it. And just waiting for a reason to leave the office and head for the kitchen, I remembered the grilled tuna sinew sushi. Two minutes later I was in the storeroom here at FCI looking for tuna. And I was blessed: right there in the fish drawer was a five pound piece of tuna. It wasn't as fatty as I wanted it to be, but I had to do it—I cut off the sinewy part of the piece and headed for the kitchen.
I started to separate the sinew from the meat. Then I took one piece of the sinew and put in a vacuum bag with some yuzu and soy sauce.
I put it in the vacuum machine and sucked a 98.5% vacuum on it. I immediately opened the bag and dried off the piece. I didn't have a grill going or the patience to wait for one to get hot, so I used a saute pan instead. I put some duck fat in the pan, got it smoking hot, and then put in both the piece of sinew that was marinated and another piece that hadn't been marinated. I cooked them for about 45 seconds. They were both delicious, but the marinated one was by far the better one.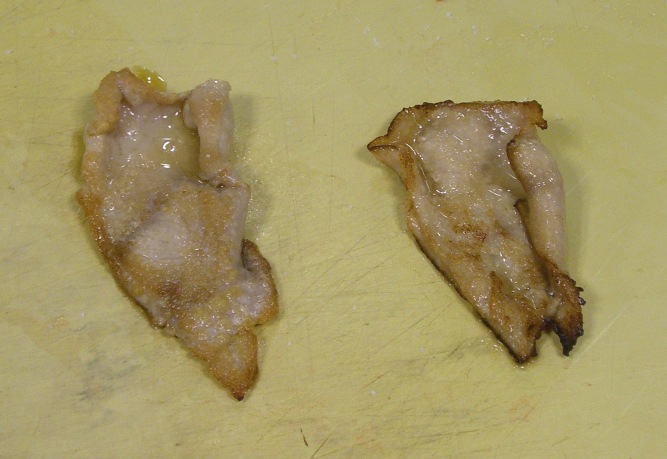 It tasted like beef, even though the tuna wasn't fatty. It was a really good product—just imagine how much better it would have been with a fatty piece.
So there you have it. All these years I have been throwing away all these tuna sinews (I regret that). But no more of that; it will from now on be regarded with the respect it deserves. And it's also the only way I will eat well done tuna.