posted by Dave Arnold
For an intro to our apple project, see Two Hundred Apples a Day.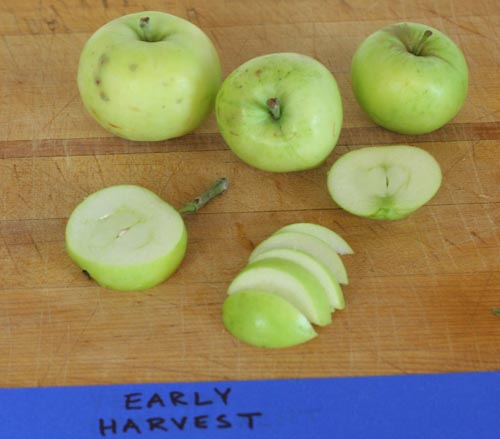 Though most summer apples taste no better than their year-round commercially available brethren, there are a few varieties that are a real treat when picked at their peak. Unfortunately most growers bring them to market well before they should. That's our fault: most consumers will only buy apples that are crunchy, crisp, and hard. Most summer apples worth writing home (or here) about are only crunchy, crisp, and hard when they're unripe. An unripe apple is an unbalanced apple—starchier, higher in acid and lower in sugar, and less aromatic than it wants to be. When ripe, good summer apples are often crumbly. A crumbly apple can be a very good apple, as the Victorians understood. They had many more apple varieties than we do today, and a good tasting, juicy, crumbly apple was widely appreciated. Today's would-be summer apple connoisseur will have trouble finding great tasting varieties until we let our growers know that we want ripe, even when ripe means not crunchy.
Prior to the early nineteen hundreds, early-ripening apples were commercially successful because storage practices were not very sophisticated. If you wanted an apple pie in July, the summer apples would be better than the stored apples from the fall. Today we can get decent apples in the supermarket all year long, so a summer apple needs to taste better to compete. A lot of the early apples don't make the grade. The ones that do need to be picked at the right time. Summertime apples aren't like fall apples, many of which are hard and crunchy at their peak, a period that lasts long enough to make them commercially viable. Summer apples develop quickly and perish quickly. Here today, gone tomorrow.
Many apples taste completely different depending on where and how they are grown, a fact that compounds the summer apple buyer's difficulties. I would guess that the apple varieties that have become popular in supermarkets—aside from storing well, shipping well, and looking pristine—also tend to taste similar when grown in different locales under different regimes. The best way to enjoy lesser known varieties, including summer apples, is to get to know a particular grower (or grow your own). It isn't enough to know that a variety does well in your area, you have to know how it does in a particular orchard. The climate and soil are only a part of the issue; orchard management practices and choice of rootstock greatly influence taste. The key is to taste a whole lot of apples from different growers. Buy whatever you can use from this year's harvest and remember who grew the ones you like. The season's very short, so mark your calendar for next year's harvest (or for the harvest two years from now—a lot of these apples only have heavy crops every other year). We all accept that wine grapes are radically different depending on where they are grown and how the weather was that year. But apples, which are completely ubiquitous, have lost their sense of place.
There are thousands of apple varieties. All were loved by someone at some time for some reason. Most are useless and bad outside their small area of excellence—the fun is in the search for the right apple at the right place at the right time for the right reason.
Below, some notes from our recent tastings:
From Virginia Vintage Apples (a fantastic apple resource.) When we got this shipment on July 27, the apples were about a week old.
Lodi and Yellow Transparent:
Like most very early summer apples, these are markedly acidic. Some growers call these 'salt apples,' because their high acidity (and, to be frank, relatively flat flavor profile) benefits from a liberal dose of salt. We have tried these varieties two years in a row from orchards in Virginia and New York. The ones in Virginia ripen in July and the ones in New York a couple of weeks later. We don't like them that much, even though we really want to. The New York ones are marginally better than the Virginia ones (more time on the tree before ripening?). They are very acidic and lemony, with little apple flavor. Perhaps they'd be better right off the tree just before they become overripe. Who knows? They are, in fact, better with salt.
Red Astrachans and Gravenstein:
Nils was really looking forward to these varieties—some of his favorites in Sweden. He was disappointed, because the flavors were not as he remembered them. It's hard to judge an apple from a single-orchard tasting. Though genetically identical, the apples out of Virginia bore little resemblance to the ones from Nils' childhood.

Chenango Strawberry:
An awesome name for an apple. They tasted good, with a berry-like note in the acidity and a good apple flavor. We really liked the juice—zippy with a cran-lingonberry note. We especially liked it mixed with the juice from…
Carolina Red June (or Juneating):
An old early apple. We enjoyed the apple, but we liked the juice even more. It has a beautiful color, and is sweet and very refreshing. It was lacking a bit in the mid palate until we mixed it with Chenango Strawberry.
From the NYC Greenmarket, July 31st (sorry, we lost the orchard name!)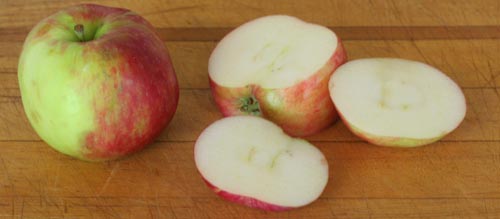 Vista Bella: A stand-out in a long tasting that was mostly a bust. We would use it without reservation. It had a really good red apple flavor with floral notes and nice acidity. It almost tasted like apple pie. Its texture was juicy but soft and crumbly, not mealy. It had a nice, thin peel.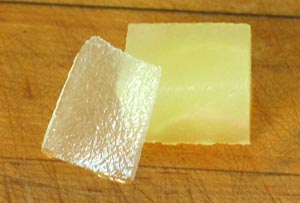 Geneva Early: Very interesting. Flavor was OK; peel was awful—bitter and tannic. But the apple had the texture of a solid applesauce. We peeled it and vacuum infused it with apple juice (Chenango Strawberry). It took to vacuum infusion much better than most apples, almost like a pear.
August tasting notes soon!