by Dave Arnold
Two weeks ago, Nastassia, Patrick Martins (founder of Slow Foods USA and Heritage Foods), and I staged an epic lunch at Del Posto restaurant with some of the best chefs and bartenders in the world (who, luckily, are some of our best friends).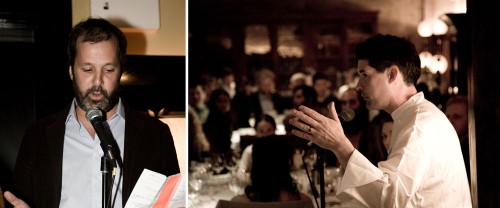 The lunch was the inaugural fundraiser for The Museum of Food and Drink.  Where, you ask,  is the MoFAD?  It is nowhere… yet. We plan to have a space in New York within the next five years, and this event was the first step toward that goal. To learn more about the museum check out this concept paper, and sample exhibitions on cereal and coffee.
Here is the museum's mission:
The Museum of Food and Drink is a private, nonprofit corporation dedicated to educating its visitors about the history, culture, production, commerce and science of food. The museum's goal is to become the country's best food educator -an establishment that encourages a well-rounded understanding of what we eat and why we eat it. This is a museum everyone can and should appreciate: Food is culture, and The Museum of Food and Drink shows why.
The museum had a bit of a soft launch in 2004 when I put on a small but thorough exhibition on American Country Ham under the auspices of MoFAD (you can read more about it here). Michael Batterberry , one of the greats of the culinary realm (see here) took notice and threw his support behind the museum. He also gave me a credentials-boosting position as a contributing editor at his Food Arts Magazine and helped me land my job at the French Culinary Institute. Soon the museum took back-burner to my new culinary tech pursuits, and when Michael died last year I regretted that I had not pushed the museum further while he was alive. When Patrick learned about the fledgling museum during the memorial show we did for Michael on Heritage Radio, he pledged to help host a fundraiser to get things moving again.
The Fundraiser:
Fifteen world class chefs and bartenders volunteered their time and talents for this event, and the results were beyond my already very high expectations. We assigned each person a theme related to the museum.  Here is what they did, explained in their own words and illustrated by the photographs of Travis Huggett (who also donated his time and talent; check out his site here).  For a pdf of this menu see here.
Theme: PRESERVATION

Cocktail: Root Down by Jamie Gordon, Pernod Ricard –Â  Perrier Jouet, Plymouth Gin, Suze, Celery, and Lemon
The idea for the Root Down (aside from always having wanted to name a cocktail for a Beastie Boys tune) sprung from thinking about what usually comes with meat: vegetables—starch being something of a stretch, and perhaps not the most appealing foodstuff to apply to a cocktail format—whilst maintaining the structure and light taste profile of an aperitif. Using the platform of the classic French '75 recipe as a base, I built in a bit of vegetality with the gentian root liqueur, Suze, and a dash of celery bitters.  The result is a light, palate-opening compliment to Chef Casella's salumi.   – Jamie Gordon
Dish: Cured Meat, Cesare Casella, Salumeria Rossi –Â  Assortment of Salumi and Parmigiano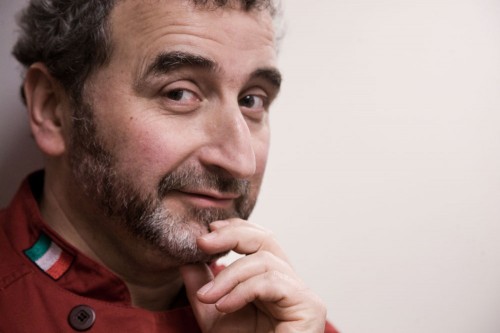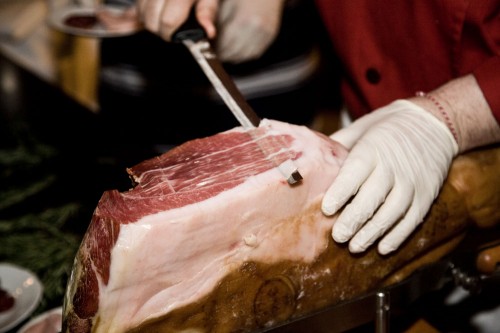 Cured meat is so delicious – it needs no explanation! – Cesare Casella
Theme: FOOD AS MEDICINE

Dish: Rhubarb and Mummy, Dave Arnold  –  Strawberried Rhubarb, Mummy Powder Yogurt, Pine-Nuts, Poppy, Cucumbers, Celery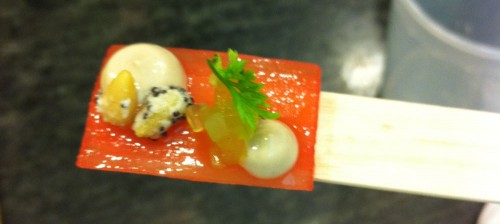 Arab medical books were the best in the world during the 9th and 10th centuries.  One of the cures they prescribed was medicinal bitumen –mummia.  11th and 12th century Europeans mistranslated mummia as 'Egyptian mummy', and thus began a centuries-long trade in ground up human corpses.  Francis I of France carried Mummy and Rhubarb into every battle to stanch his wounds; this blend is the basis of my dish. No ground mummies here — I used the original medicinal bitumen, sourced from high in the mountains of Nepal where it's known as Shilajit and is prized by Ayurvedic medicine devotees.  The other ingredients are based on the medieval theory of the four humors, which held that health is maintained by balancing warm, dry, moist and cool foods.  Mummy balances Rhubarb. Cucumbers and Celery balance honey, pine nuts and poppy seeds.  Yogurt is neutral (according to the medievalists) and needs no balance. It is served on a tongue depressor because hey—it's medicine.  – Dave Arnold

Theme: Fad Diets

Dish: The Real South Beach Diet, Nils Noren, FCI –Â  Cabbage Soup, Cuban Sandwich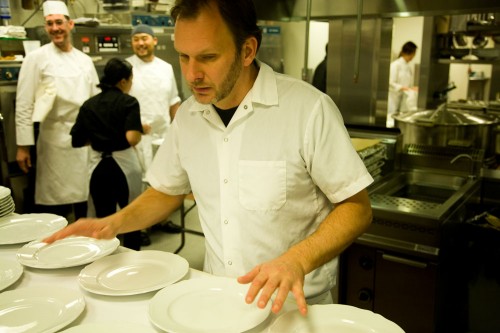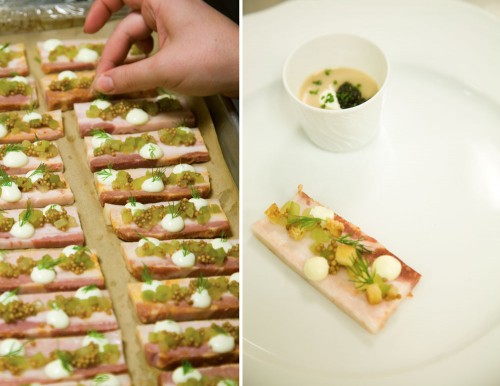 Fad diets are for the most part designed for people to lose weight fast, but it's usually hard for most to keep that weight off. Seems like a much better idea is to eat less and move more. So I took two of the most popular fad diets and made them into what I thought they should be. Cabbage soup: cabbage goes great with caviar, ask the Russians. South Beach: the real South Beach diet is a Cuban sandwich. A classic combination in the American diet — soup and sandwich.– Nils Noren
Theme: New York 1784

Cocktail: Martell and Orange, Damon Boelte, Prime Meats –Â  Martell VSOP, Oranges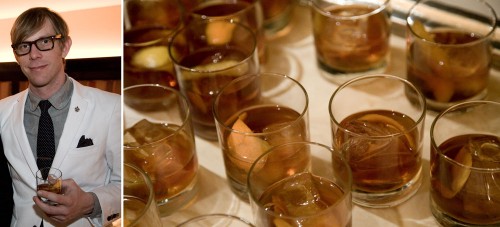 I chose to feature a classic Brandy Cocktail, also known as a Brandy Old-Fashioned. As bartender for the Early-1800s portion of this event, I wanted to go back to the original cocktail (spirit, sugar, water, and bitters), which pairs well due to its simplicity and crispness. Most people think of whiskey when they think of Old-Fashioned Cocktails, but Brandy is a more suitable spirit for the era (another famous cocktail from the period, the Sazerac, was also a brandy-based drink until later in the 19th Century, when rye whisky became more commonly used). A Phylloxera epidemic in Europe was partially to blame for the switchover from grape-based spirits to American whiskeys, coupled with the booming business of American booze in the mid-to-late 1800s. Today, the Old-Fashioned has made a comeback featuring almost any spirit you can pour as a base.  I'm please to present this classic and classy Brandy Old-Fashioned.     – Damon Boelte
Dish: Lamb with Mint, Carlo Mirarchi, Roberta's –Â  Breast of Lamb with Mint and Yogurt
This dish is inspired by the celebratory banquet menus of post-revolutionary war New York.– Carlo Mirarchi

Theme: American Food 1491

Cocktail: Quetzalcoatl, Eben Klemm, BR Guest –Â  Absolut, Absinthe, Sweet Corn Horchata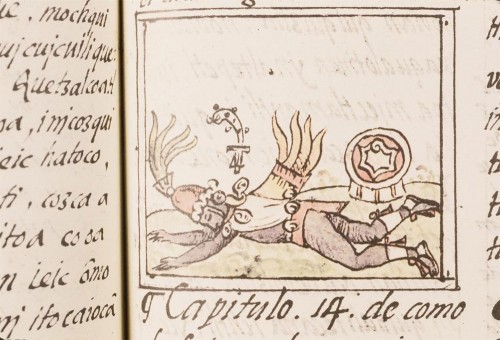 How do you create a cocktail for a time and place when hard alcohol did not exist?  While fermented products were certainly available–pulque comes to mind–it is perhaps better to dwell on pre-Columbian products that had great influences on the rest of the world.  Inspired by the Florentine codex, one of the first anthropological recordings of the Aztec World, I have created a maize-based horchata with some corn I grew myself, scented with herbs.  Absinthe, the Green Fairy, becomes the Green Stone, representing fertility in the Central American Universe. – Eben Klemm
Dish: It's a Shame We Know More about Dinosaurs than About What Native Americans Ate, David Chang, Momofuku –  Oysters, Acorns and Berries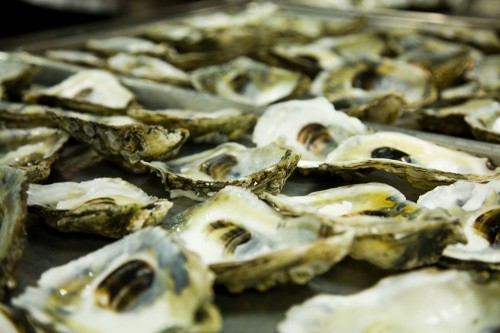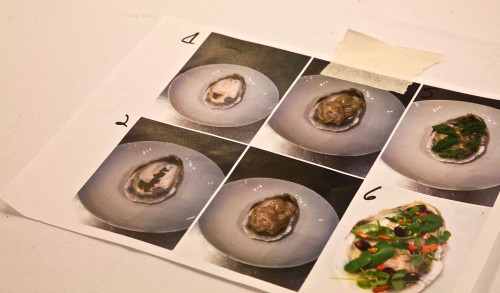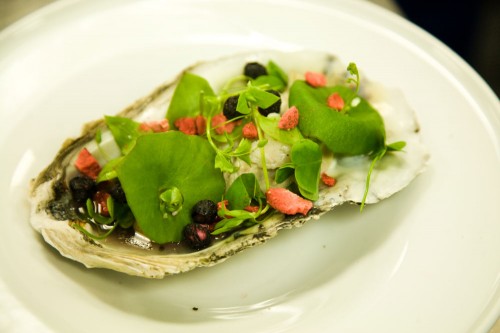 This is what Indians ate, most likely where you're sitting right now, on the bank of the f*@!ing Hudson River — not in this form, per se — but these ingredients (clams, acorns) are what they ate. – David Chang

Theme: Cave Man Food

Cocktail: Stone Rose, Thomas Waugh, Death and Company –  Perrier Jouet Champagne and Lindemans Pêche Lambic Beer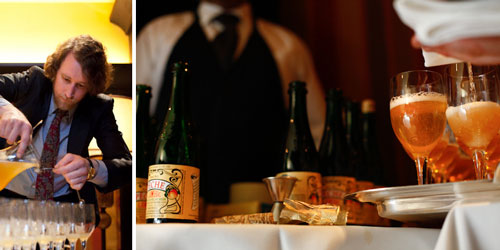 The earliest findings of purposeful alcohol intake inspired my drink, though it's clearly a departure from what would have been consumed by cavemen.  It is said that vessels discovered from the late Stone Age (about 10,000 BC) held beer of some sort.  With this in mind, my drink includes wine (ok, it's champagne) for a yeasty kick, pêche lambic beer, which is sour and funky yet reminiscent of fermented fruit (probably how brews of that time would have tasted), and a little honey. Simple and refined, but also interesting and unique. – Thomas Waugh
Dish: Bone Appetit, Wylie Dufresne, WD-50 –Â  Potato, Bone Marrow, Scallops, Beets, Enoki Mushrooms, Assorted Herbs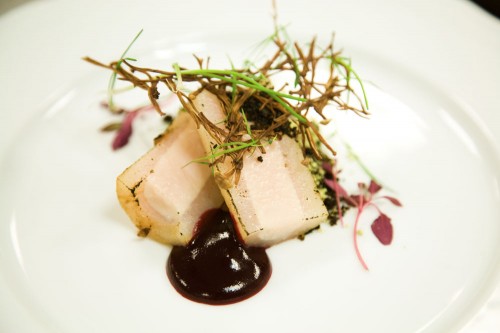 We liked the idea of fabricating something that looked like a discarded bone emerging from a pile of forest twigs, injecting a little humor into the theme.  We also looked at what a Paleolithic diner might have ingested.  There is evidence that they cracked open bones and consumed the bone marrow.  It is also assumed that they ate tubers, fruits, fungi, and shellfish.  We realized that making food truly adherent to the diet of this era wouldn't have been very tasty, so we took some liberties! – Wylie Dufresne
Theme: Ancient Rome

Cocktail: Madeira Martinez, Audrey Saunders, Pegu Club –Â  Madeira Wine and Bay Leaf Infused Gin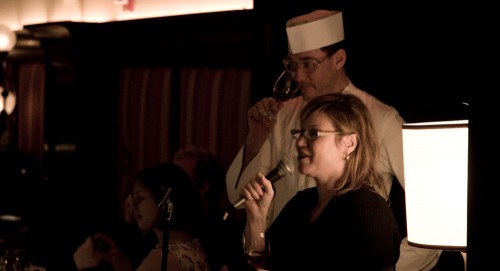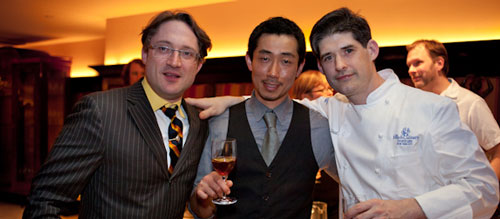 Traditionally, fortified wines are an excellent pairing with duck, pheasant and game. This version of the classic Martinez cocktail uses Madeira wine and Beefeater gin, chosen for its particular botanical profile (juniper, coriander, almonds & licorice) to provide a fresh note to the ostrich.  This gin also has a very high concentration of orange & lemon botanicals, contributing brightness. The gin provides the drink with backbone, along with honey, pomegranate (which pairs well with the other components of this dish) and a dash of bitters. Garnished with a bay leaf, which infuses gently into the drink as it warms up. – Audrey Saunders
Dish: Big Bird, Mark Ladner, Del Posto –Â  Boiled Ostrich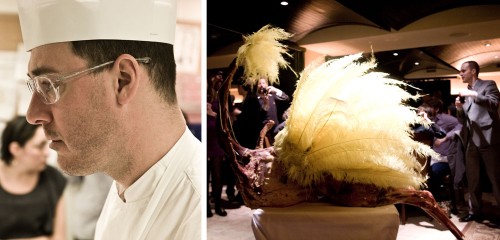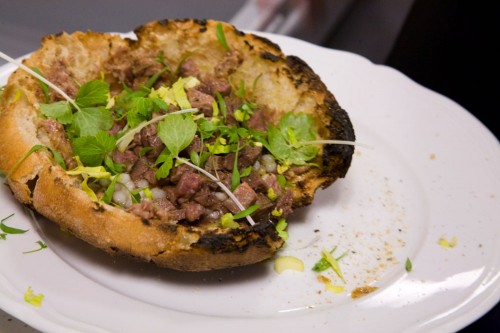 It is said that Apicius took his own life fearing that someday he may starve to death; he was still a wealthy man at the time. That love of food, and perhaps that madness, is what inspired us today. The dish is a whole boiled ostrich served with garum, a traditional Roman fish sauce. The garum has been fermented in a reproduction Roman amphora, echoing the method Apicius' contemporaries would have employed. His cookbook, from which we have adapted this ostrich recipe, is the most ancient of European cookbooks and its continued scrutiny reflect its importance to scholars and gastronomes today and in previous centuries. The text we used is the first English translation, and more curiously, the first edition of this translation. Much like this meal, the book's translation was a labor of love. Joseph Dommers Vehling, a Latin scholar of exceptional promise and a hospitality professional, translated the book in 1926 because he saw the cookbook as an incomparable primary source, which it is. He writes, winningly, in his introduction, "it has often been said that the way to a man's heart is through his stomach; so here is hoping that we may find a better way of knowing old Rome and antique private life through the study of this cookery book."  To you, we say the same – may we all be witness to a bygone world and perhaps past lives through these foreign ingredients.  Enjoy! –Mark Ladner
Theme: Hebrew Food in Italy

Cocktail: Espresso Martini, Kenta Goto, Pegu Club –Â  Iced Coffee, Kahlua, Cynar, and Absolut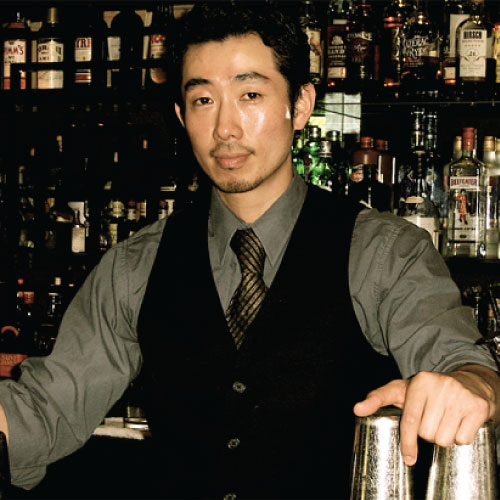 I used Dick Bradsell's classic "Vodka Espresso" as the base–the ingredients are Absolut (vodka being a traditional spirit for eastern European Jews), Kahlua liqueur (for its rich coffee flavor), espresso, and a dash of sugar. To this recipe I added the Italian bitter Cynar, which is made from artichokes–this, not only for obvious reasons, but also because it is delicious in iced coffee. These ingredients will serve as a counterpoint for the ricotta and the matzo gelato. –Kenta Goto
Dish: Carciofi Dolci Alla Giudia with Ricotta-Matzo Gelato, Brooks Headley, Del Posto   –  Artichokes, Ricotta- Matzo Ice Cream
Fried Roman artichokes are the very first thing I thought of when Dave Arnold and Nastassia Lopez chose my topic.  So why not treat them like a dessert?  Sweeten them just barely and pair them with a Roman ricotta gelato encrusted with caramelized matzo. Traditional?  Nope.  Inspired by the region and culture?  Yep.  Would you ever see artichokes as a dessert in Italy?  Haha.  No way. – Brooks Headley
Theme: Space Food

Cocktail: Heavenly Manna and Martell, Dave Arnold –Â  Shir-Khesht Manna and Martell Cordon Bleu
In the Bible, God sent Manna to save the Israelites. Turns out Manna is real –it's dried plant sap and it tastes great in this fantastic Cognac. It's not from space, but I figured heaven was close enough. – Dave Arnold
Dish: Neapolitan Ice Cream, Christina Tosi, Milk Bar –Â  Strawberry, Chocolate, and Vanilla Ice Cream
This is an ode to astronaut ice cream. We delved into weeks of research on the history of space food, but ultimately decided to give you what we all know and love when we think of space food and dessert. We took flavors and textures to make it our own, but kept root in chocolate, strawberry and vanilla- the classy Neapolitan trio. – Christina Tosi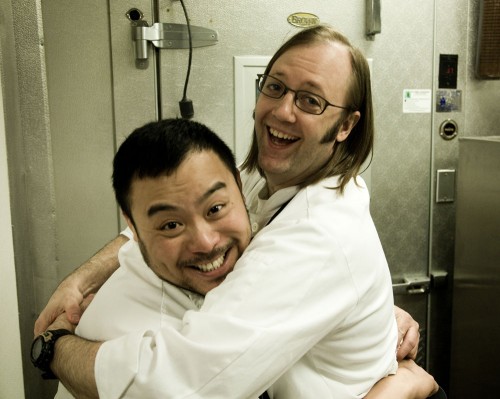 We're gonna do another one on the west coast in 6 months. Don't miss it.