by Dave Arnold
Warning! I do this for a living. Following my path will void your warranty and expose you to possible injury or death.
I love pressure cookers. They were designed to cook quickly and save energy, and also to sterilize and can foods. But that's not why I love them. Pressure cookers can create new flavors, amp up old flavors, mollify harshness, and alter texture. I've done many dozens of pressure cooker demonstrations. At every demo, someone asks me what I think of electric pressure cookers –specifically, the well-known model from Cuisinart. And then I am forced to admit that I have never used one. And then friends like Jeffrey Steingarten (who loves his Cuisinart pressure cooker) chide me mercilessly.
No more!
Someone from the Cuisinart corporation heard my sad story and sent me a unit to test (thank you, kind patron –I lost your note, so please send me your info).
Pressure cookers in a nutshell:
The boiling temperature of any liquid is dependant on pressure. The higher the pressure, the higher the boiling point. Pressure and boiling temperature are inextricably intertwined: tell me one and I'll tell you the other. Pressure cookers elevate cooking temperatures by increasing pressure in a way that isn't entirely obvious. In an oven set at 400 F, the inside of a piece of meat will never go above the sea-level boiling point of water –212 F (100 C). In a pressure cooker, the inside of the food can get to much higher temperatures.
There is a worldwide standard for pressure cookers: since the early 1900's they have had a high-pressure setting of 15 pounds per square inch (psi) over atmospheric pressure. At sea level, water at 15 psi boils at 250 F (121 C ) instead of 212 F (many pressure cookers also have a lower pressure setting between 5 and 8 psi at 227-235 F or 108-113 C).
What's so special about 15 psi?
Both temperature and pressure affect the way your food cooks. Most pressure cooker recipes are written for 15 psi. If a cooker can't reach 15 psi, those recipes won't work. If you are using your pressure cooker simply to reduce cooking times, dealing with pressures under 15 psi is no big deal — just increase the cooking time a bit. But I rely on the pressure cooker for more than faster cooking. Many of the pressure cooker recipes I've developed rely on the 250F that you get at 15 psi to produce special effects, like obliterating the stink from garlic and onions, and taming the pungency of mustard seeds and horseradish. These recipes don't work at 9 psi. If you eat 4 heads of garlic that have been pressure cooked at 15 psi or higher for 20-30 minutes, you can have a discussion with your friends about it the next day. At 9 psi, don't subject them.
A pressure cooker at 15 psi makes stocks and meats taste… well, meatier. I have run tests of chicken stock made at 8 psi versus 15 psi; I definitely prefer 15 psi. Wondering if even higher pressures would produce better results, I ran a series of tests a while back on stocks with the huge, expensive, pressure-accurate All American Pressure Sterilizer from WAFCO to see. I tested to 24 psi. Turns out, 15 psi is the magic number; see here. Pushing pressures to an extreme, I've sealed potatoes in a pipe and thrown them in my deep-fryer set at 365 F, generating 148 psi. Wow, did those potatoes taste bad. Brown all the way through and gross. Possibly the worst stuff ever (see here).
The Problem With Electrics:
The main problem with many electric pressure cookers: they don't follow the 15 psi standard. This deviance has nothing to do with the fact that they are powered by electricity.
The Cuisinart has both low and high pressure settings, but unfortunately the manual doesn't tell you what those settings mean. I needed to figure out the pressures and temperatures myself. I couldn't find a good way to measure pressure directly without drilling holes in the cooker, so I decided to measure temperature, instead, by inserting a thermocouple into the unit through the vent hole and then sealing it up. I measured a low pressure temperature of 230 F (110 C), corresponding to 6 psi. At high pressure the unit reached 237 F (114 C), corresponding to 9 psi — below the magic 15.
There are Many Good Things About the Cuisinart:
It is non-venting. Most pressure cookers vent steam from their lids to regulate pressure. The Cuisinart doesn't. Some of my tests show that for certain applications, like making stock, pressure cookers that vent while cooking produce drastically inferior flavors. See here. (PS, you can follow a tip from Modernist Cuisine and make small quantities of good and sterile stock in mason jars –even in a venting pressure cooker). This is a big plus for the Cuisinart.
It heats up the house less than a stovetop unit.
It doesn't take up a burner.
For something that cooks, it isn't an electricity hog (1000 watts max).
It doesn't scorch — a constant danger with a stovetop unit.
It is easy to clean because of the non-stick cooking surface.
It is bonehead simple to use, and, unlike any stovetop unit, it's foolproof. It shuts itself off when it is done, and goes into a keep-warm mode.
It has good capacity (up to 16 cups, but I'd never add more than 12).
You can simmer, brown and saute in it.
You can buy it for under 100 bucks (my stovetop Kuhn Rikon is over $200).
OK, I Like Those Benefits; But I Want 15 Psi, I Need 15 Psi. Now What?
Warning: Technical Section
Here is the part where I void my warranty. I flipped the unit over, took out the two screws and popped off the protective plate. The temperature sensor was located on a spring-mounted button in the center of the unit and had two black wires coming out of it. I popped the connector off the circuit board and measured the resistance of the sensor as I changed the temperature with hot water. Boom. It was a simple temperature-dependent resistor (RTD), and the resistance went down as the sensor got hotter. So far, so good.
I filled the (unplugged) pressure cooker with oil and put in an immersion circulator set to 238 F. After the circ reached temperature, I measured how many ohms the sensor was reading: 5080. I then set the circulator to 250 F and read the resistance after the oil got to temp: 4110 ohms. I figured if I added 970 ohms to the circuit I'd be gold. I soldered in a 10 turn trimming potentiometer (variable resistor) into the circuit, set it to 970, and began testing.
Testing:
I figured I'd just let the pressure cooker heat the oil with the lid off, and the temperature sensor would tell the machine to shut off once it reached 250 F. Wrong. The temperature went to 290 F before I pulled the plug. After much testing, wailing, and gnashing of teeth, I discovered that to regulate temperature the machine must be under pressure. I don't really understand it. I don't know how the unit knows it is under pressure (I could find no easily accessible pressure sensor), but it does. I had to go back to measuring the temperature through the sealed lid, which I did with an improved thermocouple rig (a piece of wine cork and a hypodermic probe). The temperature was higher than before -244 F (118 C) but not high enough. I cranked the potentiometer to 1500 ohms and got a temperature of 254 F (123 C). I dialed it back to 1270 ohms and got a friendly 249 F (120 C). Close enough for me.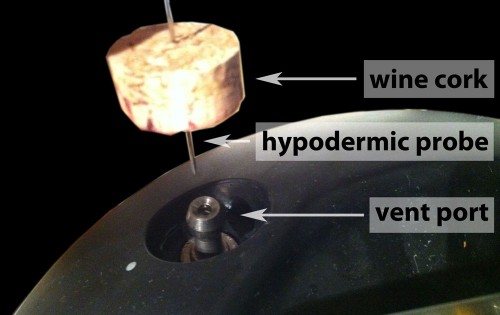 Success.
End of Technical Section
Real World Cooking Tests:
I decided to test the Cuisinart against my old stalwart Kuhn Rikon stovetop model in making Hamine eggs. Traditional Hamine eggs have been cooked for a day or so and take on a brown color due to low temperature Maillard reactions. Years ago, we figured out you can make them in a pressure cooker (see here). Let the eggs come to boil in the pressure cooker, simmer for 5 minutes, seal the cooker and cook at 15 ps from 40-60 minutes. The longer and hotter you cook, the browner the eggs and the more intense the Hamine egg flavor.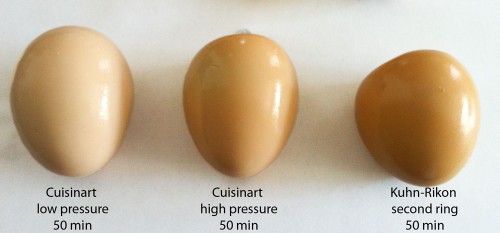 Eggs cooked for 50 minutes in my Kuhn Rikon were slightly browner than those cooked in the Cuisinart at high-pressure. Either I hadn't fudged with the temperature properly in the Cuisinart or my Kuhn Rikon was running a bit high –I think the latter. You regulate the Kuhn Rikon's pressure by adjusting the heat on your stove till you see the red rings on its spring-loaded valve. I always push the valve a little past the second ring, so I probably go slightly above 15 psi. The 60 minute Cuisinart eggs were as brown as the 50 minute Kuhn Rikon eggs. The 40 minute Cuisinart eggs were, duh, lighter than the others, as was the 50 minute low-pressure Cuisinart Egg.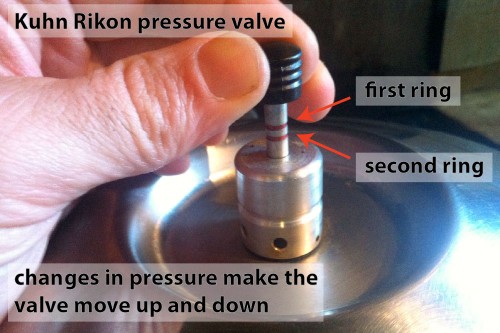 Success.
With the modifications I made, the Cuisinart might be my go-to pressure cooker. In fact, I'm cooking turkey thighs in it right now. I do, however, have some reservations:
The Negative Points of the Cuisinart:
You have to modify it to get it to cook at 15 psi.
It doesn't tell you the temperature at which it's running.
There is no way the Cuisinart it is as tough as my Kuhn Rikon. My Kuhn Rikon pot is built like a high quality stockpot; the cooking portion of the Cuisinart is basically a non-stick coated rice-cooker insert. I use metal utensils in my Kuhn without hesitation.
It beeps at me.
Time Will Tell:
I am unsure how durable the unit will be. Two points of concern: overheating because of my modifications, and the possibility that the insert will get damaged by typical use. My similar rice-cooker insert is OK after years of hard service (Zojirushi makes good stuff), but pressure cooking queen Miss Vickie dislikes non-stick pressure cookers, presumably because of durability. She also says that the reason electric pressure cookers are set to a low pressure is that they can overheat. Time will tell.