by Paul Adams
Last week, the landlord of this blog spotted an intriguing video online of a man in China making noodles.
Look at that. The guy's got a big bowl of white non-Newtonian goo. When he smacks it or squeezes it, it's as firm as clay, but when he leaves it alone, it's fluid enough to drizzle through the holes in his colander. When he drips it into boiling water, it gels up into perfectly lovely, easy noodles. Rheology at work! Can we do that at home?
I tried mixing up a classic oobleckian starch slurry and dribbling it into boiling water. It didn't hang together well in noodle shapes, and as soon as it hit the water, the starch dispersed and just made the water cloudy. Time for some internet research.
A critical clue came from EatingAsia, where a very appetizing article about a Sichuan treat indicates that the noodles in the video are not rice noodles, as the video caption has it, but familiar glassy noodles made with starch from sweet potatoes.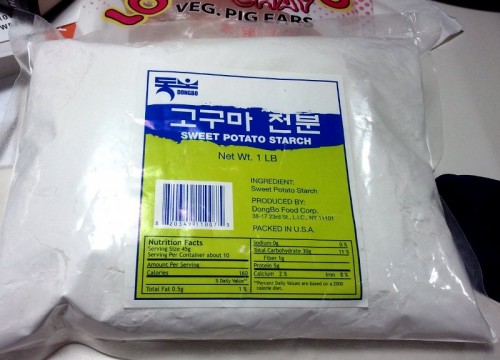 Sweet potato starch noodles are also popular in Korean cuisine, where they're called dangmyun and form the foundation of japchae, which I have for lunch at least a couple times a month.
Japchae is a popular dish. Surely the internet has recipes for making your own dangmyun at home, right? Well, not in English, as far as I can find. Every result for my "glass noodles from scratch" searches led off with "Ingredients: one pound dry noodles." Thanks, English-language internet.
The closest I came was this page, which seems, as far as I can tell from the rather infelicitous translation from the Chinese, to be talking about the same thing:
raw materials: 5000 grams sweet potato starch, alum 35-40 grams, 125-130 grams of cooked qian paste.

Production:

1, the alum research into fine powder, add water, stir well made of 100 grams of alum water.

2, cooked qian paste into the basin, add sweet potato starch, water 2000 grams, alum powder moderately hard and soft water bunched up into groups inactive.

3, with a large aluminum scoop will be used to tool to plug into a soybean-sized hole in the powder group bailer installed, use the palm to make it into the group shot powder into the boiling water, drain lines, pot boiled, and then pick into the Serve cold in cold water floating "water noodles."
After reading this over a few times, I made a lovely squishy-firm goo using sweet potato starch and alum. This one held together nicely in noodle shapes when I dripped it through a colander, but still, as soon as it hit the boiling water, it dispersed.
I was lacking the qian paste. From my smattering of Mandarin, I know that qián (é'±) means 'money'. Where was my money paste?
The original Chinese is on the same page, below the "English" version. Scrolling down, I found the actual Chinese character is 芡, romanized as qià n: different tone, different word. It refers to the gorgon or foxnut plant (not to be confused with salep) whose starch is used as a thickener in Chinese cooking.
With no foxnut starch handy, I focused on the requirement that it should be cooked starch. A modicum of starch gelatinized by cooking would add some cohesiveness to the raw goo. Separately heating a portion of my sweet potato starch slurry turned it into a firm, rubbery, translucent off-white glob that reminded me of a giant glass noodle. Now we were on the right track.
It turns out that making fresh glass noodles at home is simple and fun. Why is that such a secret?
Update, May 5: in the comments, Hannes pointed out that in China it's illegal to use alum in glass noodles. Alum is controlled in the EU as well, due to concerns about aluminum toxicity. Click the image at right to see what Kalustyan's says. I have replaced alum with chitosan in the recipe below, a possible substitution I spotted in a Korean journal. Chitosan, like alum, has a positive charge in water, and it holds the starch network together very nicely. Most commercial chitosan is derived from shellfish, but there's some made from mushrooms instead.


Drip Noodles
alum chitosan, 1% solution, available from winemaking suppliers
water
sweet potato starch
1. Fill a container with room-temperature water and dissolve alum into it. I only had an alum block, not alum powder, so I didn't measure the exact quantity of alum that went into my water. But here's how much it was: enough to drop the pH of tap water from 7.1 to 2.8. I'm not sure precisely what the alum is doing. It's always used in homemade play-doh recipes, where it's cited as a preservative but surely serves a textural purpose as well, stabilizing or strengthening the starch's molecular network.
1. Fill a container with room-temperature water. For every liter of water, stir in 80 ml of chitosan solution. Much more than that and the noodle batter gets stretchy, and starts to become reluctant to drip.
2. In a mixing bowl, slowly stir some alumated chitosanated water into potato starch until it's got a shear-thickening consistency kind of like the one in the video. It should scoop up cleanly in your hand and almost crumble when you squeeze it hard, but run fluidly out of your hand when you relax the pressure.
3. Put a small portion of the slurry in the top of a double boiler and cook it, stirring occasionally, until it firms up and starts to look translucent. This takes a few minutes.
4. By weight, make a combined goo of 5% cooked starch goo chunks to 95% raw starch goo slurry.
5. Smooth this goo in a blender till it's uniform and creamy. It thickens with shear, remember, so the blender has a tough job. Add some more alumated chitosanated water if necessary.
6. Scoop some slurry into a colander with big holes and practice dripping it in long filaments. Add alum chitosanated water if it's too sludgy, or a little raw starch if it's too thin.
The holes in my colanders are pretty small, so I also tried just letting it drool off my fingertips, which is messy, juvenile fun. You can see in EatingAsia's picture that the Sichuan cook's colander has nice big holes. Soybean-sized holes, as it were.
7. Bring a deep pot of water to a gentle boil and drip in long, noodle-shaped strands of slurry.
8. Scoop the cooked noodles out of the boiling water after a minute or so and drop them into an ice water bath. Voila, glass noodles.
Toss them with sesame oil or spicy oil to help keep them separate.