by Dave Arnold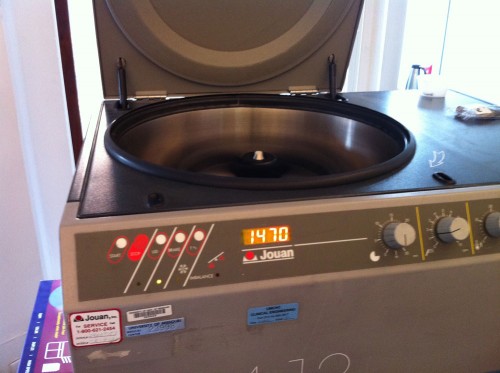 Centrifuges spin quickly, using centrifugal force to separate mixtures based on density: separating lighter oil from heavier nut solids, for instance, or separating clear delicious juice from heavier pulp. Don't have a centrifuge yet? What are you waiting for? It is the must-have kitchen gadget from 6 years in the future. If you make a lot of juices in a bar or restaurant, it will pay for itself very quickly .
It is hard to know how fast or how long you really need to spin the centrifuge to get good separation. I figured the best way to know would be to watch it while it spun, so I shot a video using a hand-held strobe light tachometer I got cheap on eBay.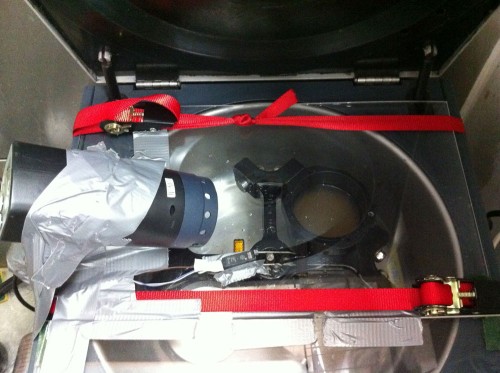 This video lets us examine the separation parameters — speed and time — of my most common centrifuge task: enzyme assisted centrifugal clarification (see here). The enzyme I use for clarification is Pectinex SP-L. It's other magical properties include french fry augmentation, and citrus auto-supreming. The two liquids I test are orange juice and Gin Justino (banana blended with gin) Here it is:
The next centrifuge post will reveal my latest breakthrough in lime-juice clarification. I'll tell you this: with the centrifuge and two magic ingredients you can source from any home-brew shop you can clarify fresh lime juice without heat in under an hour with greater than 95% yield and very little labor! Go buy one already.