by Dave Arnold
Strap yourself in and get ready to keep track of many tastings. For some French Fry background, see the previous post FF Supremacy Part 1. We use a blanch-dry-fry-fry technique; this post investigates the ins and outs of pre-blanching, blanching, and drying.
Spoiler alert: here's the final answer … Soak the cut fries for one hour in a room temperature solution of Pectinex SP-L (a pectolytic and hemicellulolytic enzyme mix), blanch in boiling water (don't overload your blanching container) for 14 minutes 30 seconds (assuming your water takes 1:30 to get back to boil), do not dry before frying.
A couple notes: one of the developers of the Cook's Illustrated recipe, which we discussed in our previous post, sent us an email reply. We are publishing his response, with permission, at the end of this piece. Our next French Fry post will deal with potato types, oil types, and freezing between first and second fry. Don't look for it right away. My interns are really, really sick of making fries.
What Is the Ideal Fry?
The sixty-plus, side-by-side blind tests we conducted in the past week and a half have changed my ideal fry. Prior to this marathon I posited that the crunchiest fry would be the best fry. Not true. We aim for crunchiness because we think it's the opposite of sogginess, that most dreaded of French fry attributes. The truth is, a fry just needs to be somewhat crunchy, with no signs of sogginess.  Too much crunch becomes hardness –a turn-off. We produced some specimens that were basically potato chips shaped like fries, and they weren't good. What is good? A fry you want to keep eating even after it has gone cold.
Our ideal fry:
tastes delicious right out of the fryer with a crunchy crust and hearty, cooked potato interior texture
is salty on the interior and  exterior
avoids "hollow fry" (see the previous post for more explanation)
is still desirable after it gets cold
doesn't get soggy while cooling, and doesn't taste dry after cooling
isn't greasy. Note that greasiness does not necessarily correlate to the oil content of the fry.
4 and 5 are especially important. A monkey can make a French fry that tastes good right out of the oil –but he needs your help to make one that stays good as it cools down.
Blanching Theory:
Blanching fries does a lot for you  – such as:
killing the enzymes that make the potatoes turn purpley-brown. Blanching is always necessary if the potatoes will be air-dried before frying.
gelatinizing the starch. During frying, pre-cooked fries form a crust faster than raw ones, and they can be cooked at higher oil temperatures than raw fries  – which is easier for workflow.
pre-salting the interior of the fries. We blanched two batches of fries, one in boiling 3% salt water, one in boiling plain water. The plain-water fries tasted like crap next to the salt-water ones.  All subsequent tests fries were blanched in a 3% salt solution.  So here's your First Rule: Use salt water to blanch.  And remember, the potatoes absorb salt.  If you re-use your blanching water, add more salt.  Potatoes properly blanched in a 3% salt solution need very little additional surface salt.
getting rid of the excess sugar  that leads to overly dark fries.  If you re-use your blanch water, the sugars will equilibrate and you'll lose this advantage.
altering the texture of the finished fry. This effect is the hardest to sort out. How does blanching change the texture? Keep with me:
Many people advocate blanching fries until they "almost fall apart." To test this advice we blanched fries in boiling water with 3% salt for different lengths of time.  We boiled a large amount of water and added all the potatoes at once. The water never went below 85°C and it returned to a boil in 1 minute 30 seconds. We pulled some fries at 5 minutes 20 seconds, when the potatoes were done.  We overcooked the rest, pulling some at 7 minutes 11 seconds, 9 minutes 11 seconds, 11 minutes 11 seconds, 14 minutes 30 seconds and 20 minutes zero seconds.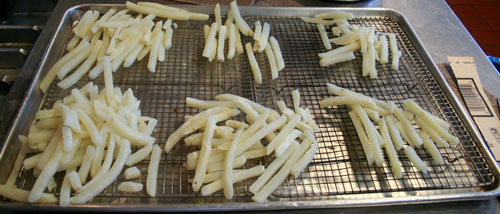 We dried all the fries in a convection oven with door open and the fan set to cool; fried them in 170°C oil until they formed a crust but were still blond; then fried in 190°C oil until crispy and golden brown.  The internal texture of the fries remained fairly consistent, but the crusts became progressively crunchier as the cooking time increased.  The 14:30 fries were unanimously voted first place.  The 20 minute fries didn't brown well and were overly salty; nobody liked them.  A strange phenomenon occurred with the 11:11 fries –they were saltier than the 9:11 fries and the 14:30 fries.  Weird, because they were all cooked in the same pot. I think I know why:  aside from being too salty, the 11:11 fries also seemed a bit hollow.  I think they dried out a little more in the convection, which would lower their moisture content, making them seem saltier –and, as we shall see – leading to a hollow fry. Second Rule: Blanch fries for a long time –like 14 minutes and 30 seconds, in boiling water.
Some like it Rough:

Many people assume that long blanching times make a better crust because overcooked potatoes have a rough surface that gets crunchier than the smoother surface of a less-done potato.  To test this hypothesis, we made 3 batches of fries:
Blanched until done –the control.
Blanched until done, and scraped with coarse sandpaper to make a rough surface.
Cut oversized, blanched to death, cooled and cut down to size by hand with a sharp knife to create a smooth surface.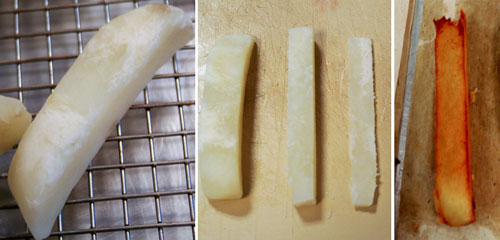 The sandpaper batch was a little crunchier than the control, but not nearly as crunchy as the overcooked batch that we cut smooth.  I don't think this test is conclusive, but I do think that surface roughness is a minor, not major, player in crunchiness.  If you look at the pictures of the fries blanched at various times, only parts of the surface of the overcooked fries appear any more beat-up than the normal ones, yet the whole fry is crunchier.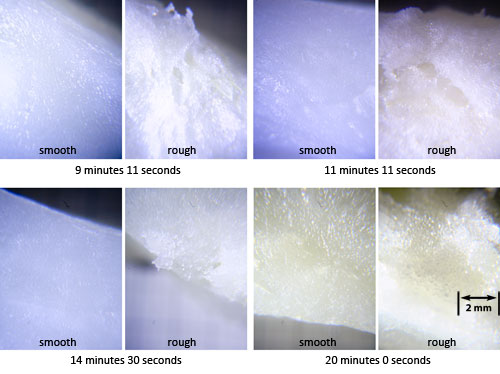 Porosity and surface fissures may play a big role, but I don't think macroscopic roughness does.
Starting With Cold Water, and Pre-Blanch Tricks: Pectin vs Starch:
Potatoes are made up of cells filled with starch granules glued together by pectin, hemicellulose, cellulose, and other junk referred to in the biz as Non-Starch Polysaccharides (NSP).  Blanching at temperatures above 75°C cause starch granules to swell. The longer and hotter the blanch, the more the granules swell, until they finally break. Destruction of starch granules doesn't necessarily mean destruction of potato cells. –research indicates that the cells stay mostly intact during long cooking, even though starch leaks out of them. Long blanching at high temperatures also breaks down pectin, making French fries softer. Blanching or pre-blanching at temperatures below 75°C –or blanching slowly so the fries stay between 60 and 75 degrees C for several minutes — activates an enzyme called pectin methylesterase (PME). In the presence of calcium, PME strengthens pectin and allows it to withstand the rigors of cooking without breaking down,  producing a fry that is stiffer and has more structure than the same fry without the low-temperature blanch. Even though PME is active at temperatures  below 60-70°C, the calcium the enzyme needs to work remains locked in the starch granules at lower temperatures.  Above 75°C, PME is denatured too rapidly to make a difference.   The two basic techniques for PME activation are:
Pre-blanch the fries in a temperature-controlled water bath between 60 and 70 degrees C for several minutes, up to an hour. We call this "the Steingarten" in honor of Jeffrey Steingarten, who uses this technique on mashed potatoes.  We did this procedure for one hour, then blanched in boiling water till overcooked.
Start the blanch with cold water, or allow the temperature of the blanch water to dip below 70°C when you add the potatoes to the water.  Even a couple of minutes below 70-75°C is enough to get some PME effect.  For our test, we started from cold and blanched for 25 minutes (it took about 15 minutes to boil).
I have a bottle of straight PME enzyme called NovoShape.  It is made by the same folks who bring you Pectinex SP-L and Pectinex Smash XXL, and it is intended to firm up fruits.  If you add a pinch of calcium and some NovoShape to raspberries ,  you can boil those raspberries and they won't fall apart.  Your blueberries won't bleed into muffins. You get it. To really test out PME activation, I decided to use NovoShape on two additional batches:
Soak fries in a 0.4% PME/0.5 % calcium gluconate solution kept at 25°C (I kept the temperature low so I wouldn't activate the native PME) for two hours, then blanch in boiling water till overcooked.  This treatment should harden the surface only.
Vacuum- infuse fries with a 0.4% PME/0.5 % calcium gluconate solution and then keep at 55°C (higher temps aren't necessary because I am adding the calcium) for an hour, then blanch in boiling water until overcooked.  This treatment should harden the whole fry.
Compared to the control (blanched in boiling water till overcooked), the Steingarten fry was hard, and the inside hollow.  It stayed hard as it cooled, but we didn't find it pleasant.  Perhaps in another circumstance (other than tasting a zillion fries side by side) we might have interpreted this fry as crunchy in a good way.  But the multiple tests have shown us a difference between hard (bad) and crunchy (good).  Likewise, the fries that had the PME injected into them were hard and hollow –no good.  The fries that had been soaked in the PME were hard on the outside, a bit hollow, and also greasy.  The ones blanched from cold were crunchier than the control, and looked really good; but didn't have as much potato flavor as the control.  The control was the best of the lot –even though it wasn't the crunchiest.
Third Rule: Make sure your blanching water is boiling, and don't let the water temperature get below 80°C. The best internal texture and flavor for French fries is possible only when PME is not activated. We figure the best way to do this in a restaurant situation is to use a pasta cooker for blanching.
While researching enzymes and French fries in the scientific literature, I came across an article on Pectinex SP-L in fries (The Effects of Enzymes on Fat Content and Texture of French Fries, G. Lisinska, et al. Food Chemistry, vol 102 (2007) 1055-1060). Pectinex SP-L is the exact opposite of Novoshape –it breaks pectin down.  The theory of the article is that pectin and starch are antagonistic –the starch wants to swell, and the pectin wants to hold it back. As the potato is fried, the starch swells and eventually dehydrates, forming a crust on the fry.  If the pectin at the surface is not degraded, fissures appear in the crust as it dries, leading to more oil penetration (the main focus of the article is preventing oil penetration, because people are obsessed with fat content – and because oil is more expensive than potatoes).  Using SP-L breaks down the pectin at the surface, allowing major starch expansion and preventing fissures and cracks in the crust. Here are the SEM pictures from the article borrowed without permission:

OK –more tests.
French fries soaked in a 0.4% SPL solution at 25°C for 1 hour and then blanched for 14:30 in boiling water.  This should soften the surface.
French fries vacuum injected with a 0.4% SPL solution at 25°C for 1 hour and then blanched for 14:30 in boiling water.  This should soften the whole fry.
French Fries vacuum infused with a 0.4% PME/0.5 % calcium gluconate solution and then soaked in a 0.4% SPL solution kept at 55°C for an hour and then blanched for 14:30 in boiling water.  This should soften the outside of the fry but harden the inside.  We did this one just for giggles, even though we were skeptical about using PME. We were rooting against this technique, because it is a pain in the rear.
The SP-L injected fries were a complete disaster. They wouldn't brown properly and were hard like rocks. The PME-injected SPL -soaked fries were good, but they didn't have as much potato flavor as the control, and they seemed hard. As they cooled they got dry.  The SP-L soaked fries were a huge winner.  They had a great potato flavor and a great crust.  The crust lasted much longer than the crust in the control, but wasn't hard or dry.  This was a fry you could eat cold.
PS: You can get Pectinex SP-L from us if you can't get a sample from Novozymes or Gusmer.
Fourth Rule: Soak your fries in a 0.4% solution of Pectinex SP-L at 25°C for about an hour before you blanch.
To Dry or Not To Dry:
Our standard practice has been to dry out our fries after the blanch, but before the first fry.  We scoop the fries out of the blanching water, carefully put them on cooling racks, and put them in a convection oven with the cooling fan on and the door ajar.  Sometimes, if the fries don't get dried off right away, I'll put the convection on low (60 or 70°C) to dry them out faster.  At home I use a three-speed fan or a hair dryer. The reasoning behind drying: after frying, the potatoes will stay crunchier, longer, because they have less internal moisture.  The fries form a better crust because their surface is dry before they go into the fryer.  The literature (see bibliography at the end of the previous post) says that dried French fries absorb less oil than fries that haven't been dried (although there is some confusion about how oil content is measured –see the article Understanding Oil Absorption During Deep Fat Frying, by Pedro Bouchon, which is chapter 5 in Advances in Food and Nutrition Research, vol 57 2009).  The amount of oil a fry absorbs is roughly proportional to the amount of water that is boiled out, because the oil gets injected into the voids left by the water as the fry cools.  Dried fries are compacted more and have a denser surface, so they absorb less oil.  But…. do they taste better?
In the informal side-by-side tests I have run over the years, dried fries have always won.  But now that I was more focused on internal texture, I wasn't sure how the tests would pan out.  We blanched a bunch of fries using several techniques: SP-L soak, PME soak, boiling blanch, blanch from cold, etc. We dried half of each batch in the convection oven with the door ajar, and fried the other half without drying.
In general, dried fries were crunchier than non-dried fries, but they tended to be hollower, and they tended to taste hard and dry when cold.  The fries that had had not been dried, although not as crunchy as their dried brethren, always had a better internal texture and potato flavor, and remained pleasant even when cold –sometimes they even seemed to get better.  For instance, in blanched-from-cold French fries (with some PME activation),  tasters preferred the dried fries straight out of the fryer, but after 10 minutes, the un-dried fries were surprisingly pleasant.  Not super crunchy –but not soggy.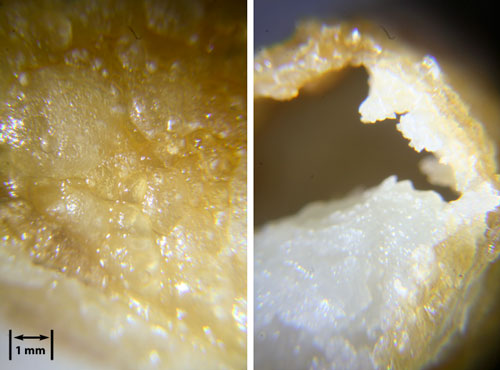 Our favorite blanching technique, SP-L soaking, and the runner-up, straight boiling, responded slightly differently to drying.  The standard boil wasn't quite crunchy enough when fried without drying.  The dried, standard-boil guys were crunchy –but a bit hollow.  I think we had over-dried them.  In the case of regular boiling, I think a happy medium between no-dry and really-dry would be best.  On the other hand, the SP-L soaked fries were crunchy enough straight out of the fryer, had a great potato flavor, and tasted not good, but great, when cold.  The cold fries were not soggy, not dry, and not hard.  Not super-crunchy, but crisp and pleasant.  I could eat them all day.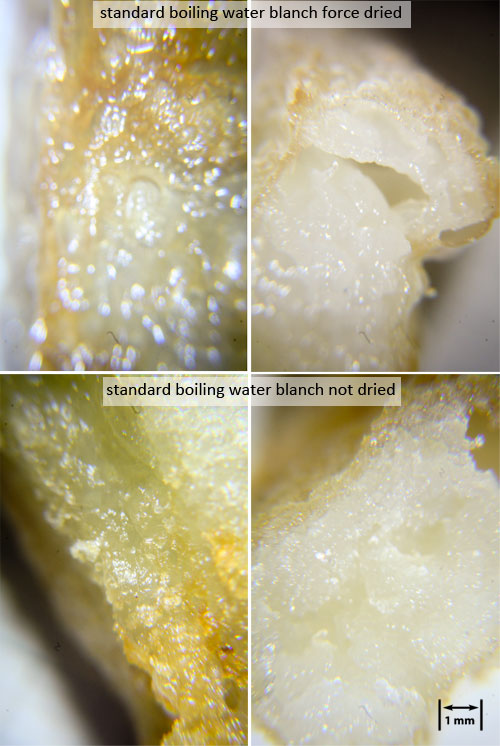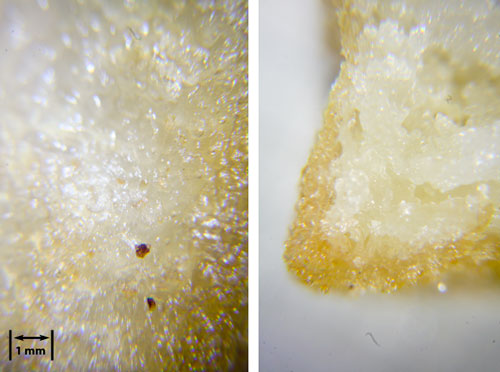 Fifth Rule: Don't dry your fries too much –they will turn hard and hollow.  Some fries, like the SP-l soaked, shouldn't be force dried at all.
The current technique in a nutshell: Peel potatoes, cut into fries and rinse.  Soak in a 0.4% solution of Pectinex SP-L and water for 1 hour at room temperature. Blanch fries in boiling water with 3% salt added (or to taste).  Make sure the water temperature doesn't drop below 80°C.  Blanch for 14.5 minutes.  Drain fries on a cooling rack, but don't force dry them.  Fry them at 170°C till they form a crust but are still blond.  Fry a second time in 190°C oil till crispy and golden brown. Eat.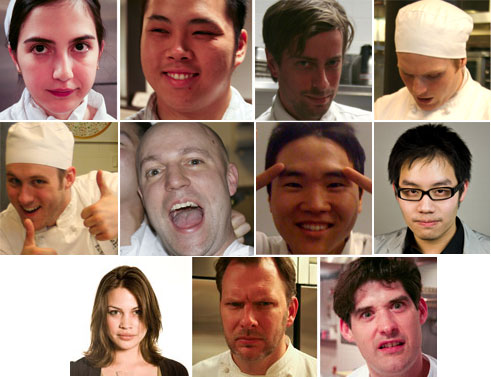 Addenda:
We took our magnified pictures with this rig: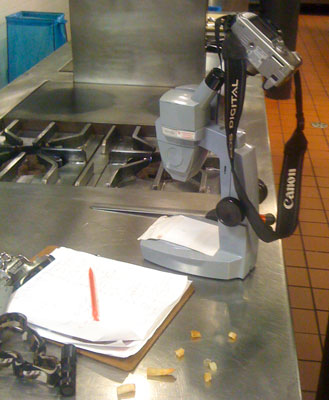 Vinegar Fries
We make a lot of vinegar fries.   We inject vinegar into raw fries and then blanch those fries in vinegar.  It takes a long time to cook potatoes in vinegar.  The acid makes it more difficult to break down the pectin.  We tested our vinegar blanching technique against our new favorite blanching technique.  They tasted like vinegar –which is good, but they were hard –which is bad.  We had always liked them –because they are super-crunchy, but now we were a little disappointed by the texture.
Weird Enzyme Thingy
One of our tests (not reviewed) involved blanching fries starting with cold water and pulling them out when they reached 70°C.  Those fries turned a weird purple –just like they hadn't been blanched at all.  The ones that were pulled at 60°C didn't change color –neither did the ones pulled at 80°C.  Any ideas?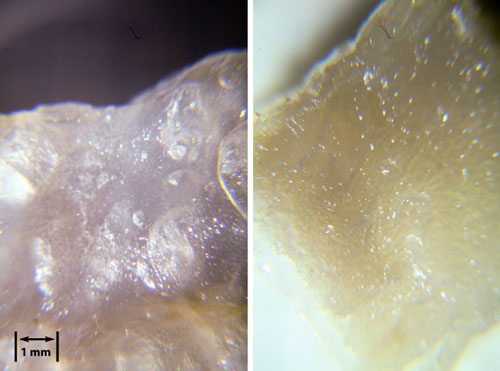 A Response from a Former Cooks Illustrated Tester on Frying in Cold Oil:
"We didn't have the same problem that you guys did with the fries – they were slightly greasier than normal but by no means unacceptably so, and they stayed crisp for longer as well. Granted, our focus with the recipe was more on hassle and less on quality – we would never be able to publish a three-stage fry. From looking at the pictures accompanying the post, I think that the burner you were using was considerably more powerful than the ones we tested on – we don't use restaurant-grade stoves here, really. With a lower oil temperature, the fry spends more time cooking through, and presumably loses more moisture as well. We had an ancillary problem that we think had to do with the relative age of the potatoes – some fries would come out incredibly crispy, but others would just be tough. We think that this tendency had to do with the relative sugar content of  the potatoes, as we had no way to control for the age of the potatoes and so some were doubtlessly stored longer than others, and we had no idea which were which. I'd be interested to see if we can find a way to control for that."