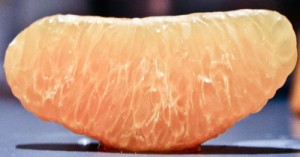 Ahoy Readers!
You asked for it, you got it.  Pectinex Ultra SP-L is on its way. We've ordered a 25 Liter pail from Novozymes and we'd like to share it:  $20 for a 250 mL bag of the stuff.  
See last week's post to read how we've been using Pectinex Ultra SP-L to maximize our flavedo.  
For every liter of enzyme solution we add 2 grams of Pectinex Ultra SP-L and 1 gram of Pectinex Smash XXL.  250 mL of Ultra SP-L is enough to de-albedo a whole citrus grove.  Keep in mind, for citrus fruit, Novozymes advised us that Pectinex Ultra SP-L works best when mixed with Pectinex Smash XXL. There's still a good amount of the XXL left in our pail for those who haven't already purchased some from us.
We're using the same ordering procedure for both the XXL and the SP-L. Go to www.paypal.com and use my email address – nlopez@frenchculinary.com.  $20 per bag, plus $5 shipping.
Thanks for reading!
Love,
The Cooking Issues Team