posted by Dave Arnold 
We think olive oil from cured olives is delicious. A professional olive oil taster would disagree. Let me explain: 
We've been using our centrifuge to make cured olive oil.  First we blend pitted olives (kalamata's been our choice) in a Vita-Prep until they form a smooth paste; then we load the paste into centrifuge buckets and spin them at 4000 times the force of gravity for 20 minutes.  While the olives are spinning they separate into 3 layers by density: a layer of olive oil at the top, followed by a solid layer of olive paste, sitting on a  liquid layer of dense olive brine at the bottom. To separate the olive oil from the brine we use a piece of lab-glass called a separatory funnel. Don't be without one. The olive brine would make a fantastic dirty martini.  The olive paste makes a very meaty tapenade.  Our favorite part, however, is the olive oil layer on top.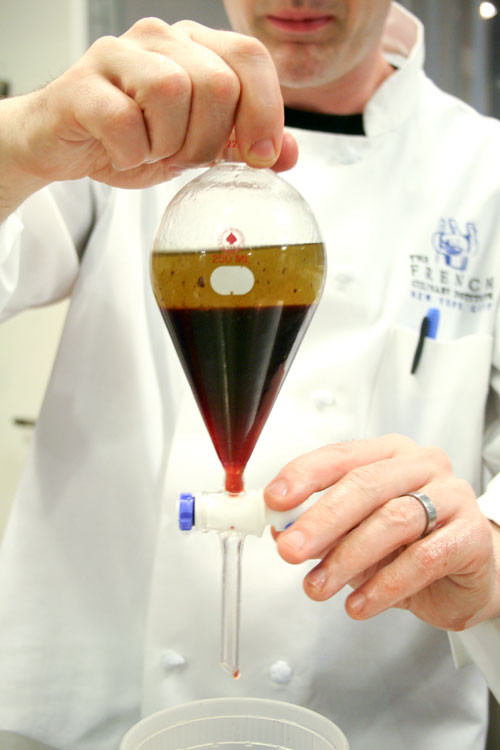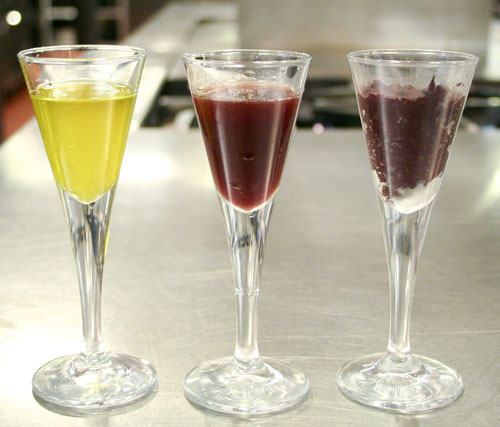 We really, really, like the olive oil.  It tastes just like kalamata olives.  I was discussing this oil with Harold McGee (master blaster of the delicious science, see him here at the FCI April 22 and 23), who told me an interesting story: 
In 2006 Cook's Illustrated published an article rating extra virgin olive oils.  Alexandra Kicenik Devarenne, an olive oil expert and instructor at UC Davis, read the article and was surprised by the results. She convened an expert olive oil tasting panel and re-tested the exact same oils.  The results were astounding.  The oils rated tops by Cook's Illustrated were rated defective by the trained testers.  Oils that fared badly in the Cook's test were highly rated by the trained panel (Read about it here). What the hell? 
Many of the oils that had done poorly in the Cook's test, but were liked by professionals, were bitter.  McGee told me that bitterness is an indication of polyphenols, a mark of quality  — polyphenols prevent oxidation and rancidity.  On the flip-side, many of the oils rated highly by Cook's showed some rancidity.  It turns out that we tend to like rancidity when we're used to it.  To illustrate, here's a story about rancidity that will probably get us sued: 
A packing company  approached a large manufacturer of peanut-butter cups with a proposal for an oxygen-absorbing insert that  prevented rancidity.  The company test-marketed their peanut butter cups with this  rancidity-reducing package. Customers balked.  Turns out, people expected their peanut butter cups to taste a little rancid, and didn't like them when they didn't.  Of course, those consumers didn't know that they were selecting for rancidity, they were just choosing what they liked.  Back to olive oil: 
Another defect that the Cook's panel liked was the taste of fermented olives.  Fermented olive taste (pros call is fustiness) indicates  that some olives had started to ferment before they were pressed.  Trained olive oil professionals see this trait as a defect, because oil from those olives won't last as long and was made with sub-optimal olives.  Tasters who don't know any better like the fermented taste, because it tastes more like olives than 'good' olive oils.  Our centrifuge olive oil, made with 100 percent cured olives, takes that defect to the extreme. 
Well, anyway, we like it.