by Dave Arnold
I consider myself a fry-expert, and I believe almost anything can be fried to good or great effect. I deep fry steak, bacon, bones for stock, as well as the obvious stuff – like French fries.
A fry-cook can be judged by their fries. At the FCI we make really good ones– but we want to make the best. Our technique is basically Blanch, Dry, Fry, Fry. We are currently exploring these phases in excruciating detail in our search for the perfect fry. Today, I'll walk you through our current recipe –and explore a simple alternative. Next Time, the first serious FF investigation: blanching.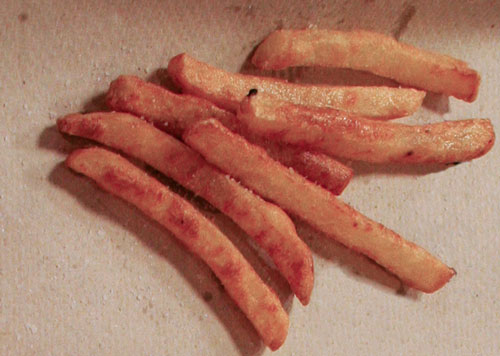 The Perfect Fry:
Perfect French fries are super crunchy on the outside with a good cooked-potato texture and flavor on the inside.  They shouldn't taste too greasy.  They should be salty.  They should stay crispy for at least 10 minutes.  Easy, right?
The Current Technique
Select a variety of potato.
I use Idaho russets (there are several varieties of russeted potatoes; we usually get Burbanks). Nils, being from Sweden, thinks we should use other potatoes. We'll find out.
Peel potatoes and keep submerged in water.
While the peel has vitamins and flavor, it does not produce as nice a crust as the rest of the potato, plus it can hide rot and blemishes. Away it goes.
Cut the potatoes with a French fry cutter and place in water to prevent oxidation.
The cutter we use is 3/8" square. We like this size, or slightly larger. Smaller fries have a very high crust-to-core ratio; shoestring fries are almost all crust. Super-thick fries are like baked potatoes with a French-fry crust. We go for a middle ground. I have some evidence that hand-cut fries may be better. I don't know if the slight irregularity makes them better or if the sharp knife produces a better fry than the relatively dull French fry cutter.
Optional: inject the French fries with a flavor –like vinegar—or a texture-modifying enzyme like Novoshape (a pectin methyl esterase that strengthens the structure of the potato) using a vacuum machine; or soak them in a texture-modifying enzyme like Pectinex SP-L (an enzyme that breaks down pectin structure –some studies indicate that breaking down pectin at the surface of the fry can decrease oil absorption in increase consumer preference). Note that the two enzymes above do exactly opposite things, yet both can contribute to a better fried potato. Confusing.
Optional: pre-blanch French fries in 55 C ( 131 F) water for 40 minutes.
Potatoes naturally contain the enzyme Pectin Methyl Esterase (see the previous cook-step). This pre-blanch activates that enzyme and strengthens the structure of the fry, but also changes it. This technique was discussed in depth by Jeffrey Steingarten in his first book The Man Who Ate Everything , so we call it the Steingarten technique. Steingarten used it for mashed potatoes. Heston Blumenthal picked it up and made it popular with chefs. It doesn't just work on mashed potatoes — it works for any potato preparation, and other vegetables too. Some people love this technique; some hate it. Nils and I don't enjoy the mashed potatoes– the texture reminds us of a very fine hominy grit or tiny, tiny bb's. Nils also dislikes the Steingarten technique for French fries because he's looking for a creamy interior. The ST emphasizes the crust; the fry's inside can lose its potato texture (creamy or fluffy, depending) and, at the extreme, can exhibit the phenomenon we call "hollow fry": a crust with no internal potato structure. Nils cannot tolerate hollow fry. I am OK with the occasional hollow fry because, for me, crust is paramount.
Rinse off fries and blanch in salty water until they are cooked through.
We blanch for many reasons: blanching with salt improves flavor by salting the inside of the fry;  leaches out sugar, which reduces premature browning; kills enzymes (important if you can't fry right away or are planning a pre-fry drying step); pre-cooks the potato so the first fry can be high-temp and short duration; and, lastly, blanching pre-pastes and pre-gelatinizes the starch, purportedly creating a barrier at the surface of the fry to prevent excess oil intrusion.
Dry the fries with a convection oven, fan, or hair drier until the surface is leathery.
The drying step helps form the crust and dehydrate the potato. Studies show that partially dehydrating the fries reduces oil uptake when frying. Other studies show that overall dehydration isn't important, but the leathery surface formed by drying reduces oil uptake and forms a nice crust. Removing surface moisture also saves your oil from excess-water abuse.
Choose an oil or fat for frying.
Finished French fries are up to 10 percent oil, so this choice makes a real difference. We normally use industrial fry oil because we are working on the stovetop and this oil can withstand the temperature abuse.
Fry in hot oil (roughly 170 C, 340 F) until a crust forms (to test, we pull the fries out of the oil and tap on them) but the fries are still blond.
The oil temperature is high because we have already cooked the potatoes – we are only working on crust formation.   This step should be fast.

The first fry should leave the fries blond. When they come out of the oil they should be almost white. They dry down to this yellow color.

Shake the hell out of the fries as they come out of the oil, and allow them to cool.
Studies show that most oil absorption takes place after the fries are removed from the oil, as they are cooling down (see bibliography).
Optional: freeze the French fry.
Freezing acts like partial dehydration. When the frozen fries are finished, they liberate water freely, leading to rapid dehydration and good crust formation with a porous interior. Pre-frozen fries are crunchier than fresh and stay crisper longer after they are fried, but they tend toward hollow fry. Nils hates this step; I like it.
Finish-fry in very hot oil, 195 C (385 F), till crispy and golden brown.
Shake the hell out of the fries.
Eat.
I have been told our fry technique is complicated.  I don't think so.  It is easy to do –especially in bulk. In our last Harold McGee class someone asked us about a technique published in the July 2009 Cooks Illustrated, which advocates throwing raw potatoes in cold oil and cooking them in one step by heating the oil.  We tried it.
Here is a magnified view of the interior and crust of the French fry.
We didn't like the results.  The fries had a fantastic crust –right out of the fryer.  Unfortunately, they wilted quickly compared to our normal fry.  Within a couple of minutes, we didn't want to eat them at all.  Our standard fries are good even when cold. I think the cold-cooked French fries wilted because they were too high in moisture.  The Cooks Illustrated folks solve this problem by using a thinner fry – just 1/4 inch. Less interior means less moisture. Less moisture means less wilting.  Less interior also means less textural difference and less potato flavor. Another problem with this technique:  the interior of the fry isn't salted.  Once you taste a fry that's salted from the inside, you won't go back.
Cooks Illustrated claims their technique makes a less oily fry than their control double fry, and they have lab results to prove it.  Their photo of  twice-fried fries looks terrible; super greasy.  They stacked the deck in their favor by using a crummy double-fry technique.
A Partial French Fry Bibliography
Grazyna Golubowska
, Changes of polysaccharide content and texture of potato during French fries production, Food Chemistry, Volume 90, Issue 4, May 2005, Pages 847-851, ISSN 0308-8146, DOI: 10.1016/j.foodchem.2004.05.032. (
http://www.sciencedirect.com/science/article/B6T6R-4D0Y466-9/2/2c284b25aa7c4cfe1f006f8e720aa509
)
G. Lisinska, A. Tajner-Czopek, L. Kalum
, The effects of enzymes on fat content and texture of French fries, Food Chemistry, Volume 102, Issue 4, 2007, Pages 1055-1060, ISSN 0308-8146, DOI: 10.1016/j.foodchem.2006.06.042. (
http://www.sciencedirect.com/science/article/B6T6R-4KPNB54-2/2/31a208ecef7f46a3110c4a0739f14543
)
Grazyna Lisinska, Grazyna Golubowska
, Structural changes of potato tissue during French fries production, Food Chemistry, Volume 93, Issue 4, December 2005, Pages 681-687, ISSN 0308-8146, DOI: 10.1016/j.foodchem.2004.10.046. (
http://www.sciencedirect.com/science/article/B6T6R-4F2V56S-9/2/23a2e2a28c50cb7eaea1b17113edd45a
)
Eric Zhiqiang Liu, Martin G. Scanlon
, Modeling the effect of blanching conditions on the texture of potato strips, Journal of Food Engineering, Volume 81, Issue 2, July 2007, Pages 292-297, ISSN 0260-8774, DOI: 10.1016/j.jfoodeng.2006.08.002. (
http://www.sciencedirect.com/science/article/B6T8J-4MY0THD-1/2/0e5bca9574b45642d2c2d69c692902cc
)
Andrea Bunger, Pedro Moyano, Vanessa Rioseco
, NaCl soaking treatment for improving the quality of french-fried potatoes, Food Research International, Volume 36, Issue 2, 2003, Pages 161-166, ISSN 0963-9969, DOI: 10.1016/S0963-9969(02)00131-X. (
http://www.sciencedirect.com/science/article/B6T6V-47CWC3B-5/2/f03b11a378184cb4b42f5fd079b93828
)
A. Kita, G. Lisinska, G. Golubowska
, The effects of oils and frying temperatures on the texture and fat content of potato crisps, Food Chemistry, Volume 102, Issue 1, 2007, Pages 1-5, ISSN 0308-8146, DOI: 10.1016/j.foodchem.2005.08.038. (http://www.sciencedirect.com/science/article/B6T6R-4MH44VC-2/2/8be3c0666e0f99d253f992bb5498dec8)
Franco Pedreschi, Pedro Moyano
, Oil uptake and texture development in fried potato slices, Journal of Food Engineering, Volume 70, Issue 4, October 2005, Pages 557-563, ISSN 0260-8774, DOI: 10.1016/j.jfoodeng.2004.10.010. (
http://www.sciencedirect.com/science/article/B6T8J-4DWH268-4/2/45d527de325ef9cb183f5ed79aedf35a
)
Franco Pedreschi, Pedro Moyano
, Effect of pre-drying on texture and oil uptake of potato chips, LWT – Food Science and Technology, Volume 38, Issue 6, September 2005, Pages 599-604, ISSN 0023-6438, DOI: 10.1016/j.lwt.2004.08.008. (
http://www.sciencedirect.com/science/article/B6WMV-4DFK6R6-2/2/b3d475670701ce77732cd9601b01d5bb
)
A. H. Khalil
, Quality of french fried potatoes as influenced by coating with hydrocolloids, Food Chemistry, Volume 66, Issue 2, August 1999, Pages 201-208, ISSN 0308-8146, DOI: 10.1016/S0308-8146(99)00045-X.
M. A. Garcia, C. Ferrero, N. Bertola, M. Martino, N. Zaritzky
, Edible coatings from cellulose derivatives to reduce oil uptake in fried products, Innovative Food Science & Emerging Technologies, Volume 3, Issue 4, December 2002, Pages 391-397, ISSN 1466-8564, DOI: 10.1016/S1466-8564(02)00050-4. (
http://www.sciencedirect.com/science/article/B6W6D-46X2K6R-4/2/0e2495ec788044cd7e26a02822558e60
)
Pedro Bouchon
, Chapter 5 Understanding Oil Absorption During Deep Fat Frying, In: Steve L. Taylor, Editor(s), Advances in Food and Nutrition Research, Academic Press, 2009, Volume 57, Pages 209-234, ISSN 1043-4526, ISBN 9780123744401, DOI: 10.1016/S1043-4526(09)57005-2.
Franco Pedreschi, Ximena Travisany, Carolina Reyes, Elizabeth Troncoso, Romina Pedreschi, Kinetics of extraction of reducing sugar during blanching of potato slices, Journal of Food Engineering, Volume 91, Issue 3, April 2009, Pages 443-447, ISSN 0260-8774, DOI: 10.1016/j.jfoodeng.2008.09.022. (
http://www.sciencedirect.com/science/article/B6T8J-4TKPV7J-3/2/0f02d3a296b2301f0ec1f23baceeef5e
)
Nathalie Santis
, Fernando Mendoza, Pedro Moyano, Franco Pedreschi, Petr Dejmek, Soaking in a NaCl solution produce paler potato chips, LWT – Food Science and Technology, Volume 40, Issue 2, March 2007, Pages 307-312, ISSN 0023-6438, DOI: 10.1016/j.lwt.2005.09.020. (
http://www.sciencedirect.com/science/article/B6WMV-4HK03HS-1/2/def2a2f033b4915c2a39cb4357799816
)