posted by Dave Arnold
Cooks love their thermometers. Thermocouple thermometers are especially loved because they are rugged, can measure extreme temperature ranges, have a wide range of available probes, and are fairly accurate once calibrated properly.  But they can be expensive. This post is dedicated to making thermocouple probes affordable, by rolling your own.
Thermocouples work because of something called the Seebeck effect, which states that  a circuit made of two different metals will generate a (tiny) voltage that changes with difference in temperature between the two sides of the circuit.  A thermocouple thermometer is just two wires made of different metals and an amplifier to measure the voltage across them.  Different types of thermocouple probes use different metals.  The probe most popular with cooks is type K, which has one chromel wire (nickel/chromium) and one alumel wire (nicklel plus other stuff). For a good article on thermocouple types, check the Wikipedia page.  The cool thing is you can buy wire and make your own thermocouples.
Everything needed to build almost anything in the world can be purchased from McMaster Carr. If you didn't already know about McMaster, you are welcome.  They have an easy to use website, everything is always in stock, and if you order before 6pm anywhere in the continental US, it arrives the next day at standard  ground shipping rates.  The downside is that their prices are quite expensive.
McMaster sells a wide variety of type K thermocouple wire.  Here is a sample part number: 6579T38 ($1.26 a foot). You also need a thermocouple connector.  Most themometers use "flat-pin mini" male connectors, part number 3869K35 ($3.21 a piece).  If you want to make an extension cord for your thermometer, also order a female connector, part number 3869K34 ($3.74 apiece).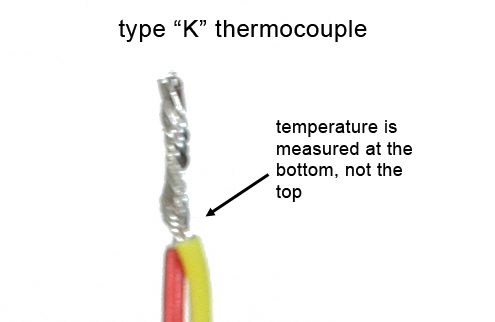 How to make a thermocouple
Simply strip the ends of the wires, twist them together, and, voila! thermocouple probe.  All that's left is to attach the connector.  Unscrew the connector body, strip the ends of the wire on the connector end and screw them down to the terminals.  Remember not to mess up the polarity— on type K thermocouples the RED is NEGATIVE and the YELLOW is POSITIVE. Calibrate your new probe in copious ice water. Done.  Note that the temperature is measured only from the first place the wires touch, not along the whole length of the twisted wire.
The above technique makes for a thermocouple that works well for most purposes. In moist, steamy environments or in situations with a lot of mechanical stess and thermal shock (like in our Red Hot Poker), a more permanent solution is sometimes needed.  Here are three options:
Use lead free solder to keep the twisted wires together.  The solder doesn't mess up the probe.  Only use this technique at temperatures below the melting point of your solder, and try to use as little solder as possible (to keep down thermal mass).
Encapsulate the twisted wires in epoxy or ceramic.  Use a small amount because epoxy doesn't conduct heat so well.  There is a food grade epoxy putty with stainless steel powder that is good for applications below 250°F (McMaster 74575A69) and a non-food-grade ceramic/stainless putty good to 2000°F (McMaster 7356A33).
Weld the thermocouples together.  You can buy a thermocouple welder but McMaster doesn't carry it (yeah, thanks), and it's expensive.  If you have a crappy little 120v Mig or arc welder, you can use it to weld thermocouple wires.
Welding instructions
Parts:
Block of graphite, McMaster part 1763T23 ($10.70)
Pair of conductive clips, McMaster part 7236K59 ($9.20 for 10) or equivalent
Some fairly large gauge insulated wire (you can get that yourself or find it at McMaster)
Fine needle-nose pliers with insulated handle
A welder
Procedure:
Get a length of wire and put the conductive clips on both ends. Disengage the wire feed mechanism of your welder and set the wire feed to zero. Adjust the power on your welder (trial and error, I used "2").
Attach one end of your wire to the tip of the welder's copper electrode and the other to the metal part of your needle-nose pliers. Attach the welder's ground clip to the graphite block. Twist the ends of your thermocouple wire together and hold them in the needle-nose pliers.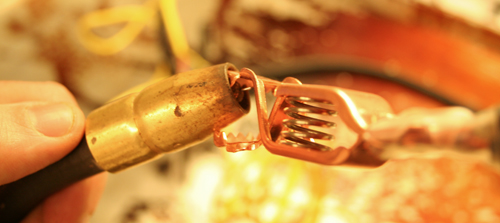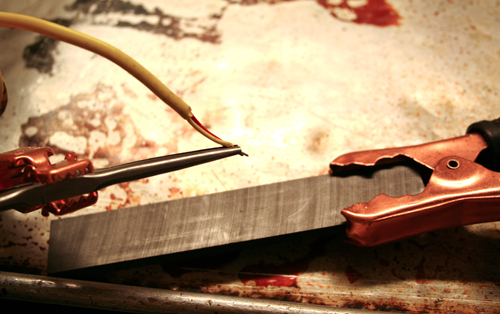 Pull the trigger on the welder and scratch the thermocouple wire across the graphite. The thermocouple will weld itself together.  It's even easier with an arc welder.  I haven't needed flux but I guess you could use some.