posted by Dave Arnold
In response to a rotovap post, Asbel Reyes wrote:
What's your thoughts on marrying a microwave, a superfreezer, a cold trap, and vacuum for instant freeze drying?
Well, I haven't tried that exactly; but I have dabbled with microwave vacuum dehydration (MVD). In October 2006, Johnny Iuzzini and I were working on a demo for PastryScoop and I wanted to try something new. I had heard of a technique for quickly dehydrating grapes by placing them under a vacuum (which lowers the boiling point of water), and microwaving them to boil off that water at a low temperature. Microwaves are perfect for this because they can heat the inside of a material (as long it's small, like a grape). As soon as the water is gone from one part of the grape, that part stops absorbing microwaves—it doesn't heat up and burn (This is why the nuke is also great for drying bread for bread crumbs). Even better, because the water is constantly boiling out, the grapes don't shrivel up and lose their structure. From a logistical point of view, the cold traps and vacuum pumps don't need to be as good as a freeze dryer. Awesome… in theory.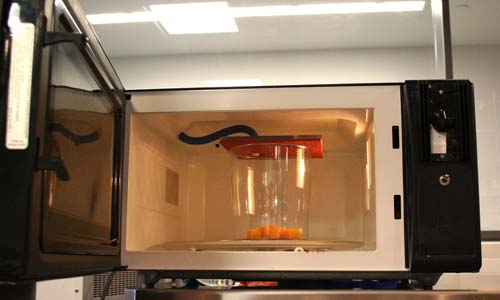 The first hurdle to jump was getting the right microwave. Most microwaves don't actually change the amount of power they are putting out when you switch them from low to high, they just turn on for a couple of seconds, then off for a couple of seconds. No good for our purposes. They make linear power microwaves with real power selection but they are expensive. No dice.  What sucks is you can't just put a dimmer switch on the transformer that goes to the microwave's magnetron because it controls both the magnetron heater wire and the high voltage input. Dang. Solution: I bought two microwaves from Craig's List for 20 bucks, ripped them apart, took the transformer from one and bolted it in the other with a dimmer switch. Whammo, linear power. Yes, it is dangerous. No, I won't tell you how to do it.
Next I needed a vacuum chamber. I took a food saver jar and made a polycarbonate lid with a silicone rubber seal. I put two holes in the top, one for the vacuum hose, and one for a thermocouple. Next I drilled two holes in the microwave interior less than 1/4 in diameter, and jammed a tube connector in one and a thermocouple wire through the other. The thermocouple was to measure the temperature of the food so I could get the power just right. Holes that size won't leak microwaves if properly baffled with metal. I checked with a microwave leak detector.
Next I took the vacuum hose out of the microwave and ran it through my handy-dandy cold-trap (remember this from the bootlegovap?). After the cold-trap, the line went into the vacuum pump from an old, broken commercial vacuum-packer Johnny had brought to The FCI to play with. I fired up the rig with nothing in it and the whole damn thing worked, no arcing, no problem. Done. Yeah, right.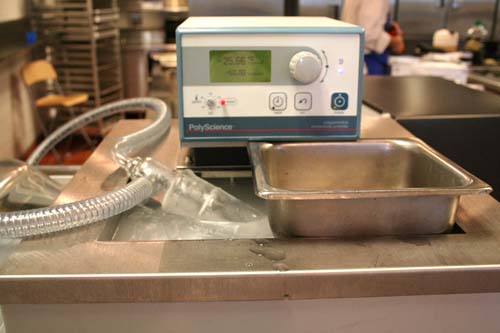 I put chunks of orange in my vacuum chamber that were sized just right for full microwave penetration, put the thermocouple in one of the chunks, sealed the chamber, started the vacuum, and turned on the microwave. What I hadn't thought of was that under partial vacuum, microwave ovens really, really want to make balls of plasma. Giant balls of fire kept shooting off the thermocouple. So I ripped out the thermocouple. Then I kept on getting balls of fire coming off my oranges. I couldn't seem to stop the whole thing from become a charred, stinking mess. The plasma kept burning through my vacuum chamber, etc. etc. FAIL. I tried six times over the course of three days and didn't even think to get decent pictures of the plasma. I was too depressed.
To Asbel's point. I didn't try to freeze the product first (you aren't supposed to for MVD). Maybe that would work. For more info on microwave plasma see here. For more on MVD see here.
Lastly, I definitely recommend that you don't put light bulbs, CDs, whole raw in-shell eggs, or anything of that nature in your microwave.