posted by Dave Arnold
As readers of this blog might know, I'm building my own rotovap. I think I can improve on the laboratory rotovap (I know I can). For the reasons to make a new one, see here. If you don't know rotovaps, see here.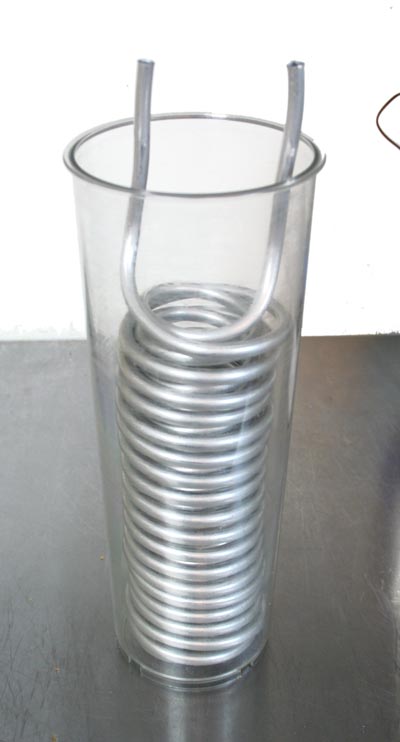 Here is the condenser section of the new rotovap. I made it from 3/16 in soft aluminum tubing (purchased from McMaster Carr). I chose aluminum because it is super-easy to bend, is a great heat conductor, and doesn't impart any taste to the distillate. I have had all of my distillate running through an aluminum pump adapter for years and haven't had any corrosion or off tastes. This condenser has a larger surface area than the one on my Buchi, but is of similar design. Unlike regular rotovaps, however, this condenser can be taken apart to clean easily (finally!). This condenser also won't break. The cover for the condenser is a super-custom piece of polycarbonate (a Click-Clack pasta storage container from the Container Store).
If you're like me and don't have a real shop or a bending jig, this type of tubing can be bent fairly well by first bending the coil into a large cylinder (a large bain marie) and then tightening the coil around progressively smaller cylinders (I ended up on a rolling pin). When the coil is large you can make pretty large reductions in diameter between steps. When the coil is smaller you have to make smaller reductions in size. I used maybe 7 different sized cylinders (wine bottles, pipes, etc). The only tough part is doubling the coil back on itself. It just takes some practice.
I'm just sorry I won't be able to work on the project more till July 13th cause I'll be traveling.