posted by Dave Arnold
One difference between simple agar clarification and gelatin clarification is that gelatin clarification has the ability to clarify and concentrate at the same time while simple agar clarification does not.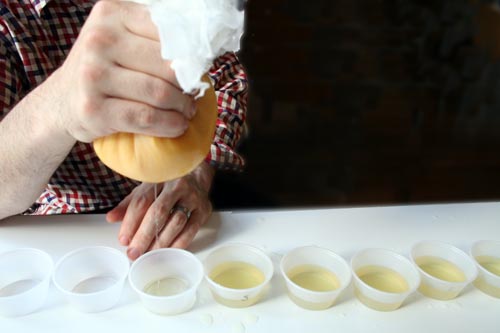 For those who don't know agar clarification see here. For those who don't know how to clarify liquids with gelatin, here it is: hydrate approximately5 grams of gelatin into 1 kilo of liquid, freeze the liquid solid, and slowly thaw it over cheesecloth in a refrigerator. 
One of the interesting properties of gelatin clarification is that the first liquid that drips out of the frozen block is extremely rich in sugar, acid, color, etc.  It is concentrated.  As the block continues to thaw, the liquid becomes more and more watery.  This process allows for an easy way to concentrate flavor without using heat, and to adjust the strength of the clarified product (at the expense of yield) by terminating the clarification process whenever desired. 
Simple agar clarification doesn't work this way.  The new clarification technique is simple forced syneresis (the leaking of fluid from a gel), and doesn't preferentially drip sugar, acid, and flavor the way an ice cube does.  The agar does hold on to some water (that's what a hydrocolloid does), so the clarified product is more concentrated than the original; but the product's concentration doesn't change over the course of clarification the way it does with gelatin. 
To prove it we hydrated 2 grams of agar in a kilo of orange juice, set it, broke it up with a whisk, and drained the clarified juice in 45 gram increments in mise en place cups and measured the Brix of each sample with a refractometer.  We also tasted the samples to see if there were any appreciable difference.
Results: The original Brix of the juice was 12.2.  Brix of the samples fluctuated between 12.9 and 13.1 (not much of a difference).  We noted the moments we twisted extra hard or re-stirred the agar, but that didn't make a difference either.  The samples all tasted about the same.  Juice from the end of the run has a slight haze (from pressing really hard on the agar and extruding some through the cheesecloth). Finally, they all tasted about the same.  Here is a graph: