posted by Nastassia Lopez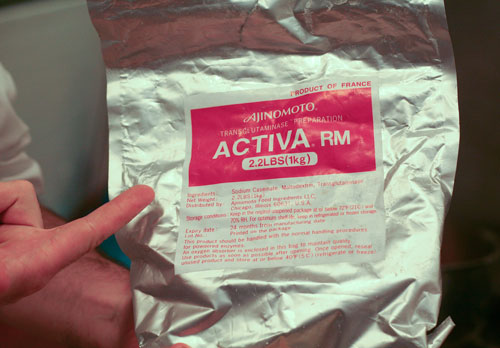 We have a brand new Meat Glue (Transglutminase)Â Primer up on the Cooking Issue's Primers page!
Here are some excerpts to get you started:
What is Meat Glue? Transglutaminase (TG or TGase), better known to chefs as "Meat Glue," has the amazing ability to bond protein-containing foods together. Raw meats bound with TG are often strong enough to be handled as if they were whole uncut muscles. TG is safe, natural, and easy to use. In the kitchen, TG is primarily used to:
• Make uniform portions that cook evenly, look good, and reduce waste
• Bind meat mixtures like sausages without casings
• Make novel meat combinations like lamb and scallops

Testing Meat Glue: There is a way to test if your meat glue is still working. Get a small scrap of raw meat (we use chicken). Apply a liberal amount of meat glue to the meat and massage it in. Sniff the meat (don't inhale the powder). If the meat smells like a wet dog or a wet wool sweater, your glue is good. If it doesn't, your glue is bad. The next time you get a fresh shipment of TG, run the "wet dog" again and get a sense for how strong the smell is. After a while you will be able to tell how good your glue is (how high the enzymatic activity is) by how strong the wet dog smell is. Don't wait too long to sniff after you massage in the glue because the smell dissipates after a couple of minutes. The wet dog smell is, I believe, caused by the small amount of ammonia released in the TG reaction.
Can't get enough? Want more on Meat Glue uses, safety, storage and unique protein binding combinations?  Check out the entire Primer!