posted by Dave Arnold
I love puffed snacks. Everyone loves puffed snacks. I thought it was time we posted on them.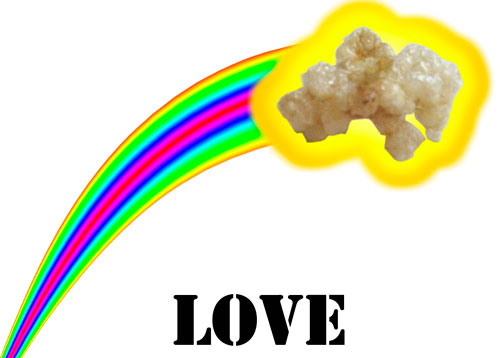 Why do things puff?
In the snack food industry, most puffed snacks are made from starch passed through an extruder.  A screw inside a long barrel mixes, compresses and cooks via friction all at the same time (sometimes extra heat is added, but often friction alone does the trick).  By the time the screw reaches the die at the end of the barrel the product mixture is very hot (well over 100°C) and under high pressure. When the product is extruded through the die at the end of the barrel this pressure is released and water boils off very rapidly -  puffing and drying at the same time. We don't have an extruder at school, but that doesn't keep us from making puffed treats.
The products we puff in the kitchen are technically glasses: amorphous (non crystalline) homogenous solids that are stable and rigid.  They also contain water (ideally about 12%).  All glasses have what's called a glass transition temperature at which they go from rigid to rubbery.  This temperature is usually a good bit (like 100°C) lower than the melting point where they'd become a liquid. For foods destined to be puffed snacks, the glass transition temperature is ALWAYS higher than the boiling point of water –here's why: When you heat the glassy pre-snack rapidly above 100°C the water inside wants to boil but can't because it is trapped inside a glass.  When the snack reaches the glass transition temp it suddenly becomes rubbery.  The water is  able to start boiling and expanding,  which it does rapidly.  After the water boils away the product sets (because there's no more water to keep it plastic and flexible) and becomes crunchy.
Points to remember if you want to do your own puffing:
The product you start with must be amorphous.  Crystals won't puff.  As you will see, that is an important point to remember.
The water content must be correct.  Too little water results in burning and less puffing because 1) the temperature of the item will get too high before the glass transition is reached; 2) there is insufficient water to puff adequately; 3) without enough water the snack won't be flexible enough to expand.  In the biz they say water acts as a plasticizer.
Other substances can also act as plasticizers – such as salt (which also helps taste and might help with heat conduction) and  maltodextrin – any relatively small molecule that will decrease the viscosity of your product.
Heat quickly and evenly.  I like frying, but air popping, heat guns and microwaves work too.
Don't add things to the snack that will burn before the item is fully puffed –like sugar.
Don't add things that will compete with the water in the snack and prevent puffing –like sugar.
Things that will puff fall into two main categories (that I know of): connective tissue and starches.
Connective tissue has lots of collagen.  When you cook collagen you break it into to gelatin, which is soft and easy to puff. When you dehydrate the broken-down connective tissue it turns into a glass, which you can heat and puff — a la pork rinds.  Wylie Dufresne works similar wonders with beef tendon and cod swim bladders.
Starches are made up of two main molecules: amylopectin and amylose, usually with more of the former.  Industrial puffing people care a lot about the amylose to amylopectin ratio.  In extrusion applications, about 50/50 gives the highest expansion.  The main structure comes from Amylopectin, while the amylose helps to increase the fluidity of the mix and increase expansion. The ratio  isn't so important to us. What is important is that the starch gets cooked thoroughly. Native starch is partially crystalline and won't puff.  The starch granules need to be fully cooked to ensure that the crystal nature is disrupted and the starch can become nice and amorphous.  Some chefs (like Wylie) use pre-gelatinized starch to get around this problem.  Mix with liquid, dehydrate, and you're done.  If you want to go this rought use Ultra-Sperse from the National Starch Corporation. Don't bother with Ultra-Tex – it's hard to hydrate properly.
Almost anything that is mostly starch will puff: rice, corn, pasta, doughs made from tapioca starch (nice and bland), wheat starch, corn starch, yadda yadda.
How do you make a puffed snack?
Making puffs is as simple as:Â over-cook, dehydrate, and fry.
First: Over-cook your item.  In the case of starch this ensures that the starch granules are  fully gelatinized and at their lowest viscosity.  In connective tissue like pork rinds, overcooking ensures that all the connective tissue is broken down and soft.  Cook  pork rinds in very salty water for 60-70 minutes, pasta in heavily salted water for 45 minutes.
Second: Dehydrate. If the moisture content of your item is above 15% you won't get much puffing.  If it is below about 10% you won't get much puffing.  Most people don't have the ability to test moisture content (If you are anal and you know your moisture level is close you can get it just right by sealing your stuff in a container with a saturated solution of ammonium nitrate or sodium nitrite in water.  That will maintain 65% relative humidity which will give a moisture content of 12%). In practice determining the moisture content isn't usually a problem.  When the product goes from being flexible to being plastic-y and shrinky-dink like — you're done.  Try puffing a couple and see what happens.  Over-dried stuff doesn't bubble much when fried and burns without puffing. Under-dried stuff starts to puff and boils a lot but has a hard center that doesn't puff.  You'll quickly get the hang of it.  I recommend putting your product in the dehydrator at 135°F for a couple hours and then turning the dehydrator off and leaving the product overnight. In our kitchen this usually works.  If you live in a very humid or very dry place your results may vary (sorry Louisiana and Arizona). If you don't have a dehydrator turn your oven on low and crack the door.
Here are pictures of some stuff puffing in a microwave ( thus the blurry pictures).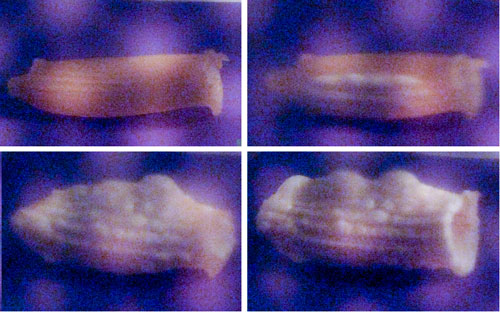 Here is the technique for puffing pasta.  No, you can't just puff dried pasta, you have to cook the heck out of it and then dry it.  I built a rack to hold the pasta while it was cooking and dehydrating because it was so fragile it wouldn't hold its shape.  The pasta  almost breaks under its own weight it's so soft.  You don't need the rack if you don't want to keep the holes in the pasta intact. After dehydration the pasta should have almost the texture it had before it was first cooked –just a little more flexible.
Here is the recipe for pork rinds:
Take pork skin and boil it in heavily salted water for 60-75 minutes. Carefully drain and cool in the fridge. After cold it is sturdy enough to handle.  Scrape the fat off the fat side; more scraping = better puffing.  Cut the pork rinds into pieces and dehydrate until they feel like plastic.  Fry in very hot oil.