posted by Dave Arnold
Turns out the way we are taught to sauté mushrooms is dead wrong. If you want the highest quality mushrooms what you want to do is soak your mushrooms and then crowd the hell out of them in a pan. Let me explain: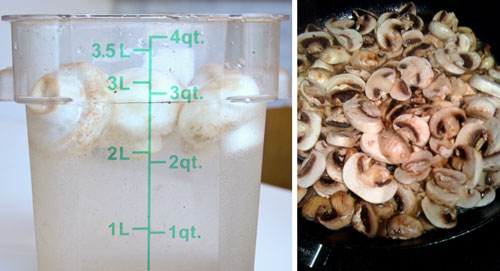 We are all told not to wash our mushrooms because they will soak up water. One of the demos we do in the Harold McGee class is to disprove this myth by cooking two batches of mushrooms side by side: one that has been "brushed off" and one that has been soaked in water. The soaked mushrooms do take on water, but that water cooks off in the pan. We send the mushrooms out to the audience and they taste pretty much the same. As a bonus, washed mushrooms are a heck of a lot cleaner than brushed-off mushrooms. Myth busted –you can wash your mushrooms without worry (this part is not news to many of us).
The problem with the demo has always been that we haven't controlled the variables well. In particular, salt and oil levels were not kept the same from batch to batch. This time, we resolved to do better. We weighed out two identical batches of mushrooms. Half were brushed-off. Nils first sliced and then soaked the other half just so they would really soak up a bunch of water. To make the test really severe, I decided to cook the soaked mushrooms in one batch in an extremely crowded pan, and the dry mushrooms in 3 batches with plenty of room. We weighed out identical amounts of salt and oil (this is the crucial part) and began cooking.
As we expected, the soaked crowded mushrooms formed a soupy mess in the pan. The dry mushrooms didn't stew and cooked quickly. Here is where it got weird. The dry mushrooms ended up absorbing all the oil. In fact, I had underestimated the amount of oil they needed. They wanted more. I couldn't add any more oil, however, because it would have ruined the experiment. When the soaked and crowded mushrooms had finally evaporated all their extra water and stated to sauté, they didn't absorb all the oil. When they were finished, a significant amount of oil was left in the pan. They looked as good and tasted better and less oily than their dry cousins –by a lot.
Our explanation: While the mushrooms are boiling off their water, they aren't absorbing oil. By the time the boiling stops they have already collapsed, so they aren't as porous as a raw mushroom and don't want to absorb oil. The dry mushrooms start absorbing oil from the get-go.
None of us had expected this result. Just goes to show what you can learn when you pay attention.
P.S. I also added all the salt at the beginning of the cook, for whatever that's worth.