posted by Dave Arnold
Last week we had our first liquid nitrogen *incident.* No one was hurt, but it emphasizes how important safety rules are.
For more information on liquid nitrogen safety, see our LN primer.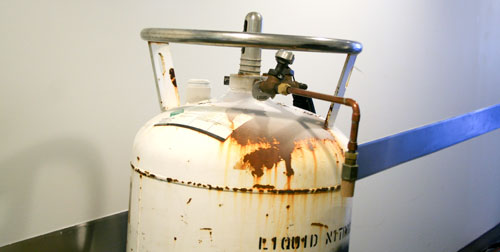 While moving our 160 liter LN dewar from the 4th floor to the second floor of our building the dewar got knocked over—don't ask how.  One of our interns pulled a Hercules and righted the many-hundred pound monster single handedly.  Seconds later, the dewar vented with a thundering ka-boom, blowing the cap off the top, and punching out a ceiling tile.  The hallway filled with nitrogen.  We were okay because we followed the rules.  Everyone cleared the area. I opened the window and monitored oxygen levels on our oxygen meter.  We put the dewar in the elevator without anyone in it (that is one of our standard safety rules), and took it down and outside where we chained it up.
Imagine if we didn't have the "no people riding in the elevator with the dewar" rule.  If the dewar had vented 20 seconds later and it was in an elevator with people, they most likely would have been asphyxiated. Some of the safety rules we follow with liquid nitrogen seem to guard against far-fetched scenarios that will never happen.
Looks like they can happen.  Stay safe.