by Dave Arnold
We  love our stretchy potato ice cream. Read about it here.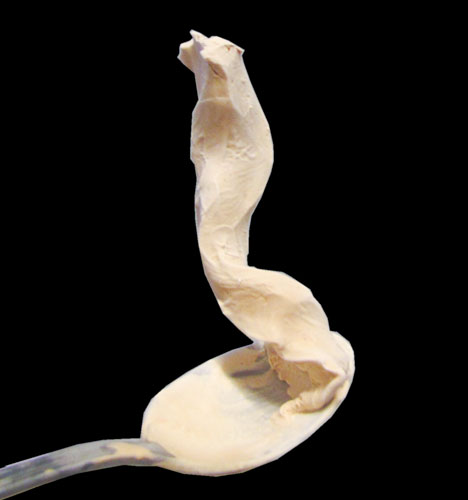 Our interns enjoy dipping it in liquid nitrogen: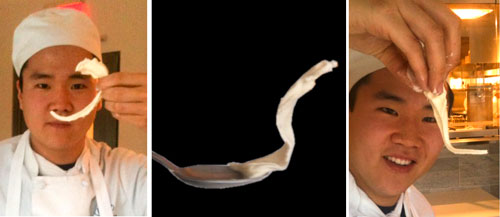 Here's  the recipe.  We use sous-vide, but you can make this ice cream base traditionally, too.
Ingredients:
250 ml milk (cold)
250 ml cream (cold)
160 grams sugar (cold, if possible)
1.5 vanilla beans, scraped
2.5 grams salt
5 egg yolks (cold)
225Â grams steamed peeled potatoes, cool
Liquid nitrogen
Preparation:
Combine milk, cream, sugar, vanilla scrapings, salt, and egg yolks in a blender.  Pour into a vacuum bag and seal at the highest vacuum you can muster without spraying anglaise mix all over your vacuum machine. Cook the base in a circulated bath at 82 C for 17-20 minutes.  Remove the base from the bath and smack the bag around a bit on the counter to smooth it out (we learned this technique from Joan Roca's book, "Sous Vide Cooking";  it is a really useful step). Chill the base in an ice bath.  Blend the base with the potatoes in a blender and freeze the mix with liquid nitrogen (see the liquid nitrogen primer) in a kitchen aid mixer fitted with a BeaterBlade attachment (see our other post).
People often ask us if our recipe would work with other starches or with naturally stretchy ingredients. Wylie Dufresne asked us to test the recipe with vital wheat gluten instead of potatoes.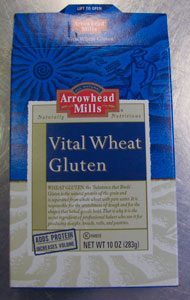 We first tried a dose of 80 grams of wheat gluten in an anglaise base of 250ml milk, 250ml cream, 5 yolks, 100 grams sugar, and some vanilla.  It wasn't stretchy, but it did show some promise, so we upped the gluten to 150 grams.  It tasted like frozen sweet bread dough ice cream. Not stretchy.  Potentially useful for a cookie dough like texture, but we weren't huge fans.
We tried the same anglaise ice cream base with 80 grams of Ultrasperse 3 instantized agglomerated starch, made by National Starch.  No Stretch.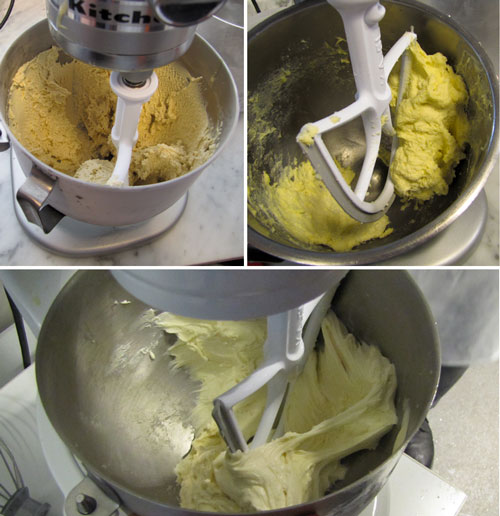 A Call for Help! Stretchy Potato Ice Cream's Texture is Fleeting:
We recently tested our recipe with potatoes that had been cooked the day before and stored in the fridge overnight.  The recipe didn't work. WTF?  Starch retro-gradation?
Johnny Iuzzini tested our recipe and said that it loses its texture as it is stored in the freezer.  We haven't noticed this problem, because we eat the stuff instantly.  Ideas, anyone?