Posted by Mindy Lvoff
Purpose: Find a use for the heavy solids left behind after vacuum-distillation
Techniques Used: Rotary Evaporation (rotovap), Vacuum Infusion, Pressure Cooking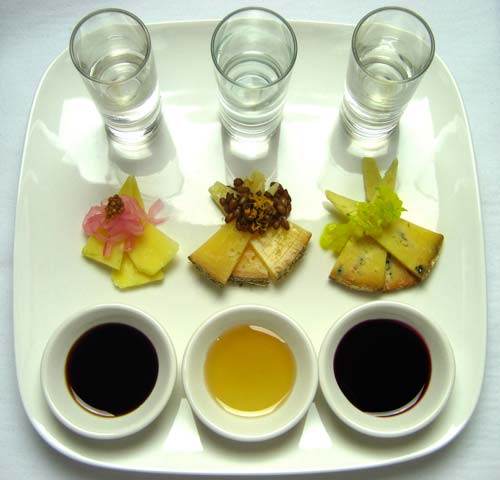 Add the following to your "must do before I die" list: Try Nils & Dave's Three Brandy Cheese Course. No, I'm not exaggerating. Just writing about it is evoking a Pavlov's dog reaction and my mouth is watering. The dish is made with three main cheeses – Stilton, Montgomery Cheddar, and Honey & Hay Pecorino—but they aren't the stars of the dish. Read on!
What separates the Three Brandy Cheese Course from all others is the brandy and syrup pairing. Dave distills the liquor out of LBV Port, Madeira, and Beaumes de Venise, creating three distinct and incredible brandies. We keep the distillate on ice throughout the distillation process by icing down the rotovap's connection to the peristaltic pump and also keeping the distillate container in an ice bath. This way, the brandy never heats and re-evaporates/distills, which would mean losing delicious flavor notes from the first distillation. We have a target amount of alcohol that we pull from each batch, but we also taste test along the way to ensure that we're getting the best possible flavor. Then, after the alcohol is distilled out, the heavy solids are distilled even further, pulling out the water and creating a syrup… but not just any syrup.
I'm sure many of you have tasted port syrup, and know that caramel-raisin taste. Our port syrup has never been heated, so the sugars have never caramelized. It's bright, tangy, and fresh. The Madeira and Beaumes de Venise syrups are also fantastic, and it's hard to pick a favorite. Dave will usually taste the "sizzyrup" (as he calls it) and then burst out into a one note, "Hell YEAHHHHH," complete with vibrato, to describe how incredible the flavor is. When the brandy and its resulting syrup are re-paired, the taste is incomparable. Paired with its complementary cheese (port with Stilton, Madeira with cheddar, BdV with pecorino), it's mind blowing.
But wait, there's more… With each cheese-brandy-syrup pairing, from Montgomery Cheddar to Stilton (served last so the flavor doesn't overpower), we include additional garnishes that take the cheese course to the next level:
Madeira & Montgomery Cheddar: Paper-thin slices of flash-pickled (vacuum-infused) red onions, topped with a caviar-like scoop of pressure-cooked, pickled mustard seeds (twice blanched in water, pressure-cooked in cider vinegar, and finally sweetened with simple syrup).
BdV & Honey & Hay Pecorino: Rye Berries pressure-cooked with espresso, orange rinds, and clove, then topped with a little orange zest
Port & Stilton: This classic is served with curry oil-infused apple brunoise (again, infused under vacuum) and finished with small slices of horseradish shoots.
I always recommend that people first taste the syrup on its own because the flavor is so unique. Then, taste a little more syrup and then a sip of the brandy so that the original flavor elements of each liqueur recombine. Finally, dipping each cheese, with its garnish, in its respective syrup and taking a bite is heavenly. Washing it down with a sip of its paired brandy is euphoria. This dish isn't on any restaurant's menu, but Nils and Dave will occasionally bring it back for special demos. I truly hope that you have the opportunity to taste it for yourself – it's "push-people-out-of-the-way-to-make-sure-you-get-a-plate" delicious. Not that I would ever do that…