Posted by Sophie Brickman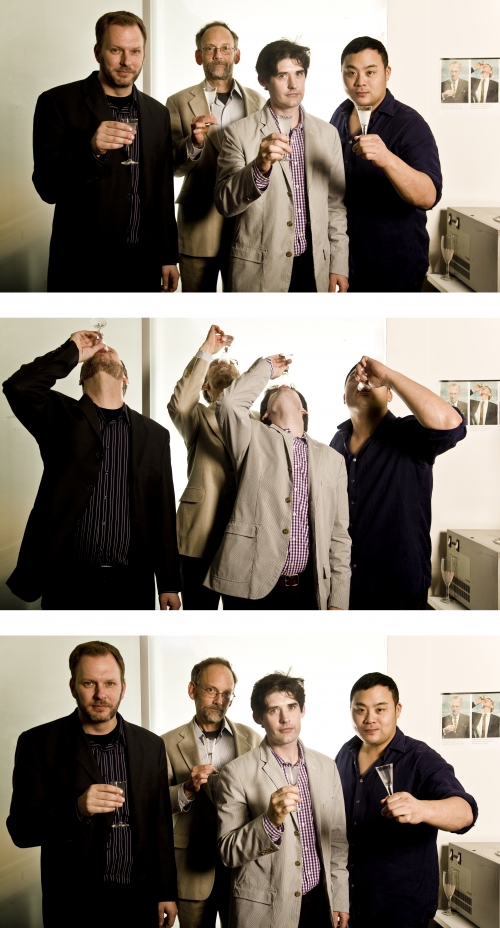 I'd been up to my elbows, literally, in duck fat all morning, preparing for a skål party to take place the next day. What, you ask, is a skål party? It is based on an ancient Swedish custom wherein individuals from all walks of life gather to enjoy food, and take a shot of aquavit to toast their host. Then some more food, some more aquavit, etc, until people's faces start getting indistinct. See more on Dave and Nils' Skål Project here.
My pre-skåling task was to fill Ziploc bags with Swedish meatballs and duck fat. The bags would then be put in an immersion circulator, and the meat cooked at a low, even temperature for a number of hours. The result, which I'd tasted before at an FCI demo, was succulent, delicious, perfect. A rubber tire cooked in duck fat would take on these qualities, but used with Nils' meatballs, a special blend of tender meat and allspice? Skigott (mind-blowing)!
As Nils spent the day calmly and methodically making his culinary wonders, Dave whizzed around the kitchen, distilling alcohol here, vacuum infusing something else there, and Photoshopping mini, wallet-sized "How to Skål Properly" handouts for attendees. I zipped closed the last bag and was making my way towards the sink, the soap dispenser glowing with a sort of holy halo, when Dave intercepted me.
"Here, use the magic straw!" (N.B. This is a technique Nils and Dave would never use, under any circumstances, for restaurant service.)
He handed me what looked to be a normal straw, pointed to the Ziploc bag filled with meatballs and duck fat I held in my right hand, and demanded, in the sensei-cum-English-language-learner-speak he occasionally adopts when he wants something done immediately, "Use magic straw to suck out all the air! Then we circulate bags in water! Meatballs become tender and delicious! We eat and enjoy!"
I stuck the straw in the bag, zipped it tight, willed myself not to question my decision to derail all tentatively "secure" life plans and enroll at FCI months before, leaned down, and sucked in. For a few seconds, everything went according to plan, but then, whoosh! Duck fat in the mouth. I came up, sputtering. Gak. The few other people who were helping out, doing normal tasks like cutting cucumber into strips or trimming skirt steak, looked over and rolled their eyes. I spat duck fat. Dave, of course, was suddenly nowhere to be found. I looked at the six other bags of duck fat covered meatballs, took a deep breath, and, with no other choice, got to work. After I'd finished, Nils asked me to "glue chicken skin to steak," a request at which I barely flinched – sign of my full immersion into the seedy, incomprehensible yet exciting underbelly of the culinary world. You got it, Chef, I'll glue that chicken skin to anything you want. Inga problemo (no problemo).
For the previous few weeks, I'd been working with Nils and Dave to compile a list of party invitees who work outside the culinary realm. Deans and instructors from The FCI had already flocked to Dave's small fourth-floor studio to take shots of homemade aquavit in the middle of the day and then go about their business (somewhat more slowly), and various restaurateurs and friends had stopped by as well. No doubt about it, the Skål Project was up and running full force, but everyone agreed that introducing skål ing to a wider audience would quicken the skål's takeover of the traditional, and boring, American cheers. On May 17th, after weeks of preparation, the takeover began.
Potential skålers from the journalism, Hollywood, Broadway, art, publishing, television, and ballet worlds convened to honor the Scandinavian skål, doing their best to mimic Max von Sydow's noble execution.
Upon their arrival, Nils, Dave, and their trusty interns had set up a feast of appetizers at the window of the open kitchen. Guests enjoyed:

Pork rind cracker jacks

Chicken fried steak (skirt steak coated in chicken skin and deep fried)

Swedish meatballs (made by Nils, an actual Swede, slow-cooked in duck fat)

Oysters that flavor themselves (while they're alive, Nils and Dave feed them flavoring agents, like coriander and carrot)

Salt and vinegar French fries (the potatoes are infused with salt and vinegar before they're fried, so that they retain the perfect crunch)

Herring made two ways (curry-and-apple and dill-mustard-garlic), and

Smoked trout served with a caper parsley sauce
I saw multiple guests walk over to Nils and mutter things such as "brilliant," "unreal" and "Will you cater the opening party for my next show?"
In addition to their requisite vacuum-distilled aquavit shot (one valiant intern spent the entire day of the party toasting caraway seeds and chained to the rotovap, ensuring that there were enough bottles to satisfy the masses), or the menthol-laced non-alcoholic substitute, for those who preferred to keep their speech un-slurred for the duration of the evening, Dave and Nils highlighted their cocktail specialties at a bar expertly run by Mindy, which included:
Carbonated strawberry and lime gin

Scotch n' peanuts (borne from Nils' love of drinking scotch while eating salty peanuts)

Gin-infused cucumber

Cold buttered rum
As you can tell from a sample of the skål shots taken that evening, it was a wild success.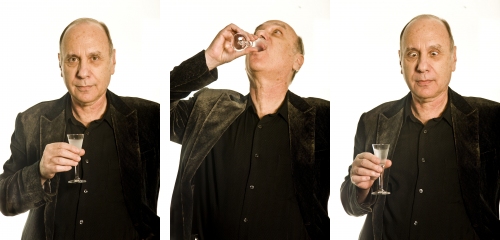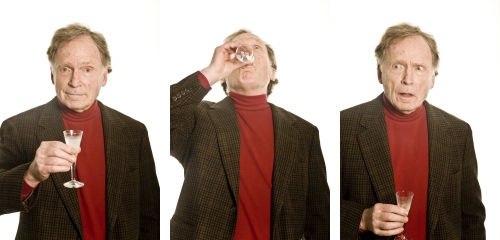 Eager to show off other, off-the-menu Dave/Nils cocktail creations, once the party was going full swing and Dave and Nils had changed out of their whites and were mingling with the guests, I snuck into the freezer and poured a glass of habanero pepper vodka. The drink is simply amazing. It smells richly of the spicy pepper, and even burns your eyes when you're about to take a sip, but it miraculously doesn't pack the same kick of heat when you drink it. I was making my way across the room to some friends, concealing the cup in my hand, watching Nils execute the perfect skål with a stiff shot of ice-cold aquavit when Dave, instructing an audience of rapt movie producers and a Hollywood director how to flash-infuse a cucumber with gin, looked up and sniffed. "Anyone else smell habanero?"
I inched back into the crowd. How on earth did he smell that?!?
Nils' completed skål elicited hoots and hollers from the crowd, and Dave's attention flitted from habanero back to the vacuum machine, where the artsy crowd was now pawing at the vacuum machine to wrench the top off and feast on the drunken cucumbers.
Just another Sunday night at The FCI.