Posted by Mindy Lvoff
Let's say, like most of us here, you want to vacuum-infuse at home but don't have a full vacuum. Dave and team have come up with two solutions for you:
1) Syringe-vacuum
Get yourself a 50cc syringe with a cap vs. needle. Place what you want to infuse into the chamber with the liquid that you want to infuse into it. In our case, we played with our classic gin martini-infused cucumber, using a cucumber small slice vs. our usual planks. The total amount should not go above the 10cc mark – you will need that 40cc of space to pump out the air. Insert the plunger and invert your syringe, pressing the plunger up until you have removed all of the air. Try not to squirt out all of the liquid. At this point, cap the syringe. Turn it over again so that martini and cucumber are at the bottom.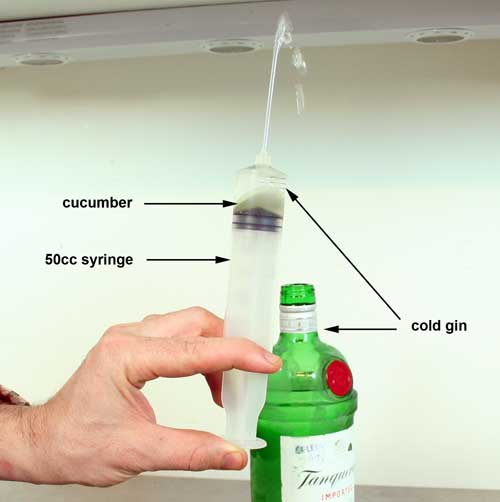 At this point, there is no air in the chamber except for what's trapped inside the porous cucumber. Pull the plunger back – the air from the cucumber will be extracted and you can see it bubbling out up through the martini mixture. Allow the plunger to return to its original position – you will notice that the air you extracted from the cucumber is creating a gap between the liquid and the plunger. Repeat. At this point, you can invert the syringe, remove the cap, and expel the trapped air. Return the cap and then invert, pull the plunger and then instead of letting it snap back, pull it out of the syringe. You can watch as the liquid is forced into the cucumber by the returning air pressure, thereby creating a translucent, delicious martini-cucumber.
2) Vacu Vin Wine Saver
The pumping action of the syringe-vacuum gave us another idea: use a Vacu Vin Wine Saver, the pump & rubber stopper system that allows you to enjoy your wine over the course of a few days. Believe it or not, we actually don't finish a full bottle of wine every time. Again, we used our martini-cucumber.
Dice cucumber small enough to easily fit through the opening and neck of a wine bottle, preferably a light-colored bottle so you can see through it. Pour in enough martini to more than cover the cucumber dices. Place Vacu Vin stopper in bottle and then proceed in pulling out air. Once you've achieved a solid vacuum, pull out the stopper, thereby allowing air back into the bottle and infusing your cucumbers.
Vacu Vin makes a number of vacuum-products using the same vacuum pump, but on larger containers. We haven't had a chance to try yet, but will be doing so in the near future. Hopefully it will be feasible to make larger, martini-infused cucumber planks at home.