Posted by Mindy Lvoff
Our first problem with our "new" centrifuge: no cups to centrifuge product in.  We ordered bottles, only to find that they didn't fit our centrifuge.  After calling to exchange them, we were still chomping at the bit—Dave wanted to centrifuge and he wanted to centrifuge now.  One of our interns, Ricardo (aka Fonzie) came up with the solution: squeeze bottles.  We were skeptical and ribbed him a little, thinking that it even though the bottles fit the centrifuge, they wouldn't really work.  But there was only one way to find out.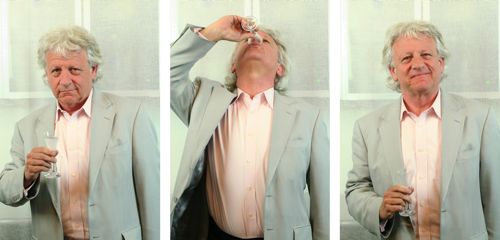 We poured 250 ml of fresh-squeezed orange juice, dosed with pectinase (Pectinex Smash XXL) into each bottle and balanced them with caps to a standard weight, allowing a minor difference of no more than 2/10 g between the bottles, and placed them in slots on opposite sides of the rotor, while wisecracking about how liquid from the bottles would probably squirt out.  Regardless, we proceeded and screwed down the rotor's lid.  5,000 RPM exerting a force of 4,000 g's (1g weighs 4,000g) later… success!  Crystal-clear orange juice in about 12 minutes—none of which ended up inside the centrifuge.  Good job, Fonz.  Now don't jump the shark and let this be your last good idea.
We've melted down the caps on our squeeze bottles since then to seal them, just in case.  Every once in a while, a squeeze bottle collapses and does muck up the rotor.  When this happens, it's essential that every last bit of debris/liquid is cleaned out. Again, just 1g of imbalance in any of the cup holes basically becomes 4,000g when the rotor is running.  Dave continues to use squeeze bottles as he's found some that are firmer than others and probably won't collapse.
So far, our favorite application of the centrifuge has been the best damned walnut oil you could possibly taste.  The first step was using a Robot Coupe to grind down the walnuts into a paste.  We then filled the squeeze bottles with 250 g of the purée and again, balanced them with caps (see above).  Trial and error has taught us to run the machine for 20 minutes when trying to extract oils, giving us a larger oil yield over the 12 minutes we've been using for juices.  The flavor of the separated walnut oil is incredible—none of the bitterness, starchiness, or faintly sour taste that you can get from an over-the-counter version.  It's unlike anything else you've ever tasted, unless you, too, have made it in a centrifuge.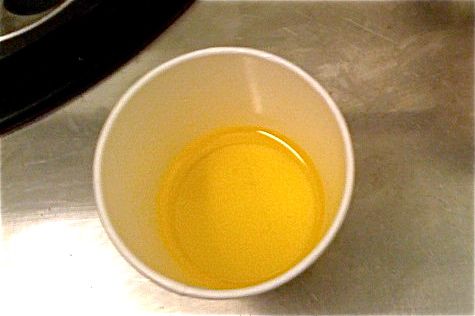 Oh, and there's no walnut waste here.  We mix the compacted walnut pellet with a little simple syrup and voilà : instant walnut filling for pastries.