posted by Dave Arnold

Sous-Vide cooking is any cooking that involves a vacuum bag (as opposed to low temperature cooking, which is all about temperature control, and doesn't necessarily involve a vacuum). For a post on our sous-vide class, see here. Soon (i.e., if we ever get around to it) we hope to post a sous-vide/low temp primer.
One aspect of sous-vide cooking that doesn't get much attention is how the vacuum machine affects the texture of meats. Most people assume that the level of vacuum on a piece of protein, or how much air you remove, doesn't matter. It turns out nothing could be further from the truth.
To test this, we bagged Tasmanian ocean trout and chicken breast, with and without oil, and rib-eye steak with oil at 90%, 98%, 99%, and 99.9% vacuum and one more at 99.9% vacuum plus an extra 15 seconds of air extraction. All bags were the same size, all were cooked at the same time with the same amount of oil. The fish was cooked to 48°C, the chicken to 63°C, and the steak to 55.5°C. The different muscles in the rib-eye were separated to see if they tasted different. Here are the pictures and results:
Chicken texture changes dramatically as the amount of vacuum is increased. In every case, the oil packed chicken was preferred to the no-oil chicken because it had a better mouth feel. By far, the 90% vacuum chicken was the best. As the vacuum level increased, the chicken oddly became wetter, but with a drier finish in the mouth after chewing, and seemed mushy. The 99% had a particularly bad texture, mushy but not moist.  The 99.9%+ was the most overall unpleasant, because of the overly wet meat with the dry finish in the mouth.  Bizarre. 
Fish is even more dramatic. We all preferred the 90% fish in oil.  The 99.9%+15 seconds was inedible and mushy—completely useless.  Just like the high vacuum chicken it starts too wet and ends dry.  There was a big difference between 90% and 98%, a medium difference between 98% and 99%, and a big difference between 99% and 99.9%.  Lower vacuum was better in every case. In the picture of the cut-up fish you can see the difference in texture.  We put some pieces in a dissecting microscope to show the structure of the fibers and you can see the 90% fish has much better structure.  The 99.9%+ fish is wet, but the fibers don't look right.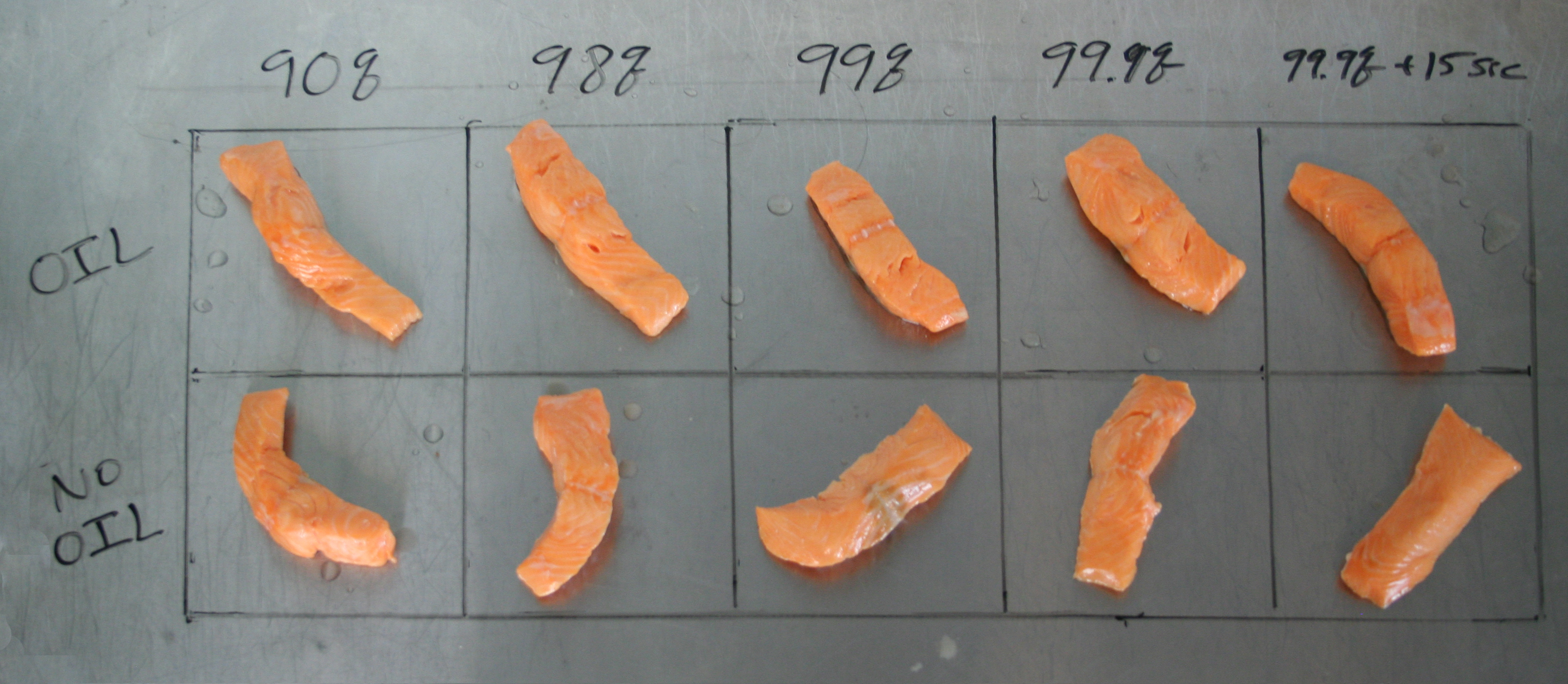 The meat fared better. All the rib-eye was judged good. There were differences, but they were slight. Once again, the 99.9% + 15 seconds was a bit mushier than the rest, but not terrible. Everyone still preferred the 90% meat the best.