Posted by Mindy Lvoff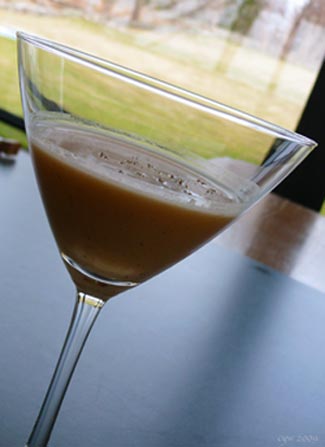 Remember that butter syrup that we mentioned in our Red Hot Poker post? Â You know, the one where we emulsified butter and water together with the help of a handy little blend of gum arabic and xanthan gum from TIC Gums (TIC Pretested Ticaloid 310 S). Â Well, we found that just because the weather's too warm for hot and delicious cocktails doesn't mean that we're ready to put away the butter syrup just yet.
To satisfy our thirst for cold and delicious cocktails, we're now using the butter syrup to create a new drink being served at L'Ecole's bar: Cold Buttered Rum.  We shake (dry—no ice) our allspice-infused butter syrup with Sailor Jerry Spiced Rum, lime juice, and a tiny pinch of salt just until combined.  We then fill the shaker with ice and re-shake to chill the cocktail.  It's poured into a chilled martini glass and garnished with pineapple that's been vacuum-infused with spiced rum and simple syrup.  It sounds decadent (and it is), but it's not overly buttery.  The lime juice and the chill from the ice shake perfectly balance out the butter syrup, creating something smooth, tangy, and truly refreshing.  Don't believe us?  Try out our recipe on your own at home. Or sample one at L'Ecole and let us know what you think.
Butter Syrup
200 grams water
3 grams TIC Pretested Ticaloid 210S
(Gum Arabic and xanthan gum mix)
130 grams melted butter
200 grams sugar
10 allspice berries, crushed
1) Heat water and infuse allspice berries for 5 minutes at simmer. Strain out the allspice.
2) Hydrate the Ticaloid 210S in the allspice-infused water with a hand blender.
3) Add melted butter and blend till smooth.
4) Add sugar and blend till smooth. This syrup can be stored at the bar until needed. It will separate over time, but can be stirred back together by hand.
Vacuum-Infused Pineapple (garnish)
Ice cold Myers Rum
Ice cold simple syrup, to taste
Cold pineapple spears
1) Combine rum and simple syrup.
2) Submerge pineapple spears in rum-syrup mix in a 6-pan.
3) Place in chamber vacuum machine and suck a full vacuum plus 30 seconds. Turn off machine, allowing it to remain under vacuum for 10 minutes. Allow air back into machine.
4) Drain and dry pineapples.
Cold Buttered Rum Cocktail
2.75 parts Sailor Jerry Spiced Rum
2 parts butter syrup
0.5 parts strained fresh lime juice
pinch salt
ice
vacuum-infused pineapple spears
1) Mix rum, butter syrup, lime juice, and salt in a shaker and dry shake for a few seconds to combine.
2) Add copious amounts of ice and shake. Strain into a chilled martini glass and garnish with pineapple.