posted by Nastassia Lopez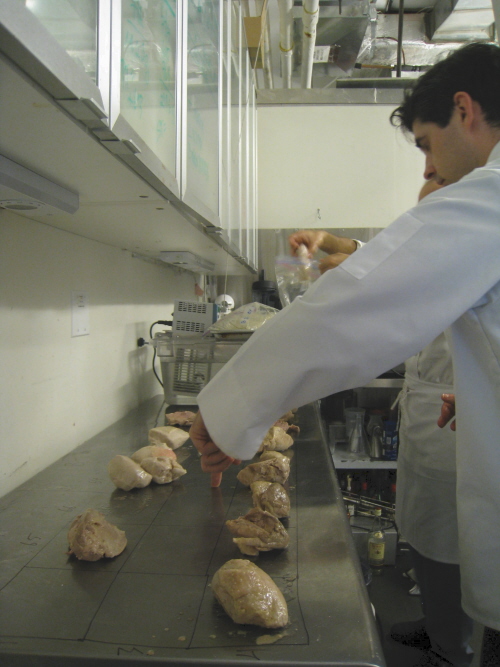 Every family has their own Thanksgiving tradition. Mine has an annual football game. Nils leaves the country. Dave tries to find the best way to cook a whole turkey for his family.
So far, Dave's track record has been pretty tragic. The first year, he ruined Thanksgiving by deep frying it on the back lawn at his mom's house. He burned a patch of grass with spewing hot oil sending one pissed-off stepfather into his bedroom-lights out and all- for a good part of the night.
Two years later, against better judgement, Dave packed up the deep fryer and brought it to his mom's yet again. He fried it on the patio this time but spilled oil on the flagstone. You know the rest.
Thanksgiving ruined twice.
The deep-fried birds were good, but not worth the familial drama. Perhaps low-temperature cooking would do the trick.  Last year, Dave ran some low-temperature tests on a turkey he stole from FCI's annual "Happy Thanksgiving Employee Turkey Giveaway" to determine the bird's optimum cooking temperature.
The breast meat was best when circulated at 64 C but the leg meat was no good.  It actually tasted OK but looked raw.  Try getting your family to eat raw looking turkey. The leg meat tasted good  at 65 C, which is lucky because by 66 C the breast was bad (dry and stringy).  Dave decided to cook his bird at 65 C.
So Dave went uptown to one of the last remaining pollo vivo shops in Manhattan and bought a live turkey. The choice was between a huge (35 lb) wild turkey, or a regular (read: punier) domestic turkey. Guess which one made it home?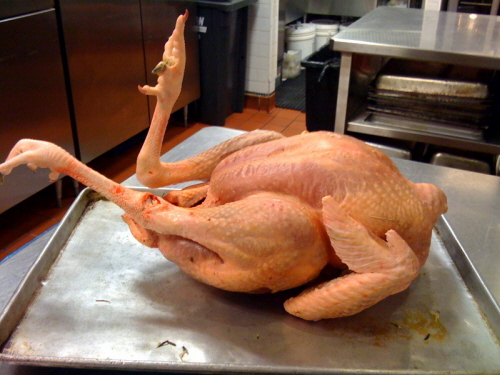 He gave the bird one day to rest and pass through rigor mortis. Then he had to figure out how to cook it. Vacuum bagging was not an option because bird bones are mostly hollow and filled with a red marrow that, when vacuumed, is sucked out of the bone and into the meat, making it look uncooked (And no matter how much you tell people it's cooked, they won't believe you).
Instead, he filled a stock pot with duck fat and butter, and  jammed the cavity with herbs. He then used two circulators set at 65 C. A hose was attached to one of the circulator's spouts and pushed into the cavity of the bird so that hot fat was not only circulated  on the outside of the bird, but also injected into the center. It was circulated for two hours, chilled in a blast freezer, and then packed it up to his mom's house where it was finished off in an oven (obviously a deep fryer was out of the question. Fool me twice…).
The results were good.   The only complaint he had was that the  inside of the thighs (where the joint attaches to the torso) were too pink and needed more time, so he sliced that meat and finished it in a pan for 20 seconds.
Dave has resolved to do a better job this year.   On Friday we set up a more sophisticated test.  We separated thighs, breasts and legs and cooked them at different times and temperatures as follows:
The optimum breast was cooked at 64 C for one hour.  65 C for an hour was also good, and 66 C for an hour was pushing it, but better than any of the breasts circulated for four hours.
The thigh cooked for an hour at 65 C  was delicious, but for regular people, might be a little undercooked.  All of the four-hour thighs got worse, drier and stringier as the temperature went up.
The leg was perfect at 65 C for an hour where the one cooked for four hours at 65C was horribly dry.
This Thanksgiving, Dave plans on circulating his turkey in the duck fat and oil again (and he'll be able to finish it off in a deep fryer because  he'll be at the in-laws').  The real struggle is trying to find a way to cook the whole 35 lb turkey for an hour if the breast is best at 64 C, and the thigh/leg is best at 65-66 C.  Again, the most important thing is that we serve the whole bird while keeping all of the body parts intact. Because nothing ruins Thanksgiving (or is more un-American) than a table set with an already-carved bird.