posted by Mindy Lvoff
As I was discussing how to describe (and understand) "countercurrent chromatography" (CCC) with Dave and our friend, Philip Preston of Polyscience (who stopped by FCI today to hang out for a while), Philip summarized the process as "just another flavor separation technique…" Â Easy to say when you're a genius, but I needed a little more detail. Â Dave continued that where our centrifuge separates based on density and our rotovap separates based on volatility, CCC separates based on polarity. Â The good people of Cherry Instruments have been working on a way to use liquid-liquid CCC in relation to food and flavors, hoping that perhaps this gadget will eventually make the leap into the kitchen. Â At some point, Dave will chime in and fully explain what the process is, but in the meantime, here is my best attempt at a layman's explanation (and thus the depth of my understanding): our Cherry Instruments friends are using a centrifuge to hold oil (non-polar) in place as they pump a polar liquid such as ethanol or water through the oil like a filter – thus the "liquid-liquid" designation. Â Different flavor compounds with different polarities will pass through the oil filter at different rates, with the most-polar coming through first with the polar liquid. Â Therefore, where our current methods of separation (rotovap & centrifuge) allow only subtle flavor separation, whereas the liquid-liquid CCC process, Dave explained, "allows us to separate and layout different flavors like piano keys."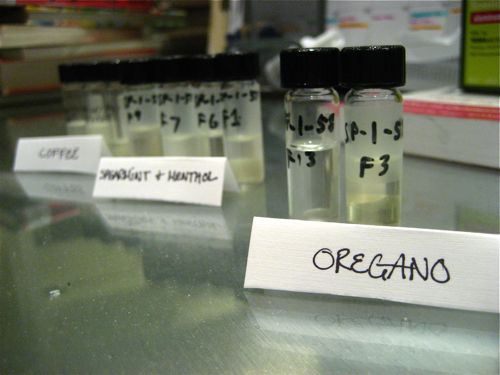 We were given 3 different compounds that were broken out into their many flavor components: Coffee, Spearmint & Menthol oil, & Oregano oil. Â For these, ethanol was used as the polar liquid. Â The 3 coffee vials that we tasted broke out smokey notes in one, bitter notes in another, and a slight sweet note in the third. Â The mint oil was a much more forceful demonstration with one vial basically tasting like pure menthol. Â If you've never had straight menthol, it's a little like shoving a Costco-sized package of menthol throat lozenges in your mouth at once. Â Luckily, we had already tasted straight menthol before, so we were just upset vs. shocked by the experience. Â The oregano oil was the worst, but luckily we could barely feel our tongues, let alone taste much, after our bout with the menthol. Â Bitter oregano notes taste like oregano that's been boiled until dead and then burned at the bottom of a sauce pot. Â By the time we were done, all I could taste and smell were smoke, menthol, and bitter oregano. Â It reminded me a little of college.
The flavor note tasting, while traumatic, did help illustrate the CCC possibilities: you can either isolate a flavor note that you want to use specifically or conversely, remove one flavor element such as bitterness that detracts from whatever you are breaking down. Â In our case, we thought of our Habanero Vodka technique and suggested trying to remove the capsaicin from Habaneros, or perhaps even isolating out some of the floral notes. Â We also thought of removing the tannin flavors from teas.
What else do you think the good people of Cherry Instruments should try and separate??? Â Send us your comments and we will pass them along and keep you updated on their progress!