posted by Nastassia Lopez
We have our fair share of fans here at Cooking Issues. And then there are our super fans.  It turns out the great masked luchadore El Santo was so enthralled by our Cocktail Science Shake-Off that he stopped by the school last week and challenged Dave to a one-on-one (mano a mano) shake-off.
Naturally they battled in margaritas.
Dave made El Santo cover his muscolos with an FCI jacket because of health regulations, but let him keep the cape on. El Santo shook his margarita with his signature Agita di Muerte while Dave decided to forego the crazy-monkey technique and give his a more traditional shake.
Here are the results: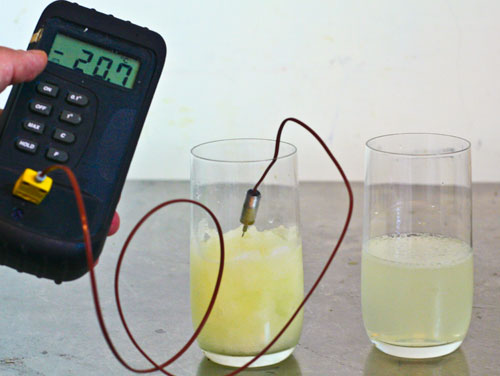 Dave's margarita was perfectly acceptable. Nicely iced on top. Good texture.  But one can see El Santo is the clear  margarita champion.   After battling martians (at age 50!), daughters of Frankenstein,vampiras and El Nazi, frozen margaritas are a piece of flan for El Santo.
However, Dave was not defeated.  Before he bid El Santo a safe return to Mexico, he asked him to do a Skoal shot: