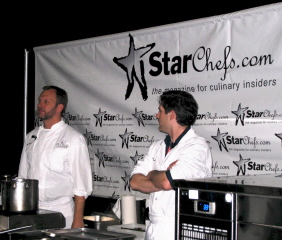 Yesterday, foodies and culinary buffs alike spent their Sunday morning worshipping the artistry and capabilities of the rotovap, the centrifuge and the vacuum at Dave and Nils' Star Chefs Workshop. 
In lieu of coffee they started the audience off with a shot of Beef and Heirloom Tomato Vodka that Dave distilled the day before.  Nils seared  Tuna Sinew that had been vacuumed in soy, mirin and yuzu, and served with kosho and shiso leaves.
Their next dish was sous vide Kombu-wraped duck breast served with Sliced Kombu on Frisee Salad, Rotovapped Port Reduction, and Fried Eggplant (in breakcrumbs).
They used a centrifuge to extract pistachio paste and oil for a Pistachio Sorbet that was served with corn that had been rehydrated in clarified orange juice, and a butter-seared fig.
The workshop was bookended with their final cocktail – a Yuzu Gin and Tonic.
If you missed yesterday's workshop, there is still space at tomorrow's demo High-Tech Delicious on the Main Stage at 5:30pm!