posted by Nastassia Lopez (photos courtesy of John M. Sconzo)
 
The Mokume-Gane Dish
They started the demo off with a mokume-gane of lamb and yellowfin tuna. After molding together the two proteins with meat glue, Dave and Nils par-froze the block  and sliced the result paper-thin on a Hobart 3000 Slicer.

They dressed each corner of the mokume-gane  slice with a different, delicious condiment. First, the "Egg-on-Egg-on-Egg." Step one, pressure cook egg yolks with baking  powder at 15 psi for 40 minutes, slice into cylindrical discs and saute in butter for a toast-like texture and flavor. Step two, pressure cook egg whites (to  get brown, Maillard-reaction flavors), finely chop and place  on top of the yolk disc. Finally, pile a hefty spoonful of Italian caviar on top and garnish with chives. We'll post more on this technique later.

Next the team vacuumed-infused shaved Honeycrisp apples with centrifuged pistachio oil, and cucumbers with chorizo oil,  and placed mounds  in opposite corners. Finally, Nils rolled a savory spoonful of pumpernickel ice cream ( milk, sour cream, glucose syrup, salt and fresh pumpernickel bread blended and tammied) onto the plate. Pistachio and chorizo oils dressed the center to finish.
 
The Ike Jime Black Sea Bass Dish
On to the main event: Ike Jime-ing a live black sea bass. At noon,  True World Foods delivered a truckload of 6 happy sea bass and dumped them into a large black tub. A chiller kept the water at 50F, bubblers provided oxygen, and and a tank filter duct-taped to the side continuously cleaned the water.

At 5:30pm Mindy and the interns rolled the bass onto the stage.
Dave and Nils poured 85 mL of Aqui-S fish anesthetic into the tub to sedate the fish (the flesh of sedated fish is better and the killing is more humane – see the Aqui-S link).  In 15 minutes the  fish were knocked out, and Dave and Nils worked faster than clowns-on-fire to ike-jime the bass in 20 seconds flat.
Nils filleted the fish as Dave showed how to make some unorthodox serving plates — cut,  boiled and oxy-cleaned tuna vertebrae.  The tuna spine provided more than just plates:  inside the spinal column was fresh spinal jelly, a key component of the dish that tastes like sea water gelee. They mixed it with diced celery and put it back into the cleaned vertebrae.

Nils added the fresh, crunchy, ike-jime bass and finished the dish with pecan oil, yuzu kosho, squares of pecan yokan and rotovapped hyper-reduced Sansa apple syrup.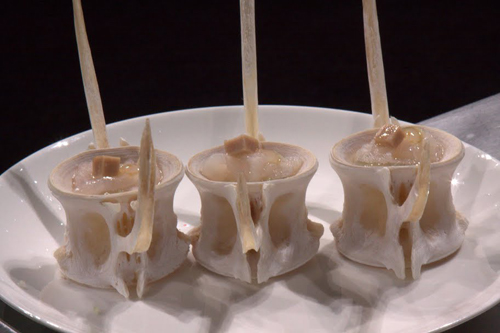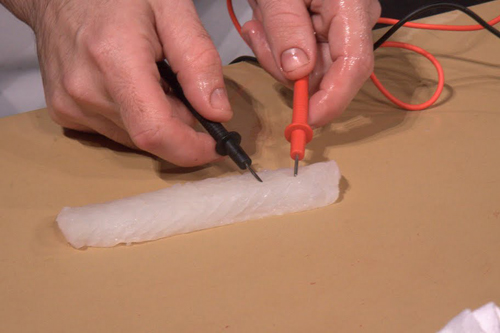 The Finale
A fitting end: Dave and Nils passed around test tubes of our own house aquavit and Skoaled the audience.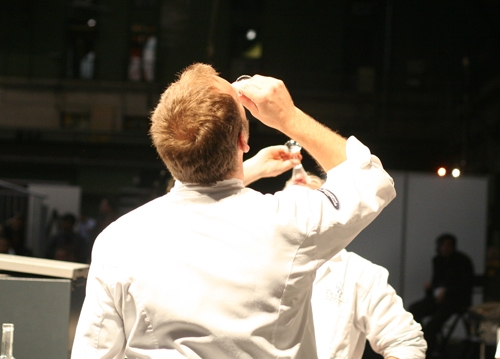 If the remaining fish in the tub had opposable thumbs, they would have skoaled too. Instead, folks hung around after the demo and got a hands-on lesson in Ike Jime.
Thanks,  Star Chefs!
Thank you, John.