posted by Dave Arnold
I hope everyone had a good Thanksgiving, and that your birds turned out well.
Here's the conclusion to my turkey saga (read the rest here, here, and here):
To recap, I made a boneless bionic turkey with aluminum sprinkler-pipe leg bones and cooked it in duck fat and butter using a two step processs.  I chilled it and brought it to my in-laws' house three hours north of the FCI.  All I had to do on Thanksgiving day was warm up the bird and crisp the skin.
Kitchen space  was scarce, so I did everything on the grill outside.
I took the bird out of the fridge, removed most of the aluminum foil from its cavity, and let it come up to room temperature for an hour.  I turned the grill into a turkey-warmer/pour-over fryer by removing the cooking grates and putting a hotel pan with two gallons of oil directly on the burners.  On top of the hotel pan I put a rack to hold the turkey.  I put the turkey on the rack and closed the grill (as much as I could) to allow the turkey to warm up while the oil was heating.  I couldn't close the lid without mangling the turkey, so I propped the grill open and tented the lid with aluminum foil.  The area where the turkey was sitting floated around 275 F –a good warming temperature. 
When the oil was piping hot (around 375 F) I started ladling the fat, two-fisted, all over the top of the bird.  It browned even faster than I thought it would.  The whole bird was crisped up in about 2 minutes.  Bonus: there were no spewing geysers of oil, no huge flames, no Thanksgiving-ruining clouds of choking smoke.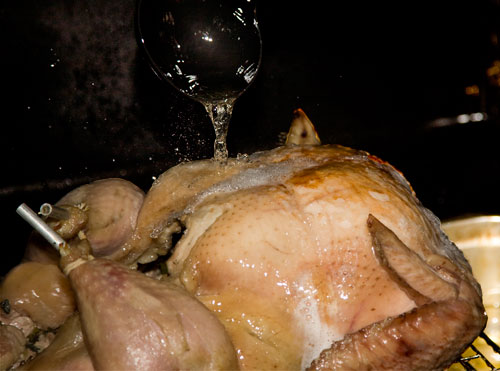 So far, so good.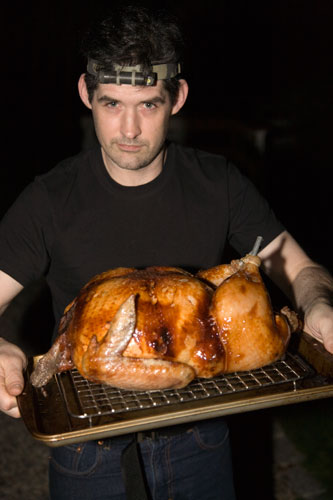 Once inside, I removed the bionic leg bones and the rest of the foil.  The bird didn't collapse. Another win.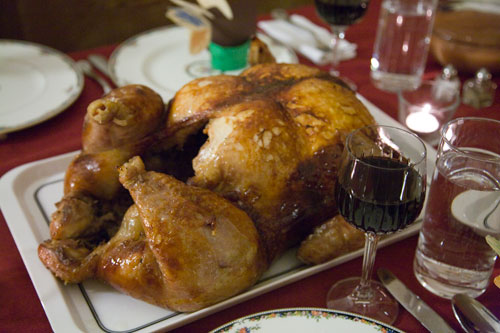 The moment of truth: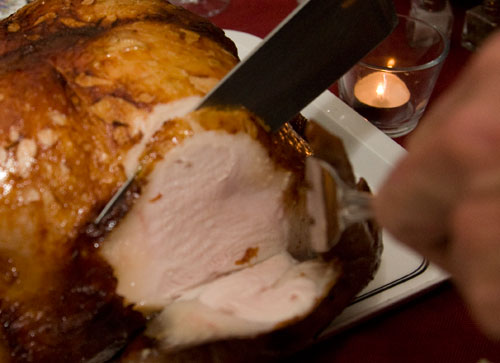 I was happy with the results.  The family enjoyed the bird.  Super moist but not watery.  Tender.  The taste of the herbs, duckfat and butter came through.  Next year, I might increase the temperature a half a degree to make the breast meat look a little more conventional.  There were also a couple of blood vessels that didn't lose their red color.  That didn't bother me too much.
Folks around the dinner table kept asking me if it had been "worth it."  
 "Did you like it?" I asked.
 "Yes."
Then I guess it was worth it.