posted by Dave Arnold
Happy New Year.  If you are more interested in a bottle of bubbly than in bubbles, perhaps I can interest you in one of our old posts, a tutorial on how to saber a bottle of bubbly.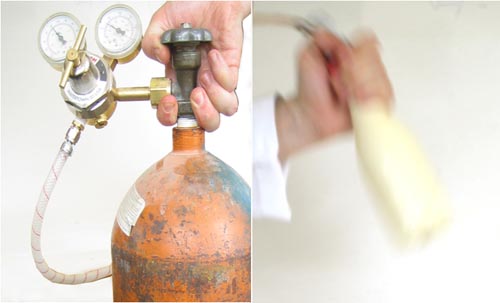 Everyone here at Cooking Issues is a huge fan of bubbles.  Let's just say we know from carbonation. When some new science came out a few months ago on the taste of bubbles, we were intrigued. The Taste of Carbonation, in the October 2009 issue of Science Magazine, describes carbonic anyhydrase 4, an enzyme that allows us to taste CO2 (carbon dioxide –the bubbles).  For those of you not hip to science publishing, getting an article on bubbles printed in Science is a big, big deal.  The theory: In your mouth, CO2 is converted into bicarbonate ions (HCO3-) and protons (H+).  The protons are acid, and are sensed by your sour receptors.  That's it.  Mice that had no sour receptors had no response to the carbonation, and mice that didn't have the enzyme couldn't taste carbonation.  This research came about, in part, because a scientist who was also a mountainclimber was taking the anti-altitude sickness drug Acetazolamide, a carbonic anhydrase inhibitor, and noticed champagne tasted like crap and figured there might be a link between carbonic anyhydrase and the taste of CO2.
This research made me hopping mad.  For years I have been railing against the long-standing explanation that carbonation's taste comes from acidity.  The tired, old explanation is that CO2 dissolves in water to form carbonic acid.  Somehow, the combination of bubbles plus the cabonic acid makes the taste of cabonation. That is rubbish.  First, most CO2 does not get converted to cabonic acid –it exists as dissolved CO2. Second, If you drink seltzer in a hyperbaric (high pressure) chamber where there are no bubbles, it still tastes like seltzer.  Third, and most important to me, I can put N2O (nitrous oxide) bubbles into a highly acidic beverage like lemon juice and water, and it doesn't taste like seltzer with lemon — it tastes like lemonade, because nitrous tastes sweet. 
This research brought the whole argument back to acidity.  I was dumbfounded.  I mean, selzter tastes like selzer, not like acid.  I called up Dr Charles Zuker, one of the senior authors on the paper, who just moved up the street from me to Columbia University.  Our converstion went like this:
 "What is the deal?"
"Well, CO2 is perceived as acidity.  If you blow pure CO2 onto your tongue you percieve acidity before you percieve pain.  CO2 also stimulates pain receptors."
"Why doesn't lemonade with nitrous taste like soda?"
"Ahhh.  When you drink lemonade with nitrous, the acidity is sensed all over your tongue at the same time at the same concentration.  When you drink lemon soda, the acidity levels change all the time all over your tongue due to the activity of the carbonic anhydrase enzymes.  The random, changing pattern of acidity on your tongue is percieved in your brain as carbonation."
"So if I could make a drink with tiny pockets of acidity it might taste carbonated?"
"Yes."
Wow.  That was some food for thought.  I'm still digesting it.