Posted by Mindy Lvoff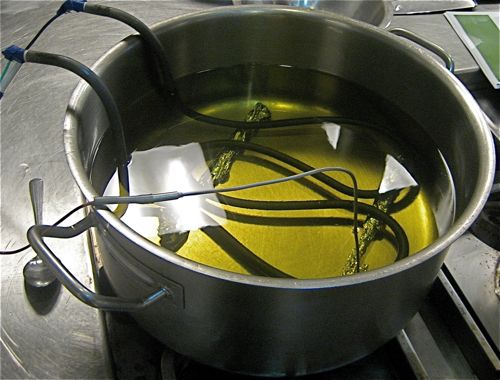 If you missed Dave and the tech team Thursday night at ISI's Sugar and Whips event, then you're in serious need of a "Vitamin G" infusion: house-carbonated, celery-infused Tanqueray gin mixed with fresh-squeezed sour orange juice (I dare you to challenge Dave to a citrus-juicing contest), Dolin's Blanc Vermouth, and a touch of simple syrup, lime acid, and salt. Most of the gin that he used was vacuum-infused with roughly 800 grams of celery, thinly sliced against the grain, then strained through a coffee filter. A portion of the gin was blended with celery in the Vita Prep then rotovap-infused. It takes a lot longer to infuse this way and requires a little more water-balancing afterwards because of the high-proof, but the product is crystal clear and takes on an aromatic-celery flavor with less, earthy vegetal notes.
Each liquid-nitrogen-chilled champagne flute was filled with Vitamin G before being topped off with a thinly sliced ginger chip, achieved using none other than the Hobart 3000 slicer. Paper-thin ginger sheets were blanched in simple syrup before being dehydrated until delicately crisp. Ginger on a gin and sour orange juice cocktail—definitely fulfilling your daily Vitamin G requirement.
If you're interested in learning more about high-tech cocktails from Nils and Dave directly, check out the upcoming 2-hour High-Tech Cocktails class offered by The FCI's Recreational Division.