Posted by Mindy Lvoff
While I was in LA a few weeks ago, I checked in with Dave by phone and he asked how close I was to San Jose… Â It turns out that he had purchased yet another centrifuge and wondered whether or not I wanted to pick it up and fly it home. Â No, I didn't, and when it finally did arrive, I realized that he had *most likely* been joking. Â His new, Jouan centrifuge is "bench top," meaning it can sit on a table (or bench), but it still weighs over 150 lbs.
Where did he buy the new, used centrifuge ('fuge) from? Â Ebay, of course, and he purchased it for less than it cost to ship: $199 for the 'fuge, $250 to ship it to NYC. Â The next, cheapest 'fuge listed is a little over $700. Â Dave attributes the discounted price to bad spelling – apparently it was listed as a centrOfuge, not a centrifuge. Â Being the savvy Ebay buyer that he is, Dave had been betting on just such an error on the seller's part and was searching for all variations of the word "centrifuge." Â You see, kids? Â Spelling IS important. Â Or at least knowing how to use spellcheck is…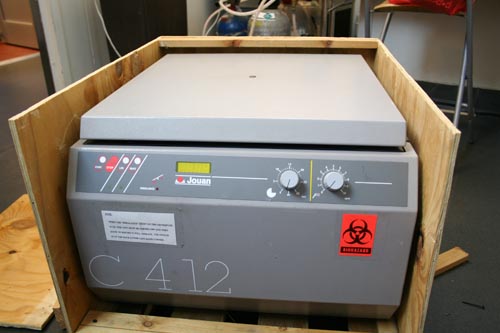 Why yet another centrifuge?  Dave wanted a centrifuge that could handle larger volumes of juice clarification – the Jouan does about 4,000 g's and can handle up to 3 litres of liquid while the dangerfuge only handles 400 ml at most and the Unilever-fuge can only do about 1.5 litres.  Of course, that was  before Dave broke the agar clarification technique.  Now that we use the agar clarification method, using the Jouan for juice clarification isn't really efficient.  However, we are able to do larger quantities of our nut oils, not to mention the other applications that we will surely find the new 'fuge useful for.
The Jouan 'fuge also speeds up and slows down a lot faster than our old 'fuges. Â For example, the dangerfuge never slowed down and Dave would sometimes manually stop it by holding a piece of rubber against it until the friction finally stopped its rotation. Â The Unilever-fuge took at least 5 minutes, sometimes more, to come to a full and complete stop. Â The Jouan usually stops spinning in under a minute-twenty.
There's also the added safety benefit: the Jouan is the safest of all our 'fuges. The dangerfuge was aptly name because it's potentially deadly and the Unilever 'fuge allows you to open the chamber while the rotor is still spinning, if you're dumb enough to try. Â The Jouan adds that extra layer of idiot-proofing by locking the chamber anytime the rotor is in motion. Â Unfortunately, the chamber isn't refrigerated, though, so Dave needs to figure out an alternative way to chill it at some point. Â The chamber isn't air-tight and allows for ventilation, meaning that we may be able turn to Liquid Nitrogen in the future as a potential chilling method. Â Stay tuned.

Before we even used our centrifuge, however, we needed to sterilize it since it was most-likely used to spin blood in its past life. The best way to sanitize the Jouan's buckets would have been to use an autoclave, which sterilizes medical equipment by using high-pressure steam. Since we didn't have ready access to an autoclave, Dave (as usual) MacGyvered an alternative: he pressure-cooked the Jouan's buckets at 15 psi for about 2 hours after soaking them in a concentrated bleach solution overnight. We (read: interns) also cleaned the interior and exterior of the machine with a concentrated bleach solution and let it air-dry, repeating this process several times.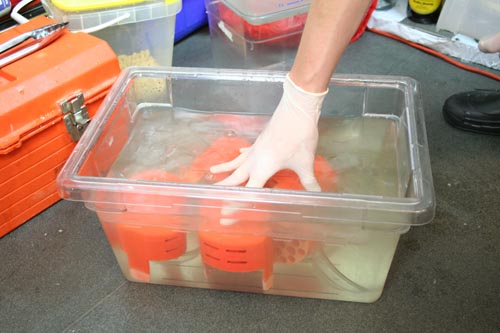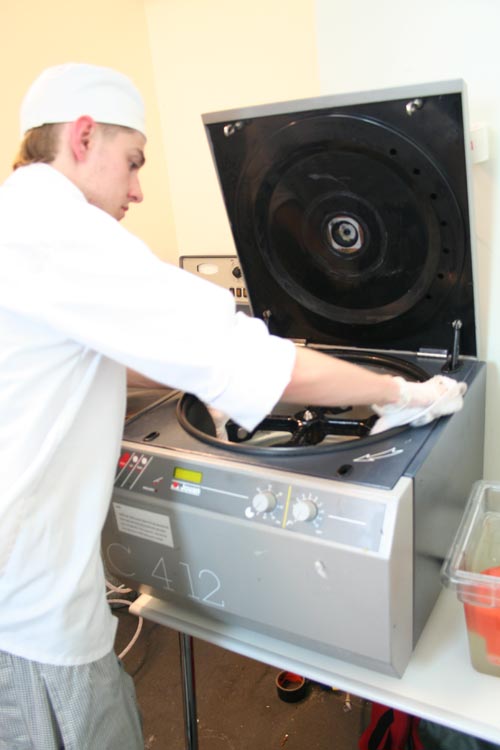 The Jouan contains 4 swinging buckets that load in upright and then spin out so that they are horizontal while spinning.  While the Jouan both speeds up and slows down much faster than either of our previous 'fuges, nobody (read: interns) was happy about the idea of a bucket potentially dumping liquid back into the chamber.  Dave came up with yet another solution: vacuum bags.  Using a plastic sealer that we use to double seal our vacuum bags (as the factory seal isn't really a seal at all so much as it's a line of somewhat melted together plastic), he clamped the bottom corners of the vac bag so that the bottom of the bag is now flat with the original edge running down the flat bottom's center.  The bag is then placed in the bucket, filled with nut or olive purée, etc. (Robo-couped and then Vita Prepped), and then the top of the bag is sealed (not vacuumed), meaning that the product is completely contained within the bag, never touching the sanitized buckets, and having no ability to shoot out of the bag and all over the inside of the centrifuge chamber.  No mess spinning.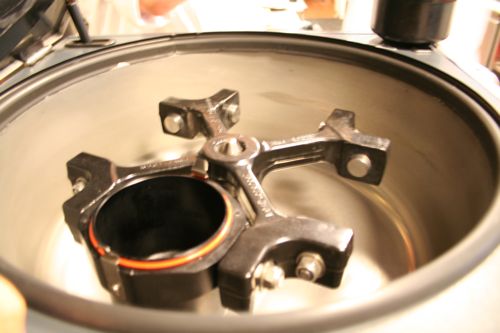 As usual, we weigh whatever we are spinning to make sure that all buckets are within 2/10ths of a gram of each other. Â Dave also purchased a Harvard Trip Balance that helps us do just this ($15 eBay), and it happens to be accurate to within 2/10ths of a gram. Â Convenient.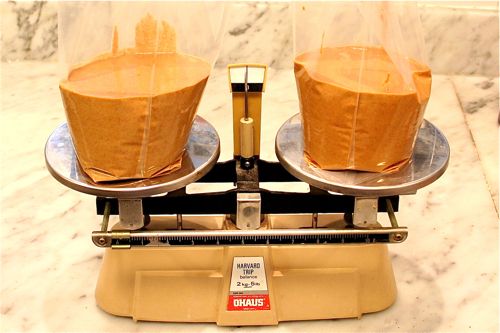 Another added benefit of the Jouan's swinging buckets is that it creates better stratification of the solids and liquids after spinning.  Before, the fixed, slanted cup-holders in our other 'fuges meant that we would get angled layers.  The better stratification is particular fun when doing cured olive oils – we're able to separate both a flavorful oil and a delicious olive brine from the cured olive purée.  The brine makes for a damn good dirty martini.
Dave has also found a curious phenomenon when spinning nut purées dosed with simple syrup: you're able to pull a clearer, but less flavorful oil.  He's not really sure why this happens yet – please let us know if you have any thoughts on why this occurs.  The nut solids that are separated from the oil also become denser, allowing us to mold them into little bricks which can be cut and even grated.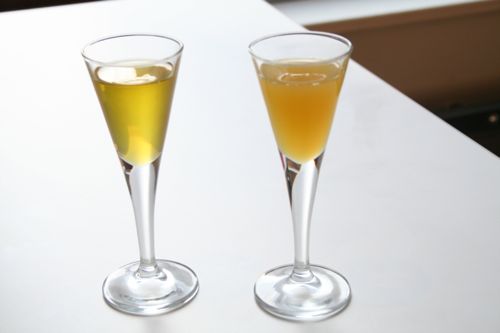 In Dave's eyes, what really separates the Jouan from our other centrifuges is its lab-to-kitchen crossover potential.  Its size and relative-affordability mean that should we find more applications for food and centrifugation that warrant its purchase, chefs could easily add it to their kitchen equipment.  So far, we have spun: avocados (both puréed & whole for a laugh), tomato paste (which yields a minute quantity of the most intense-flavored tomato liquid in the world), pecans (with and without simple syrup), walnuts, pistachios, macadamia nuts, almonds, Marcona almonds, peanuts, and cured olives.
Here is our offer and request: since we already have the centrifuge, please share with us any spinning ideas and requests that you would like us to try. Â Who knows, maybe the centrifuge will follow the path of the immersion circulator someday and find a new home in the restaurant kitchen.