posted by Dave Arnold
We asked for comments on centrifugation and got some really great responses—so many, in fact, that we wanted to do another post.
If you don't know about centrifugation (what's a rotor, what are g forces, why the hell should I care, etc., etc.)Â see our other posts here and here.
To recap, we have two useful centrifuges, the Sorvall RC-2B and the Jouan C412:
The RC-2B is an awesome workhorse. It is refrigerated, built like a bomb shelter, and, with the right rotor, can do  48,000 g's as 20,000 rpm. The disadvantages are that it is very large, and with our current GSA rotor we are limited to 1.5 liter batches using little bottles with fairly narrow necks (they are hard to fill and clean out). We love it to death, but all in all, it is difficult to see a restaurant dealing with such a large piece of equipment.
Our C412 is not refrigerated, but is smaller, cheaper, slows down quicker, has swinging bucket rotors, and can do 3 liters at a crack. The maximum number of g's it can pull is about 4000, but 4000 g's has been sufficient for a lot of our work. We have been using plastic bags to line the rotor buckets. They are cheap and easy to load but aren't as neat as bottles and tend not to work well on things that don't form hard pucks like nuts do.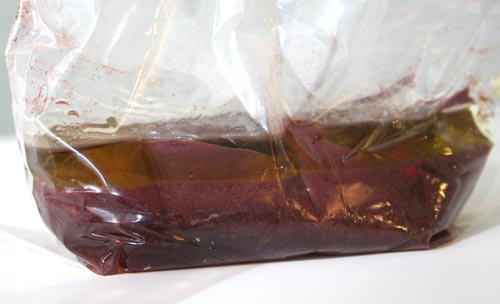 See what a mess the kalamata olives are in a bag? In a hard bottle you get three clean layers: brine (awesome), flavorless pulp (garbage), and cured kalamata oil (awesome). We need to figure out a way to make a hard, thin, cheap plastic liner for the 750 ml buckets in the Jouan (advice welcomed).
As for refrigeration, several readers suggested putting the fuge in the walk in fridge. A good idea. We just got a new walk-in recently, so I might just have the space. We'll let you know how it works.  The reason you want refrigeration, by the way, is that the friction from spinning heats up the rotor, buckets and machine.  Refrigeration fixes that.  Another option is pulling a vacuum on the fuge. This keeps the friction down and, as schinderhannespointed out, allows you to do centrifugal evaporation.  Next fuge.
SPECIAL HELP NEEDED: Today our Jouan, which had been spinning at 4200 rpm nicely for a while, suddenly started topping out at 3200 rpm. Before I rip the machine apart, do any readers have suggestions?
We purchased the Jouan for several reasons:  We wanted a centrifuge we could take to demos.  We wanted a centrifuge that has a large capacity.  Most of all, we wanted a centrifuge that other chefs might find useful.  We also got a great side benefit: we can spin our RC-2B faster than before without worrying. If you have read any of our earlier posts on centrifuges you know we are concerned with metal fatigue. Our rotors are made of aluminum—old aluminum, which could break apart at any second if subjected to too many g's. The GSA rotor in Big Mama fuge was rated for 27,000 g's when it was new. We had been running it at 4000 g's (5000 rpm) because we figured there was no chance of failure at that speed. If we ever DO have a failure the fuge would be destroyed. The rotor would fly apart and completely ruin the whole machine. Now that we have another fuge that can do 4000 g's, we have pushed our RC-2B up to 10,000 g's (aw yeah). 10,000 g's is still well less than half what it was rated for new, so we feel safe. Even if we throw the rotor, the damage would be contained inside the fuge.  We would lose the fuge, but we would still have another one, and no one would get hurt.
So now, assuming we can fix the Jouan, we have a 4000 g 3 liter fuge and a 10,000 g 1.5 liter fuge. Now we have to think of applications. Our readers helped us with ideas.  Before we get serious let's get stupid.
The Stupid:
One of our original tests was to spin avocado puree to see if we could get avocado oil. We couldn't. It didn't work at 4000 g's or at 8000 g's. All we got was really smooth guacamole. I mean REALLY smooth guacamole. I was very discouraged by the lack of oil and got in a weird mood, so for giggles we spun whole avocados just to see if they would crush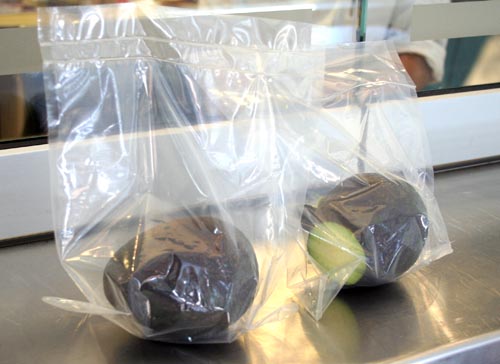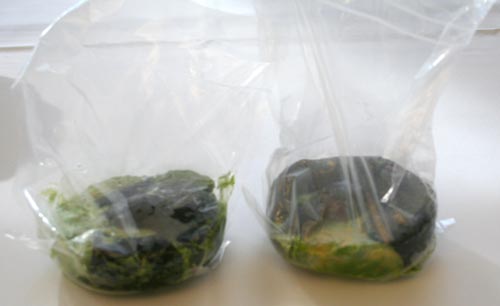 Not as impressive as we had hoped.
The problem with making avocado oil is that the oil is contained within the cells and the fuge isn't powerful enough to break the cell walls. Even the Vita-Prep isn't sufficient to break the cell walls. Kent Kirshenbaum, our chemistry professor buddy from NYU and the Experimental Cuisine Collective, suggested putting the avocado through several freeze- thaw cycles.  The ice crystals that form each time you freeze the avocado make lots of tiny holes in the cell walls. Another idea Kent and reader Paul A. suggested was to hit the avocados with our 400-watt Branson ultrasonic homogenizer. The ultrasonic homogenizer (aka the sonic cell dismembrator—how cool is the term cell dismembrator?) is a machine that does two things. It sends people running from the room in agony because of the piercing noise it produces; and it shakes back and forth so fast and so hard that tiny bubble are formed in your food that break with enough force to mash things up very, very finely. We tried both. They both worked. Ultrasound won for yield (it was also a pain in the butt to freeze and thaw, freeze and thaw, freeze and thaw):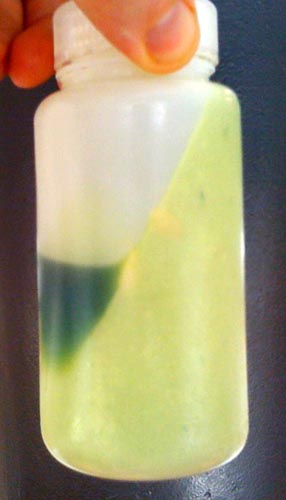 The problem with both techniques is that even when the avocados were heavily pre-treated with ascorbic acid to prevent oxidation, the act of breaking apart the cell walls produced some funky, nasty flavors. The oil looked great but tasted like old artichoke, not fresh avocado. Maybe if we cooked the avocado first?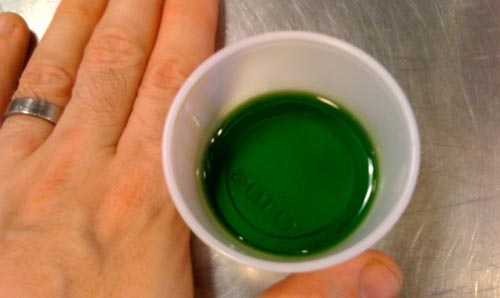 Herb oils:
Several people asked about cleaning up herb oils. We didn't have much luck at cleaning up herb oils at 4000 g's, but 8,000 g's did some nice stuff to this basil oil: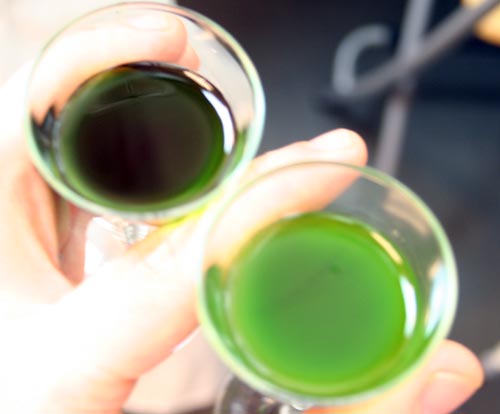 The spun oil was not only clearer, it had an amazing ruby color and tasted much cleaner and less bitter, if slightly less complex than it's un-spun counterpart.
Citrus and Other Essential Oils:
We have not had any luck with citrus oils.  I had mistakenly said we had tried to extract citrus oils using alcohol. As Paul A. pointed out, you don't want to use alcohol, cause that will dissolve your oil.  I think he is right.  Looking back on my notes we DID use water. We ran orange peels blended with water at 4000 g's for 20 minutes with no results.  The stuff tasted like it would make a great bitters so I made a note that we SHOULD try it with alcohol.  I still want to make a good citrus oil.  The best book on distillation I own is from 1871.  The bad news is it is outdated.  The good news is that it is free in the public domain on Google Books. On page 355 of A Treastise on the Manufacture and Distillation of Alcoholic Liquors by Pierre Duplais, the methods of obtaining essential oils are discussed: expression, which is what the fuge can do; distillation; and maceration in fat (fat washing/enfleurage). He then goes on to explain the differences in flavor between the techniques and when you should use them.  Turns out expression should work fine for citrus oil.  We should be able to zest a whole bunch of citrus and just press it out.  Again, I haven't had any luck.  Maybe at 10,000 g's with a homogenizer.   We'll keep you posted.  The problem we are having with citrus would, I assume, translate to any other product that requires us to separate a very small amount of oil from a large amount of dry/liquid matter.
On essential oils without a centrifuge:
I have been wanting to do super-critical CO2 work for some time but have not had luck finding a unit or figuring out a safe way to jerry-rig one.  Any thoughts?
 I tried butane extraction like they do to make "honey oil" from swag pot, but didn't feel safe and had no luck. 
I have also never set up my rotovap as an essential oil recovery machine.  Maybe some day. 
The most exciting thing with essential oils and flavors we are working on now is a really cool form of chromatography.  More on THAT soon. 
Nut Oils and Sugar/Water
Mindy mentioned in the last post that we were getting some interesting results from spinning nuts to recover nut oil.  We are planning on actually selling pecan oil out of the restaurant (if we are allowed to).  Why pecan? It is delicious, it is American, and we've never had it before. Anyway, we noticed that adding simple syrup to the mix before we spin drastically increases yield of oil. The oil we get is way is much clearer, sometimes less bitter, but always less intense than the oil we get without simple syrup.  Take a look at macadamia nut oil spun with and without simple syrup: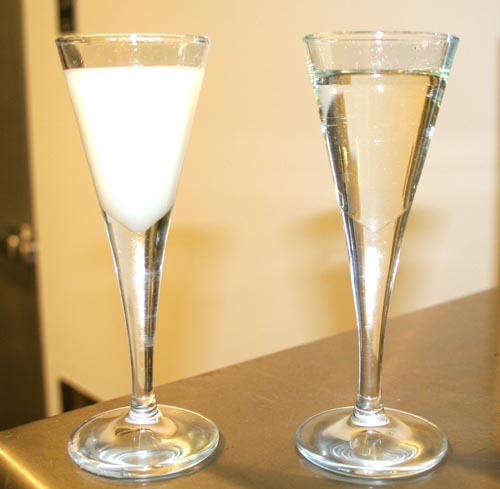 Wow. Big difference. 
Here is how this simple syrup thing happened:
When you spin nuts you first liquefy them in a Robot-Coupe then ultra-pulverize them in a Vita Prep.  This breaks up the nuts and also heats them up a lot. The nuts get so hot that we no longer toast them beforehand.  They are "blender toasted." Hot nuts are more fluid than cold nuts, so we like to spin them warm.  When you spin pecans this way, you get a layer of oil, a layer of super-primo nut butter, and a layer of pecan paste+skins.  The skin layer is bitter so I separate it out to use in sweet pastries, etc.  One day, the primo butter got mixed in with the 2nd quality stuff.  That sucked.  I figured let's re-spin it to try and separate it again.  It was too thick to spin so we added simple syrup.  The results are below:
Wow.  The one on the right had ALREADY been spunonce and still yielded more oil than the fresh-spun batch on left.  Look how clear the oil is!  Weird.  Look how solid the hockey puck of paste is. That extra oil that comes off of the pecans isn't as heavily flavored as the regular stuff.  FoodPlayer asked if removing the extra oil from the paste makes the nut paste more flavorful.  I guess it does, but it is hard to say because the texture is so different.
We ran another experiment with cashews (I said pecans but one of the interns mis-heard me, oh well).  This time we wanted to measure the effect of simple syrup versus water and the effect of varying the amount of simple syrup. Here it is:
The water didn't incorporate as well as the simple syrup. Overall the simple syrup was more effective.  Some of our readers weighed in on this phenomenon. Shinderhannes wrote: 
The most effective additive to help break [a tough] emulsion is a few mls of methanol (stop, don´t try this but ethanol (go head) does the trick as well.
Therefore maybe adding a shot of booze to the nut puree will work like a charm!
As you certainly know, but maybe not all readers, glucose is a poly-alcohol, from a chemical standpoint, so maybe that does explain why SS is so effective….
Great advice. We plan on running more tests soon
Still to Try:
Foie Gras, suggested by Shinderhannes and Jeremiah (Shinderhannes also suggested liver sausage. Nice)
Chorizo (I think that would be good) suggested by Alex T.
Fish oil, suggested by Derek.  Don't know how to do this one, but would be fun.
Chilled Ouzo, by Shinderhannes.   See the Ouzo Effect. Could we just water it down, precipitate the oil and spin it?
Stuff I don't know how to do/ have other techniques for:
FoodPlayerasked about milk/cream.  That will definitely work but we have a small cream centrifuge for that.  If you have a specific application (like a really nice milk) it would be worthwhile. I dunno.  Hit me back with more ideas.
Derek asked about cereal grains/hops.  I can't figure a way to do the grain.  The hops work great in a rotovap, and I'd bet we could do other forms of distillation/etc, but I think we'd run into problems in the fuge.
Thank you for your help. Please keep the comments coming.