In the library of The FCI there lives an ancient, rarely utilized duck press.  It sits on a block of wood—trophy style—and as Chef Jeremiah pointed out, "There are only two things missing on it: a basketball and a name plate."
Traditionally, pressed duck is prepared like this: The duck is strangled so as to retain as much blood as possible. The legs are cut from the rest of the body, and thinly sliced pieces of the breast are cooked in a sauce of reduced Madeira, butter, and cognac. The rest of the carcass is partially cooked for 25-30 minutes and placed in a duck press, and the waiter screws the metal disc down to extract the liquids and marrow from the duck, onto the cooked breasts.
Dave had successfully pressed duck before but found it a tad too overcooked. He decided to give it another try, but this time using a modern technique—specifically low temperature cooking—that would give him more control over the temperature of the meat. Thus began the Great Duck Pressing Adventure.
We put our heads together and did our best to translate the recipe which we're pretty confident said this:
Roast two beautiful ducks (that have been suffocated) on high heat for 25-30 minutes. Reduce Madeira, cognac, and lemon in a pan. When the duck is finished, disassemble and crush the carcass in a duck press to extract blood and other juices.  Over high heat, reduce duck blood, foie gras, and butter. Add in the Madeira reduction.  Grill the duck breasts to desired doneness and dress with the finished sauce.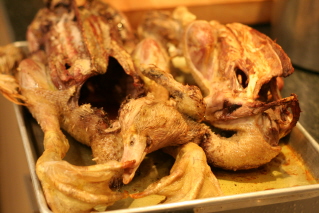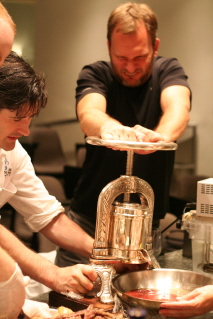 Now, in the middle of all the pressing, we noticed that a piece of the press's metal had started to contract on one of the legs, while the large screw, which ratchets the disc down into the container, had slightly bent the lower disc.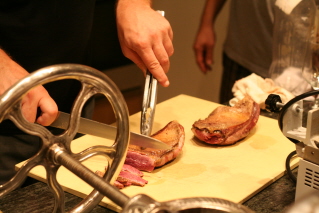 The duck wasn't good.  We all agreed that the sauce was very flavorful though.
What happened to the broccoli you ask?  After boiling for the entire hour we spent crushing, reducing, carving and fixing things, we drained the little floret and set it in ice water.  It was still green.
But why was our fowl so foul? We know that Dave has successfully pressed duck in the traditional manner, however, we have two theories on why this duck was a flop. 
1. We think there may have been too much stress on the ducks when they died, and/or they were slaughtered improperly, somehow damaging the meat,and ultimately making it tough.
2.  Perhaps pressed duck is simply supposed  to be overcooked and that low temp cooking is not the way to go on a very traditional French dish.
And sometimes you just can't mess with tradition.